The War Against PTSD
Senior Jake Verhoeff's research helps returning soldiers
By Drew Ruble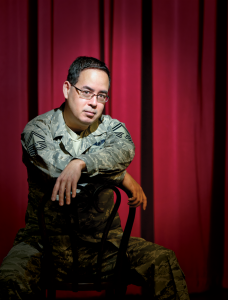 Research shows that before the wars in Iraq and Afghanistan, the U.S. military's suicide rates were lower than those of the general public. In 2009, however, the Department of Defense reported more than 300 suicides among active-duty and reserve troops from all branches—almost double the number from 2001. In fact, so pronounced is the problem today that the Tennessee National Guard, under the direction of MTSU graduate Major General Max Haston, recently developed (in concert with the Jason Foundation) a "suicide" app for smart phones targeted at soldiers returning from combat theaters around the globe. Among other features, the app makes a licensed counselor reachable by phone around the clock.
Hawaiian-born Jake Verhoeff has at least some idea of the struggles those returning soldiers face. A veteran of the Iraq war, Verhoeff himself struggled for a time with postcombat issues. He found healing at the VA hospital in Nashville.
"It was through the VA experience that I was helped and counseled and provided an opportunity to get an education," says Verhoeff, who spent 24 years in the Air Force before retiring from active duty in 2008.
Now a 40-something nontraditional student at MTSU, Verhoeff is excelling in the Honors College. His undergraduate research focuses on post-traumatic stress disorder, or PTSD, and its stigma—specifically, how that stigma affects the percentage of National Guard troops who seek help dealing with PTSD symptoms versus the participation rates of active-duty military.
Verhoeff wants to determine if there is a difference between the stigmatization of PTSD felt by National Guard troops (think TV programs depicting vets as traumatized and failing to seek out behavioral health cures) and that felt by active-duty soldiers. And if a gap exists, Verhoeff wants to understand why it exists and how to fix it.
He says, "The idea is that we have a problem with stigmatization of PTSD that causes members of military to not seek treatment, or worse yet to commit suicide at a rate that may be higher than first responders like firefighters and police officers. So the question is, 'Why is that?' Maybe if we can find the differences we can find what reduces stigmatization and use that among the different groups."
Explanations for disparity in treatment could range from policies followed by military medical personnel to maintain unit cohesion to military culture itself.
"There are so many different possible answers to this question," Verhoeff says. "It's an incredibly long process to discovery. It's not a simple answer. "
Verhoeff plans to use his undergraduate thesis as a springboard to conduct clinical work in graduate school trying to close any gaps in PTSD stigmatization.
"I want to be part of an incredible group to bring these people back and integrate them into society," he says. "We've seen it with every war. After World War II, there was a huge problem within our country in trying to bring about transition back to civilian life. The VA itself came out of that. Now we need to learn from that and say, 'Let us veterans who understand some of what these soldiers have gone through be a part of that transition.'"
As soldiers return home in big numbers, Verhoeff's research has the potential to have a lasting impact—not only on returning soldiers but also on the greater society.
[Editor's Note: This article first appeared in print in Honors magazine, the newsletter for the MTSU Honor's College.]
---