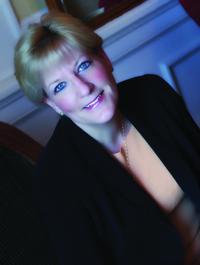 Diane Bowen helps couples take that first step toward "Happily Ever After"
If you win the big game, you may shout, "I'm going to Disney World!" but not everyone graduates from college with those words on their lips or that destination in mind for anything other than vacations.  Diane Bowen is one of those fortunate people who get to enjoy Disney World as the place where her career dreams can flourish.
In her position as a senior wedding even planner with Disney Fairy Tale Weddings, Bowen is a prime maker of magic for prospective brides and grooms, working with couples to plan events that will jump-start their own "happily-ever-afters."
"We spend a day together planning everything that they need except for the wedding dress, invitations and programs," Bowen says.  "It's a one-stop shop."
Who plans their weddings at a Disney property? "Many couples are already Disney fanatics, but some couples simply want a destination wedding and the quality of service that Disney provides,"  Bowen says. "Destination weddings eliminate the large guest list that weddings at home neccessitate, and since we do all the work, they tend to be far less stressful and far more fun." There are eight planners at Disney Fairy Tale Weddings, responsible for 1,000 to 1,200 weddings a year.  "Overall, my work is happy work -the people are amazing," Bowen says.
Bowen's career began in the hospitality industry after she graduated from MTSU in 1984 with a degree in marketing and a minor in management.  From positions with Opryland and the Visitors and Conventions Bureau in Nashville, she traveled to Pittsburgh and was planning another move when 9/11 happened," Bowen says.  "I sold my home that night and left Pittsburgh two weeks later."  Walt Disney World in Orlando was her destination, and it wasn't long before Bowen was working at Disney Fairy Tale Weddings and making dreams come true.
Bowen has fond memories of her MTSU years as a co-ed, sorority sister, and little sister for a fraternity.  "I enjoy reading the alumni magazine and seeing where everyone is now in their lives," she says.  She keeps up with Blue Raider sports and hopes to get back to campus one day.  "I hear and read about the growth of the school," she says. "I may not recognize the place!"
---