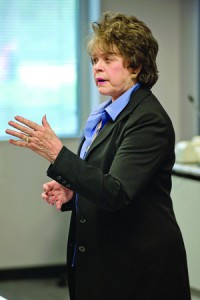 An MTSU stalwart helps guide the Southeast's largest energy provider
Not much could keep Dr. Barbara Haskew away from MTSU, the heart of her career for the better part of 40 years.  As a professor of economics and then chair of the Department of Economics and Finance, she regularly made the 200-mile round trip between Murfreesboro and her home on Elder Mountain, just west of Chattanooga; when work kept her near campus overnight, she bunked in a hotel.  Later, as newly appointed dean of MTSU's College of Business, she lived in a dorm, where she shared a communal bathroom with students.  Even breast cancer didn't keep her from her job as provost and vice president of Academic Affairs, a position she held from 1995 until 2002, when she returned to teaching as a Distinguished Professor of Economics. (She recently marked 10 years as a cancer survivor.)
It took a confluence of events, and a once-in-a-lifetime opportunity, to lure Barbara Haskew from her University home.  As Haskew immersed herself in one of her academic specialties, labor economics, and as she lectured on the future of energy production and its environmental impact, 1.3 million cubic meters of coal ash from a Tennessee Valley Authority (TVA) power plant blanketed a neighborhood in Kingston, Tennessee.  Haskew says the spill affected her on both a personal and professional level: first as a longtime resident of the Tennessee Valley and second as a former employee of the TVA, where for eight years she manged the rate staff -her only career absence from MTSU since 1970.
Meanwhile, there was a new administration in Washington D.C., and President Barack Obama had four seats to fill on TVA's nine-member board of directors.  So Haskew wrote a letter to then-U.S. Rep. Bart Gordon, expressing her interest in a position with the nation's largest public utility.  "I felt deeply about wanting that to be made right and be a learning experience for TVA," she says.  Sworn in last October, she says she's seen much that encourages her at TVA, beginning with the Kingston cleanup.
Now, Haskew is on the road again -this time to meetings throughout the Southeast, where TVA supplies power to 8.8 million people.  It's one heck of a part-time job, necessitating her retirement from active teaching at MTSU, where she is now professor emeritus.  Still, she found time in her busy schedule to talk with MTSU Magazine.
What was it like appearing before the Senate and finally being sworn in?
Haskew: I have to say there was a sigh of relief when we were sworn in because we had been working toward it for so long.  There's a very intensive vetting of your whole personal and professional life and your financial holdings, and then there's the long confirmation process.  So really, a year of the term that I anticipated serving was gone before I was ever able to move into it.
We did all go before the [Senate's] Environmental and Public Works Committee, and it was memorable to all of us not only because we were so anxious to move along with the process but also because that's when that giant snow hit Washington.  I ended up being trapped there, but it was delightful because both of my daughters came, and my youngest daughter brought her six- and three-year-olds.  They will not remember that this had anything to do with Grandmother.  They will just remember when they saw their first snow.
How did your experience as a professor of economics influence your decision to be considered for nomination?
Haskew: I've had a continuing concern about understanding that economic development is closely related to the availability of energy and the cost of energy.  I found in my teaching that my economics students had a very minimal understanding of how electricity is produced.  When I'd ask them how they thought our power is primarily produced, they would say hydro power, which is maybe less than 10%, but that's what you think of with TVA.  And then they'd say solar, because solar gets so much play in the media.  Then they'd say nuclear.  Finally, I would tell them that 60% of our power is still produced by coal.  After the Kingston spill, we would talk about that, and then in my courses we would talk about the environment and emissions and what was happening there.  these things were popping up in my courses, in the newspaper, in areas of my professional expertise.  It simply seemed this was something I was prepared to do, that I wanted to do.
If money were no object and you could design your own economic course, what would it be?
Haskew: I would love to be a part of an interdisciplinary course in economic development and in energy that would pull all sorts of disciplines into the discussion.  Completely understanding all the issues that impact those matters requires not only economics and finance but also some knowledge of science and biology because, after all, we're in an era when we're much more concerned about the environment, than we were 25 or 30 years ago.
---