Wayne White frolics among influences, creating art that refuses to be pigeonholed
by Gina E. Fann
Wayne White is one of those increasingly rare beings: an artist who makes a living by turning his wildest ideas into tangible, talked-about pieces that others want to see, hear, feel, and share.
He also may be the embodiment of a liberal arts education: a person well-versed in enough fields to connect with almost anyone in his audience. Art is more than just a theory; it's a fusion of many disciplines—the physics of building a sculpture, the chemistry of mixing colors, the psychology of self- and other-awareness, the wordsmithing that plays with meanings.
Sometimes it's a funny story and a flailing buck dance across a stage, too.
The MTSU alumnus repeatedly brought a full house in Keathley University Center Theater to laughter and applause last March during an ongoing nationwide series of screenings of the 2012 documentary about his life and work, Beauty Is Embarrassing.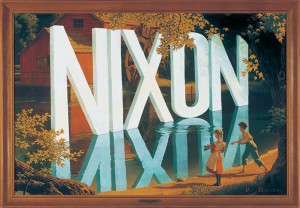 Dancing a jig in front of the screen as the credits rolled, White unexpectedly pulled his longtime friend and partner in puppetry, fellow alumnus P. Michael "Mike" Quinn ('81, '87) onstage for an audience Q-and-A session.
The pair met in an MTSU drawing class, did puppet shows at parties, and got their first serious creative jobs on a Nashville public TV children's show. Calling students "the real treasure" in a "shared society of ideas," they encouraged the crowd to "do what you love; it's going to lead you to where you want to go."
"How do you resist the temptation to go for the straight-ahead life, though?" one earnest young man asked. "I'm finding I can't resist the allure of the white picket fence and the regular paycheck.
"I got the white picket fence and the paycheck by following what I love," White answered, just as earnestly. "This documentary makes it look like it was easy, like I've solved all the problems and answered all the questions. I most certainly have not. But . . . you have to commit to what you want to do. Don't hedge your bets.
"The world is dying for stuff that's done out of love. Most everything in the world now is done out of fear: fear of losing your job, fear of making someone angry. Art is one thing that's done out of love. That's what the world needs."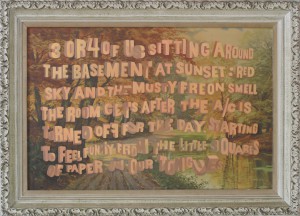 White, a native of Hixson, earned his bachelor of fine arts degree from MTSU in 1979 and went to New York City. He worked as an illustrator for several publications there, including the New York Times and the Village Voice, and in 1986 became a designer and puppeteer for Pee-wee's Playhouse, earning three Emmy Awards in the process.
He and his wife, artist and author Mimi Pond, then moved to California, where he continued his TV work with sets and characters for Shining Time Station, Beakman's World, Riders in the Sky, and Bill & Willis and the couple welcomed two children, Woodrow and Lulu. White also worked with music videos, winning Billboard and MTV Music Video Awards as an art director for his work on "Tonight, Tonight" by the Smashing Pumpkins and Peter Gabriel's "Big Time."
After a long struggle with Hollywood hierarchy led White to work himself nearly to a frazzle, he embarked on a "second act" in the new century, creating paintings, sculptures, and public works exhibited worldwide. White's most recognized works now are his word paintings, which use thrift-shop "sofa painting" landscapes as backdrops for detailed, deadpan words and phrases like "He Acts All Weird for No Good Reason," "Awopbopalubop," "You're Just Agreeing with Me So I'll Shut Up," "I Took Off Work and Came All the Way Down Here," and "Hoozy Thinky Iz?"
"I'm a real oddball because I'm a middle-aged man living out a five-year-old's fantasy," White remarks at one point in Beauty Is Embarrassing before dancing a jig wearing a giant cardboard puppet head of Lyndon B. Johnson. He happily describes himself as a "painter, sculptor, cartoonist, puppeteer, set designer, illustrator, and animator."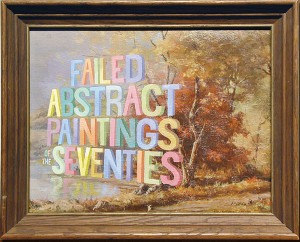 How does someone travel from a Tennessee childhood filled with unexpected artistic influences and gentle family encouragement to a drawing class in MTSU's old Art Barn to work under Art Spiegelman and Red Grooms in New York? Where does the route twist from preparing puppets with friend Quinn for a show called Mrs. Cabobble's Caboose onto a road of winning Emmys, exhibiting sculpture at Rockefeller Center, seeing designer Todd Oldham edit a book of your artwork, and being called "one of the founding fathers of American Pop Art" by the lead singer of Devo?
"It's not easy, and I'm not quite sure how I've pulled it off, but I am in a unique position. I think people are fascinated by that," White said in a recent telephone interview from his Los Angeles home, an interview sandwiched between artist's residencies, new art installations, family celebrations, and cross-country publicity trips.
"I like to have as many options as possible; I don't want to be tied down to a gallery or one kind of marketplace. I like to be able to show my work in as many venues as possible. I try to keep my integrity too, but I'm so used to showbiz that it doesn't bother me anymore.
"I've lived out here in L.A. and Hollywood for 23 years, so the publicity part of it is kind of a way of life. It's not that foreign to me. I've lived among the TV culture and people who work in TV production and movies, and I take it all in stride. I don't see anything as off-limits. I don't see any sort of firewall between the art world and the entertainment world. I feel free to go back and forth. I might not get the respect, and people in the art world might think that's suspect or lacking integrity, but I don't really care. I think it's all an open field to me.
"Plus, it's a means of survival," he continued. "I reserve the right to use either high or low culture to get my point across. I don't have any qualms or distinctions between the two. I want as many people as possible to see my work. I want to communicate to as many people as possible. And I want to keep making a living, so I keep my options open. I can work in both commercial art and fine art."
The publicity from the Oldham-edited Maybe Now I'll Get the Respect I So Richly Deserve, a 2009 400-page monograph of White's work, led to the Beauty Is Embarrassing documentary, directed by Neil Berkeley. The film was first shown at the 2012 SXSW Film Festival.
Beauty has created more opportunities for White and his work. He recently completed one of the coveted inaugural residencies on Captiva Island, Fla., sponsored by the late artist Robert Rauschenberg's foundation. He's opened a new exhibit, Halo Amok, at the Oklahoma City Museum of Art, featuring giant cubist cowboys and horses, that runs through Sept. 1. He'll make a much-anticipated return to Houston in September, this time for a one-man exhibit of his word paintings.
Beauty even helped get him a gig judging the "The Friskies" Award for Best New Internet Cat Video of 2012 and a new project on the grounds of the Bonnaroo Music and Arts Festival near Manchester.
"Jonathan Mayers, who's CEO of the whole Bonnaroo organization, saw the movie. That inspired him to call me," White says. "That's another example of the power of that movie; it's really opened up a lot of doors.
"I'm doing a big permanent sculpture on the Bonnaroo concert grounds that'll take a while to finish. It's going to be a 30-foot or taller tree made of steel and wood, mostly steel. It's like a big cubist abstract tree, with big square shapes instead of leaves, and a steel trunk, and at night it turns into a psychedelic light show."
White's sculptures have turned his wordplay three-dimensional, too. A treelike, almost-humanoid wood sculpture that features the word "Soddy" was part of Master Retrospective 2000–2009, a collection of White's work exhibited earlier this spring at the L.A. gallery Western Project.
"Some things are a mystery, you know, that aren't completely explainable on the surface," White explains. "I really do just like the sound of it as an abstract element. The sound alone is evocative without really knowing that it's a small town near Chattanooga where I grew up.
"I think it can work on several levels: as an abstract, strange word-sound and, if you really wanted to dig, you wouldn't have to do too much to find out that's where I'm from. It's literally me using my past, which is what all artists do: they use what they have. Soddy is definitely a sound and word that's been in my life ever since I can remember. So it's a little pet sound of mine, maybe like 'rosebud,'" he adds, with a deep chuckle.
He hopes to return to MTSU very soon, perhaps to work again as a visiting artist "making prints in the printmaking studio and sculptures in the ceramic department" as he did before Beauty Is Embarrassing brought him to PBS's Independent Lens and Netflix and Amazon.com and Tumblr and Pinterest.
White noted during his spring MTSU visit that he'd traveled all over the United States and into Canada as a result of Beauty Is Embarrassing, constantly hearing "I didn't know you did all that stuff!" from admirers.
"That's every artist's dream," he says. "Actually, it's everyone's dream. It's what everyone wants: to know that you had an impact on people somehow."
---