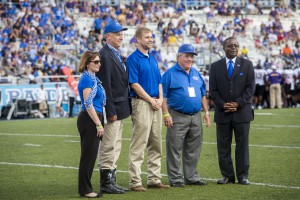 Introducing the 2013–2014 class of Distinguished Alumni
Many MTSU alumni bring the University recognition and prestige through their innovative work and loyal support. Each year since 1960, MTSU's Alumni Association has recognized accomplished alumni with the association's highest honor—the Distinguished Alumni Award. Younger alumni who are making a positive impact in the world are eligible for the Young Alumni Achievement Award.
This year's honorees include a nonprofit innovator, a couple of high-powered Tennessee businessmen, and a young expert in foreign service. Each is well deserving of the honor, and their personal stories don't make for a bad read, either.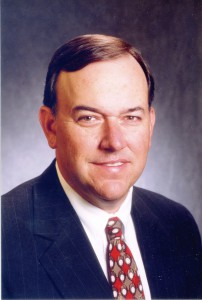 Service to the University
Stephen B. Smith ('11)
Stephen Smith has a lengthy history of involvement with MTSU. He has served on the President's Council and the board of directors of the Blue Raider Athletic Association. A former MTSU baseball player and member of the Blue Raider Sports Hall of Fame, Smith chaired the search committee for MTSU's athletic director and spearheaded the successful effort to raise $5 million to remodel the baseball stadium. He received the Tennessee Board of Regents Chancellor Citation for Excellence in Philanthropy. Professionally, Smith is chair of the board of Haury & Smith Contractors, a 59-year-old middle Tennessee development and home building company. He was two-term president of the Tennessee Walking Horse Breeders and Exhibitors Association (and won 10 World Championships as a rider). He served as national finance cochair for Senator Lamar Alexander's presidential campaigns in 1996 and 2000 and achieved Super Ranger status (one of only three in Tennessee) in President George W. Bush's 2004 presidential campaign. He was also national finance chair for Senate majority leader Bill Frist's leadership political action committee, VOLPAC. A nontraditional student, Smith received his degree from MTSU while in his late fifties. He attended MTSU to study finance in the 1970s but left college before completing his degree. "It's never too late to go back to school," he told MTSUnews.com after his graduation. "What all the Smiths have been good at is keeping up with something until it's finished."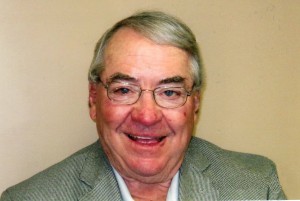 Service to the Community
Larry Cox ('68)
Larry Cox is the owner of Homestead Egg Co. (a wholesale food distributorship), Chicken City (a retail food outlet) and Cox Family Leasing (a rental and leasing company). But despite his professional accomplishments as a businessman and entrepreneur, he is better known as a tireless volunteer, ferocious fundraiser, and community philanthropist in the Knoxville area. Also a 20-year elected member of the Knoxville City Council, his nonprofit involvement is extensive. As an example, Cox has been involved for more than two decades with the Emerald Youth Foundation, whose mission is to encourage leaders in decaying urban neighborhoods. The political science major is also a field representative for Congressman John Duncan, who said of Cox, "I do not believe there is a man in Knoxville who has done more to help young people than Larry Cox has."
Young Alumni Achievement
Aaron Carlton ('05)
After serving in the U.S. Army from 2000 to 2003, where he was deployed to Iraq with the 4th Infantry Division, Aaron Carlton attended MTSU and graduated magna cum laude with a double major in International Relations and Spanish. He eventually joined the U.S. Department of State as a foreign service officer. While serving in Uganda, he drafted the Department of State's annual reports on human rights, human trafficking, child labor, and religious freedom. He also assisted the Ugandan government in establishing a prevention of trafficking office and task force. Carlton was awarded the State Department's Meritorious Honor Award for his work combating human trafficking in Uganda. During those years, Carlton often returned to MTSU at his own expense to share career advice with students in the political science/international relations arena and to encourage them to travel abroad, embrace financial responsibility, and pursue excellence. Carlton moved on to serve as a reporting officer and advisor at the United Nations in New York City. He recently became a consular officer in Venezuela.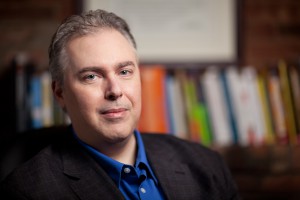 Professional Achievement
Keith Taylor ('89, '91)
While a faculty member at MTSU, Keith Taylor began using 10 percent (or $350) of his monthly gross income from his job as an English professor to give small grants to low-income families to see them through unexpected financial crises. He transformed this hobby into a nationally acclaimed online nonprofit, ModestNeeds.org. Strangers visit the website, choose a grant recipient they would like to help, and donate online. The enterprise is supported primarily by $5, $10, and $25 gifts made by legions of unassuming philanthropists around the world. His organization, where his employees refer to him as "Dr. Keith," has been called the "future of philanthropy" and has been covered in many press outlets such as Forbes, People, USA Today, the Today show, and the CBS Morning Show, among others.
---