Two MTSU student entrepreneurs have life after graduation all figured out. They'll hire themselves full-time.
by Kourtney Hanna
A recent Washington Post article explored a new trend on college campuses: amid tough economic times, entrepreneurship is on the rise among college students who now view traditional employment to be just as risky as starting a new business.
Is that the case here at MTSU? We set out to find and profile a few Blue Raiders with an entrepreneurial streak. Meet Eldridge Alexander and Mary Ann Kaylor.
Eldridge Alexander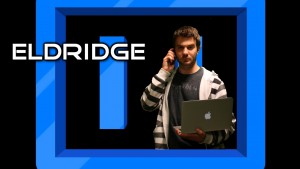 Senior Mass Communications student Eldridge Alexander is ending his college career with a job he began long before he started MTSU in 2008. A Buchanan Fellows scholar, Alexander is the owner of his own Web services company and also works on the side producing live television productions.
Back in high school, Alexander began video editing for Riverdale High's theater department and also repairing his friends' computers for free. Over time, though, through freelance work producing wedding videos or repairing technology, Alexander started charging for his time. It led to the creation of his own business, EZap Technology.
Alexander now spends his time setting up Web services for small businesses, dabbling in web design, and creating online classroom networks for MTSU's grant programs.
"One of the coolest parts of owning my own business is that as my interests and skills branch out, so can what my business can do," Alexander says. "I'm just sitting at home teaching myself stuff that's fun, but it's contributing to how much I can do with my business."
Among his many achievements, Alexander is also director of the Electronic Media Communications Department's live television productions of MTSU's football and basketball games, which are featured on ESPN 3. He has also served in many aspects of media production at North Boulevard Church, MTSU's MT10HD, and currently is the student-intern coordinator for RFD-TV's The Marty Stuart Show in Nashville.
Alexander says that education has made all the difference in pursuing his goals in business and television production.
"One of the reasons I love working in the TV field at MTSU is that I get a degree, but, more important than that, I think, is I get experience in real world environments whether it's at an MTSU-sponsored event or because of connections from MTSU," he says.
As such, once Alexander graduates in May of 2012 with a Mass Communications degree specializing in Electronic Media Production, he plans to continue to pursue his love of technology and television with his own business. For Alexander, it's not work. It's more like inspired action that pays the bills.
Mary Ann Kaylor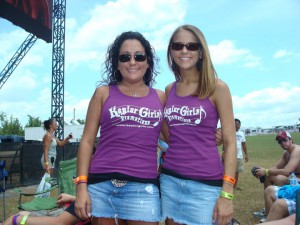 As a junior Recording Industry student studying in the area of Music Business with a minor in Entrepreneurship, Mary Ann Kaylor has already made a name for herself in her chosen industry. Along with her two sisters — avid concert goers who love to check out new talent on the weekends — Kaylor began Kaylor Girl Promotions in 2008.
"We provide a professional level street team for artists currently but not limited to the country and rock genres. We also specialize in Merchandise Sales and promoting events," Kaylor says. "We have been over the talent portion of festivals — booking, set up, sound, everything."
As regulars on the music scene in Auburn, Alabama, the girls built connections in the local music industry and began to get hired to help rev up crowds during shows – usually by choreographing dance moves to fit the songs that bands were playing and to get fans to join in.
"I went to as many shows as possible and got my friends to attend. I started to build relationships with bar owners, radio station owners, bands, and loyal fans. I got their feedback and started to help out."
Friends of the sisters have now joined the group, and their services keep expanding. As CEO of Kaylor Girl Productions, Kaylor is excited about the growth of her family business.
"We keep an up to date website of events throughout the Southeast, artist profiles, places to book, CD reviews, and blogs," Kaylor says. "We have 12 girls currently, all featured on our website, and located in Texas, Georgia, Alabama, and Tennessee. We are always looking to expand."
Kaylor credits part of her success in the music industry to her experience with MTSU's Recording Industry program.
"I think that my college education over the years has helped in the correct development of Kaylor Girl Promotions. I do feel that MTSU has provided the greatest opportunities for us with the Recording Industry and business program."
Kaylor plans to continue improving her education, and keeping Kaylor Girl Productions successfully thriving in the music industry.
"I think this business will always be a big part of my life. I hope that it continues to grow and help artists obtain their dreams while giving fans a great experience at shows."
---