MTSU's underwater treadmills provide the next step for many suffering severe mobility impairment
by Gina K. Logue
They come from home and from work, from Murfreesboro, Nashville, and points beyond to MTSU's Alumni Memorial Gym (AMG) to spend a few minutes walking in water. As ordinary a task as it seems, it's really quite extraordinary since most of them can't walk at all.
People who the insurance industry asserts are incapable of making any physical progress for the rest of their lives are making progress on MTSU's underwater treadmills.
The two machines themselves, located in separate rooms, are not so unusual. Many universities and athletic facilities have underwater treadmills. However, they are used most commonly for the rehabilitation of able-bodied athletes who have sustained injuries, mere temporary setbacks on the way to their next gold medals or touchdowns.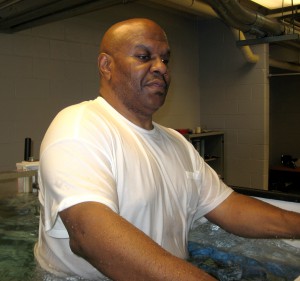 Richard Locke was a fullback for Memphis State University, now the University of Memphis, from 1977 to 1980. He amassed a total of 1,630 all-purpose (rushing and receiving combined) yards and scored eight touchdowns in his collegiate career. Today he is trying to raise his left leg high enough not to drag it against the treadmill as he walks at a steady pace through the 90-degree water, holding to the steel-enclosed glass sides for balance.
The lead custodian at Murfreesboro's Blackman High School is determined to recover from a stroke that affected the left side of his body last year.
"I can bend my knees a lot better with the water resistance," Locke says. "It feels like it gives me some stability, and it feels safer than a regular treadmill."
Any time Locke's left leg starts to shuffle, his wife, Debbie, positioned behind the treadmill, says, "Pick up that left leg!"
Dr. Sandy Stevens, who fills the tank and guides clients through their workouts, says people have been coming to the unpretentious cinder-block environs of the AMG basement for the past two years to regain lost mobility.
"Insurance doesn't cover this type of exercise because the companies say these people can't make functional improvements," Stevens says.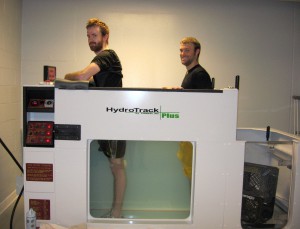 Whether full recovery is possible or not, there is value in improving one's physical, mental, and emotional quality of life. That's what Stevens wants to emphasize.
"If you put these underwater treadmills in YMCAs, in senior citizen centers, in community centers, people would use them on their own with minimal supervision," Stevens says.
Stevens is a postdoctoral research fellow with a tenure track teaching position in the Department of Health and Human Performance's exercise science program. She knows from her past research with children with cerebral palsy that using the underwater treadmill to stimulate the pathways from the nerves to the brain produces results.
She also knows from interactions with academic colleagues at conferences that no major university in the United States is conducting this type of research.
That's why Trent Swarthout and his parents traveled from Wisconsin to Murfreesboro. Swarthout, a handsome 23-year-old, was paralyzed from the neck down in a February 2012 skiing accident. Following his accident, the Swarthouts found the lack of therapy opportunities and research frustrating. Then they learned of MTSU's underwater treadmill therapy from a cousin who lives in the Nashville area.
"Initially, I was really tight," Swarthout says. "I would have spasms and involuntary movements. But, eventually, I loosened up and got a fluid walking movement going."
With an assistant behind him to move his feet, Swarthout graduated from three five-minute sessions a day to three 20-minute sessions a day over three months. He took a total of more than 50 steps, 20 favoring his nondominant left side.
"I really didn't know what to expect," Swarthout says. "By the end, I was very much surprised at how much I had done."
Swarthout is back home in Wisconsin, where he does regular treadmill work wearing a harness to prevent him from falling. His father, David, says his son has improved mentally and physically and that Trent has increased his bone density and muscle mass.
"It's just amazing," David says. "You would think they would do this everywhere."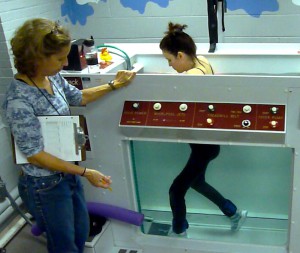 Carmen Thompson of Nashville had been married only two years when her honeymoon-like bliss ended abruptly on a summer day in 2007. She was mowing the lawn on her husband's family farm in New Orleans when the mower struck a chain hidden in the grass. The chain was wrapped around a two-ton A-frame structure, which crashed down on her, pinning her to the ground for 20 minutes before her husband arrived home and rescued her.
Two back surgeries later, Thompson remained confined to a wheelchair. Meanwhile, a friend sent her a newspaper article about MTSU's treadmill program.
"The article sat on my desk for several months as I was a complete paraplegic and did not see how it applied to me," Thompson says. "But one day, I just decided to call Sandy and see what it was all about."
On Aug. 1, 2011, Thompson became the first fully paralyzed person to try the underwater treadmill as a study subject.
"Before I started the study, I was swimming laps in the Olympic-sized pool at the YMCA twice a week, but it was not the same," Thompson says. "The water was really cold, and it was like drudgery."
By contrast, Thompson describes swishing through the warm water of the treadmill as "exhilarating."
"I walk for 10 minutes at a time with a three-minute break in between," Thompson says. "It is relaxing to me."
Thompson is further bolstered by her therapy companion, Tink, a Pomeranian who looks like an oversized powder puff. A present from Thompson's husband, Tink is a constant companion, either sitting in Thompson's lap as she self-propels her wheelchair or trotting beneath the chair, her four tiny legs a collective blur as she keeps pace.
Today, Thompson can walk on solid ground with braces attached to her legs, but she says she gives all the glory to God.
"I have been able to take my leg braces with me to wear to church and on vacation," Thompson says. "I can stand up and sing praises to God with the congregation whenever I want. Amazing after sitting for four years without the option to stand!"
Even Thompson doesn't use the word "miracle," but she and other MTSU treadmill clients are quick to
acknowledge the personal revolution in their lives.
"I am still paralyzed," Thompson says. "That has not changed. But the opportunity to stand, walk, move, and see the wonderful people at the lab three times a week has been life-changing!"
Here is a video of the Underwater Treadmill in action:
---