And why you should send your child or grandchild to your alma mater
by Drew Ruble
There are many ways to give back to your alma mater. The most obvious is to write a check. The time to do just that has never been better because MTSU is pursuing the largest fundraising campaign in its history. Reaching and even exceeding financial goals will be a big step in the continued advancement of the University, academically and athletically, as one of the finest public institutions of higher education in the Southeast.
Another way to support MTSU is to make it possible for your children and grandchildren to attend your alma mater. What's stopping you? In my time as editor of MTSU Magazine, I've heard a few alumni offer an occasional reason for being a little hesitant to send their children and grandchildren to MTSU. Many of those reasons were flat-out wrong. I was all too happy to set the record straight.
Here, then, is my personal list of the top 10 myths about today's MTSU or, put another way, the top 10 reasons to send your child (or grandchild) to college here. True Blue!
1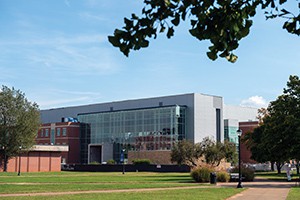 Myth:
MTSU's campus isn't that pretty.
Fact:
In addition to beautifully landscaped grounds, several new buildings have significantly elevated the overall look of campus. The $65 million Student Union Building, the soon-to-open $147 million Science Building (see below), the three-year-old College of Education building, and the brand-new Student Services Building are some of the most beautiful on any campus in Tennessee—period! Add in older structures, including the four beautiful 103-year-old original buildings (still in use today), and your eyes will tell you all you need to know about MTSU's aesthetic appeal!
 2
Myth:
Parking on campus is a nightmare.
Fact:
Last year, MTSU opened two new student parking garages. The four-level structures (valued at $23.5 million) added almost 1,000 net parking spaces near the campus core. More surface lots have also recently been opened.
3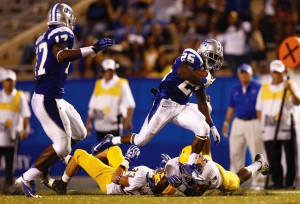 Myth:
Sports at MTSU can't be nationally prominent.
FACT:
Last year, MTSU joined Conference USA (C-USA) for inter-collegiate athletics. C-USA teams and players have made nearly 700 NCAA championship ap- pearances since the league's inception in 1995. Sixty-seven football programs have earned bowl bids; 90 men's basketball teams have participated in NCAA and NIT postseason play; 47 women's basketball squads have appeared in the NCAA Tournament; and 53 baseball programs have made NCAA tournament appearances, including 12 College World Series and a national crown for Rice University in 2003. Also, 61 men's and women's soccer teams have participated in NCAA tournaments, and Charlotte competed for the men's College Cup in 2011. We can do this!
4 
Myth:
State tuition increases across Tennessee's higher education system have made even schools like MTSU unaffordable for families.
FACT:
Perhaps the highly regarded Princeton Review said it best when it named MTSU one of the "Best in the Southeast" on its 2014 list of the nation's top colleges. Editors of the list, which recognized 138 institutions in the 12-state Southeast region, called MTSU "a growing school on the rise, [where] you get a quality education and you aren't in crippling debt afterward." Forbes once even ranked MTSU as the 47th "best buy" among all public colleges and universities in America!
5
Myth:
MTSU doesn't rank academically— regionally or nationally—like other name-brand schools.
FACT:
Nationally recognized programs and courses of study at MTSU include aerospace, recording industry, horse science, forensic science, concrete industry, historic preservation, agriculture and agribusiness, and accounting, just to name a few. MTSU also boasts what may be the best nursing and teacher-training programs in the state. In addition, it's home to one of the largest business schools in America. In these areas and more you simply cannot send your child or grandchild to a college better suited to equip them with the knowledge and skills they will need to achieve their personal and professional dreams!
6 
Myth:
MTSU is not interest in student success; it's only interested in enrolling as many students as possible.
FACT:
Actually, University efforts are unilaterally geared toward retention and providing continuous support to keep students enrolled and on track to graduation. From the retooling of classes that too many students historically have failed to the recent opening of a $16 million Student Services and Admissions Center and the new MT One Stop, an all-in-one student assistance hub, examples abound of MTSU's focus on student success. This "quest for student success," as President Sidney A. McPhee describes it, is not code for grade inflation. It's simply the right thing to do. And it's also perfectly aligned with the goals of the state legislature and governor's office. As McPhee likes to say to faculty and staff, "If students become an interruption in your day, you're in the wrong business."
7
Myth:
There are few important graduate programs at MTSU, and little significant research is conducted.
Fact:
Many are surprised to learn that one out of five degrees awarded at MTSU is a graduate degree. In fact, the College of Graduate Studies offers more than 100 programs. The reality is that MTSU is aggressively transitioning from a primarily undergraduate institution to a doctoral research university with high research activity. New interdisciplinary doctoral programs ranging from educational assessment (the only such program in the state) to molecular biosciences are driving that shift. For example, in partnership with the Guangxi Botanical Garden of Medicinal Plants in Nanning, China, MTSU has the opportunity to develop new Western medicines based on plant extracts used in the healing art of Traditional Chinese Medicine. Several recent pharmaceutical successes stemming from the use of active chemical ingredients in Chinese herbal medicines to develop conventional Western drugs reveal just how big a deal MTSU's new partnership may be. The partnership has already yielded about 40 results that show promise in treating cancer, viral infections, and other ailments.

8
Myth:
MTSU is exclusively a commuter college.
Fact:
A college education is more than an accumulation of course credits. Students don't spend all their time in class. College life is also about expanding your worldview through exposure to cultures, perspectives, and lives different than your own. With a new $65 million, 211,000-square-foot Student Union Building, highly active service and special-interest clubs, and a wealth of extracurricular activities, students at today's MTSU enjoy the full college experience and never have to leave campus to keep busy and have a great time—even during nights and weekends! (The proliferation of affordable off-campus housing has also played a big role.) MTSU's new student involvement program, aimed at connecting students to the University through extracurricular activities, attracted more than 2,700 first-time students last year, and more than 1,100 of them attended four or more events during fall 2013.
9
Myth:
MTSU is exclusively a regional school.
Fact:
MTSU was recognized last year by the Chronicle of Higher Education as a top producer of Fulbright award winners. The Fulbright Program, sponsored by the U.S. Department of State, is the government's flagship international exchange program. MTSU was the only Tennessee college or university to earn the Chronicle's distinction. Today's students simply must communicate across cultures effectively if they are to participate in the international workplace. At MTSU, internationalization of the student body is a priority. International student enrollment has increased from 396 to 789 in five years, and the University has 335 students in its study-abroad programs this summer. It has more than 40 exchange agreements with institutions around the world. Finally, MTSU's strong connections with China in terms of academic partnerships and research/industry collaborations rival any university in America.
10
Myth:
Only average students attend MTSU.
Fact:
The ACT average for the fall 2013 freshman class (22.0) continued to be above the national average (20.9) and above the Tennessee average (19.5). The average high school GPA for the fall 2013 freshman class was 3.35. Buchanan Fellowship recipients in fall 2014 comprised the strongest entering class since the University's premier academic scholarship began in 2006. Limited to around 20 students, the fellowship had 166 applications from ten different states, and the average ACT score of the applicants was 30.75. Also, enrollment in doctoral programs at MTSU increased by nearly nine percent last year.
So c'mon—send your kids to MTSU! Make it a family affair. It's a great place to get an education. Plus, how special would it be to share the same alma mater with your children? You can all be
True Blue!
MTSU
---