The Centennial Campaign, the largest fundraising campaign in MTSU's history, is having a transformative effect on programs and students across campus. The campaign is focused on four priorities:
 Fostering an innovative learning environment by building partnerships, learning spaces, and programs that  support the needs of the modern workforce
 Maintaining an exceptional student body by bolstering scholarships and student aid
 Assuring the highest quality faculty and staff by increasing tools needed to improve recruitment, retention, and   graduation
Competing at the highest levels athletically by matching up against top-notch competition, improving facilities, and focusing on academic success
Here is a glimpse at a few of the gifts made to the University during the ongoing Centennial Campaign. True Blue!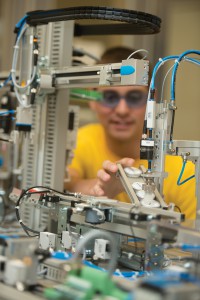 Better by Design
MTSU's new Mechatronics Engineering program promises to elevate the University's Department of Engineering Technology to the next level.
Mechatronics is a design process that includes a combination of mechanical, electrical, robotic, and computer programming as well as control systems. MTSU's program is based on a three-level international certification system created by Siemens AG, a German engineering company. An example of a mechatronic system is a surgical robot, which performs precision mechanical work under sophisticated electronic and sensory control.
Last fall, the new program received its first gift—$15,000 from the southeast chapter of the International Beverage Packaging Association—to go toward endowing student scholarships. Southeast chapter member Jimmy Davis of Murfreesboro describes the new program as a "game-changer."
Davis, an MTSU alumnus and past president of the Engineering Technology Advisory Board, is the owner of Murfreesboro-based the Davis Groupe, which supplies machinery, tools, and parts to Toyota, General Motors, and Nissan, among others.
There's a high demand for skilled workers to maintain and repair mechatronic systems. People trained and certified in mechatronics engineering can expect high-growth opportunities and wages. MTSU alumnus and state senator Bill Ketron, a small-business owner and a member of the Engineering Technology Advisory Board, says the economic impact of the new program will be significant.
"Once we start training these young people and the industries and manufacturing concerns realize there's a good, trained, and educated workforce for their needs, they'll start locating here," he says.
Sometimes Gordon and Sara Bell's friends have to choose between electricity for light or propane for heat. They can't always afford both, but when it's as cold as 50 below zero outside, and your house is made of tarpaper and a few old boards, the choice is easy.
That's why the Bells make a point of taking candles when they visit the Pine Ridge Indian Reservation in South Dakota, as they have every year for 30 years. Gordon ('73) and Sara ('72, '84) became aware of the daily struggle for life on the reservation when they joined a church mission trip. Sara has since been adopted into the tribe. On each visit, they are confronted with a crisis of health and poverty invisible to most Americans. But they are inspired by the resilience and dignity of their friends in the Lakota Sioux tribe.
They hope the student who receives their newly endowed MTSU scholarship will join them on their journey—physically, intellectually, and perhaps spiritually. Each year, a University Honors College junior or senior researching Native American topics will be selected for the scholarship.
"After all, 99.9 percent of Americans don't think about Native Americans. They're out in the middle of nowhere," Sara says. "It's easy to forget, if you ever knew. Maybe that one student will make people aware."
All Systems Go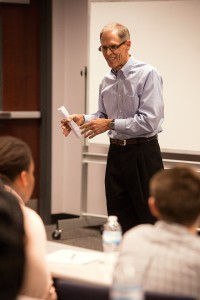 A bequest from Steve and Kathy Anderson will create an endowed chair in computer information systems at MTSU and give students the benefit of a nationally prominent faculty member who understands the important challenges and opportunities in information systems and technology.
Steve Anderson ('77) majored in Marketing with a minor in Information Technology. While studying for his M.B.A. in 1978, Anderson worked as a graduate teaching assistant in the Information Technology Department.
Upon completion of his M.B.A., he began working with what was then called Andersen Consulting (now Accenture). During his 25 years with Accenture—15 years as a partner—Anderson's client work focused on large-scale manufacturing, supply chain, and information technology strategy for Fortune 500 industrial and consumer products companies. Several of these efforts were global in scope and included teams working across Europe and the Far East. He led major restructuring efforts for several Fortune 500 companies. He also led lean manufacturing programs in over 20 different facilities across the U.S. and Europe. Anderson's client work garnered him national press recognition in publications including BusinessWeek and CEO Magazine.
Anderson's vision for the Chair in Computer Information Systems is to hire a chairperson who embodies the qualities possessed by Dr. Richard Callahan, a highly-dedicated and much-loved former professor in the then School of Business. According to Anderson, the chair will (among other objectives) expose students to creative, value-added uses of technology and conduct "innovation fairs," where student teams will develop their own innovative ideas to be judged by their peers and by business leaders.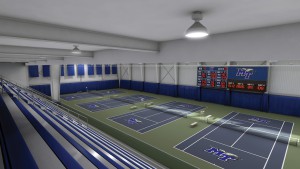 Serving It Up
A new indoor tennis facility is under construction at Old Fort Park that will greatly improve MTSU tennis and give local tennis lovers a new place to play.
The $3.7 million building will have eight indoor courts, an electronic scoreboard, a pro shop, locker rooms, a lounge, and a meeting area. It will be open to the public and serve as the home of Blue Raider tennis.
      The project was funded in part through private donations and is also part of the University's $80 million Centennial Campaign. The state-of-the-art facility is expected to open this fall.
Numerous donors have made the new facility possible. For example, the scoreboard will be named in honor of                     the LaLance families of Murfreesboro in recognition of a donation from the families of Richard "Dick" and Jan LaLance and the late Robert "Bob" and Martha Lou LaLance. A court will be named in honor of the late Carolyn Reeves, a former high school tennis coach and community leader, in recognition of a donation from Shane and Amanda Reeves and the Reeves-Sain Foundation.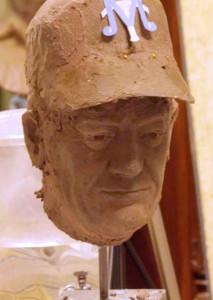 Standing Tall
John Stanford came to MTSU in   the 1950s after serving with the   Air Force, where he won acclaim as a baseball pitcher. He made his mark on Blue Raider baseball by becoming an All-OVC player.
After graduation, Stanford turned pro, pitching two seasons for the Washington Senators before serving as baseball coach for Shelbyville Central and Motlow Community College. In 1974, he returned to his alma mater to cultivate one of the most respected programs in college baseball. His Blue Raider record of 402–272–4 is second only to that of his successor, Steve Peterson. Blue Raider squads under Stanford made repeated trips to the NCAA Tournament, and Stanford won multiple coach-of-the-year honors. Later, as the University's athletic director, he worked with donors to improve baseball facilities and scholarships, upgraded the golf program, and advocated the formation of the women's softball program and field (among other accomplishments).
Stanford, who died in July 2013, will be honored with the placement of a 10-foot bronze statue outside the gates of Reese Smith Jr. Field. A similar statue of the late Reese Smith Jr., a Nashville alumnus for whom the stadium is named and whose two sons played baseball for MTSU, will stand next to Stanford's.
One of Smith's sons, Stephen B. Smith ('11), provided the funds to erect the statues. Chair of the board of Haury & Smith Contractors, a six-decade-old middle Tennessee development and home building company, Smith also served on the board     of directors of the Blue Raider Athletic Association, is a member of the Blue Raider Sports Hall of Fame, chaired the search committee for MTSU's athletic director, spearheaded the successful effort to raise   $5 million to remodel the baseball stadium, and now is an important part of the University's $80 million Centennial Campaign. He was named an MTSU Distinguished Alumnus last year.
To donate, visit www.mtsu.edu/supportMT.
---