A Look at the laudable, the deserving, and the downright delightful aspects of Tennessee's Best University
by Drew Ruble
To celebrate Middle Tennessee State University's 100th birthday on September 11, 2011, MTSU Magazine presents its unofficial, hardly comprehensive list of the 100 Things We Love About MTSU. Though numbered, the list is not ranked. After all, the MTSU experience is so rich, and the body of faculty, staff, students, and alumni so vast, one person's number 100 would be another's number 1.
No, the purpose of this list is not to compare apples to oranges (to grapes, to kiwis, etc.) but to celebrate the entire experience—the  whole basket of fruit!
As we compiled this list, though, we did discover that much of what we love about MTSU falls nicely into definable categories that speak well to who we are as a university.
We're about student success
we're key to regional economic development
we're global in reach
we're filling the jobs of tomorrow
we're instilling competitiveness
we're bridging history and high-tech
we're a culture of achievement
we're broadening perspectives
we're building for the future
we're supporting the midstate
we're targeting solutions
we're seeking excellence
and we go the distance.
Said another way, at MTSU, we're all about pride, tradition, and excellence
100: Our new air traffic control simulator
MTSU's brand new, $3.4 million, 360-degree seamless simulator is the most sophisticated of its kind in the world. No other flight school in America has a device like this.
---
99: We are the Nashville area's workforce
MTSU's enrollment exceeds those of Vanderbilt, Tennessee State, Belmont, Fisk, and Lipscomb universities combined. The University produces more graduates for Nashville's work force than those five institutions put together. Though more MTSU graduates stay and work in middle Tennessee than do graduates of other schools, Blue Raiders can be found throughout the U.S. and worldwide.
---
98: We're student centered
MTSU's new student intake program makes a contract with new students in the Colleges of Education, Behavioral and Health Sciences, and Mass Communication stating explicitly what it will take to be successful at their chosen goals. Then it keeps academic advisors aware of the decisions students are making throughout their academic careers. The end result? Better informed (and tracked) students who stay on course toward graduation. There is not another university in America with a student retainment model like this!
---
97: Mastering the correct stride length to successfully walk up the steps to Murphy Center.
---
96: Tailgating in Walnut Grove
Walnut Grove, between Peck Hall and Cope Administration Building (which some say has trees grown from nuts collected at Mt. Vernon), is popular with students, alumni, and fans before Blue Raider home football games (the Greenland Drive tailgating area is a good time too). Raider Walk features football players and coaches making their way through the gathered crowd and on to the football stadium.
---
95: We're nontraditional
A few years back, then–Gov. Phil Bredesen issued a challenge for some university in Tennessee to step up and build a successful adult degree completion program. MTSU responded to the call, promising the governor 15 students. Instead, it churned out 500. Today, officially half of MTSU students are classified as adults (many of whom benefit from the June Anderson Center for Women and Nontraditional Students). That makes MTSU a major cog in efforts to improve graduation rates—a high priority among state policymakers.
---
94: Our 3 new science Ph.D. Programs
MTSU's three newest Ph.D. tracks reflect the University's commitment to filling the jobs of tomorrow. Molecular Biosciences teaches students to understand biological patterns and processes. Computational Science is used to solve complex problems using numerical solution, computational modeling, and computer simulation. Mathematics and Science Education prepares graduates for positions in colleges and universities, where they will conduct discipline-based research and prepare America's next generation of K–12 mathematics and science educators and leaders.
---
93: The enduring columns of Kirksey Old Main.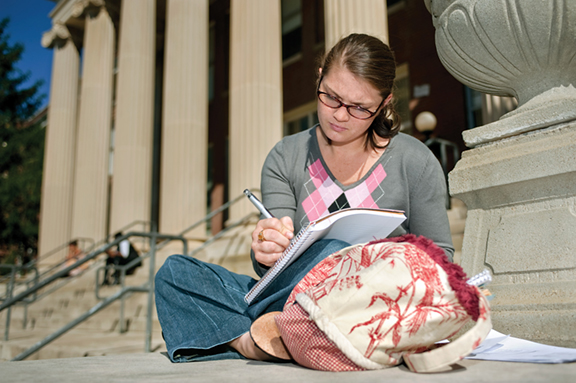 ---
92: We've got the best milk!
The chocolate milk MTSU produces for students has won national awards. MTSU's new $4 million dairy facility for the herd of approximately 60 cows includes a large hay barn, shop and storage barn, a six-bay commodity feed structure, bedding pack barn, and milking parlor (the dairy). The dairy provides chocolate and white milk for campus dining, and 3,800 pounds per week—or one-third of the dairy's production—is consumed on campus. (The remaining milk is sold to the Maryland & Virginia Milk Producers Cooperative Association.)
---
91: Savvy business partnerships
MTSU has recently partnered with several top Chinese universities on research initiatives sure to bring us recognition around the globe. In collaboration with a major corporate partner, MTSU recently developed an unparalleled Unmanned Aerial System program in the southeastern U.S. The Department of Aerospace is assisting the Federal Aviation Administration to define standards for next-generation air traffic management. And the list goes on and on …
---
90: Alumni Summer College
Open to alumni and friends, Alumni Summer College provides an opportunity to expand one's knowledge of interesting subjects with a curriculum that combines innovative classes and entertaining tours specifically created with MTSU alumni in mind.
---
89: Our world-class Center for Dyslexia
Albert Einstein, Walt Disney, and Leonardo Da Vinci all were thought to have some form of dyslexia. Many others who suffer from the disorder, however, don't lead such successful lives. The Tennessee Center for the Study and Treatment of Dyslexia at MTSU is a model for the organization and delivery of professional services to students with dyslexia, to psychologists and teachers who identify and instruct them, and to schools that must orchestrate a broad range of factors to enable these students to achieve their potential.
---
88: Getting lost in Peck Hall (many freshmen can relate).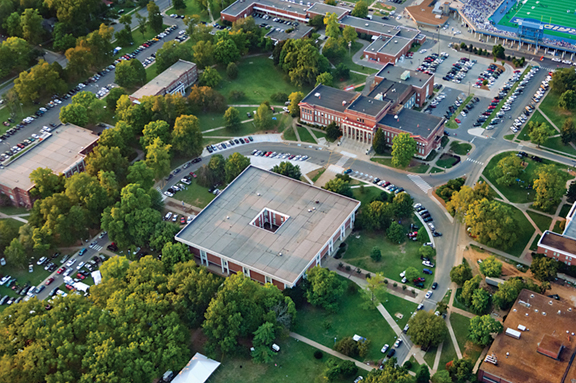 ---
87: We go the Distance
Distance learners comprise close to 37 percent of MTSU's undergraduate enrollment (over 10,000 students), and unlike many universities, MTSU does not have a separate faculty serving its online student body. Distance learners have access to the same core faculty that traditional students have in on-campus classroom settings.
---
86: BERC
How do we know that Nashville's health care industry contributes nearly $30 billion and 210,000 jobs to the local economy? Or that Bonnaroo is a cash cow for middle Tennessee? And who conducted a study that led to federal funding for a $20 million northwest Tennessee slack water port? The Business and Economic Research Center, housed in the Jones College of Business—that's who. The most outstanding tracker of Tennessee's economy, BERC is often cited in newspaper analyses statewide.
---
85: Our strong ties to China, including the Confucius Institute
By 2030—well within the professional work lives of most current MTSU students— China will surpass the U.S. as the world's economic superpower. MTSU has forged several savvy relationships with Chinese institutions and organizations— most prominently, Hangzhou Normal University to sponsor the recently established Confucius Institute. The purpose of the Institute is to enhance the understanding of Chinese language and culture. Given that China is Tennessee's third-largest export market, that's a sentiment business and political leaders throughout Tennessee can support.
---
84: The MTSU Poll
The MTSU Poll is the most read and most respected poll in Tennessee. Media outlets statewide carefully watch for the poll and write breakout articles about the results. Conducted twice yearly, the poll tracks attitudes regarding free expression, faith in major institutions, and a wide range of public issues. Students serve as poll interviewers as an integral part of their training in mass communication.
---
83: We graduate!
MTSU currently boasts the second highest graduation rate—52.9 percent—of all four-year universities in the Tennessee Board of Regents system and is achieving that high rate even though it has by far the largest student body in the system. Such success is in lock step with the directives of the Complete College Tennessee Act of 2010 passed by the Tennessee General Assembly
---
82: Our ASCAP Partners in Craft Program
The program pairs veteran songwriting and publishing mentors with students majoring in Recording Industry and concentrating in Commercial Songwriting. These students learn the ropes and gain a distinct advantage in getting heard on Music Row.
---
81: The trees on campus—fall foliage and spring green.
---
80: The new Student Media Center
The College of Mass Communication's new student media center puts the student newspaper and radio station and journalism students under one roof together in a state-of-the-art facility. That multiplatform environment mimics real-life modern journalism and further enhances the reputation of the college as a premier place nationally to study media.
---
79: Our surging athletics programs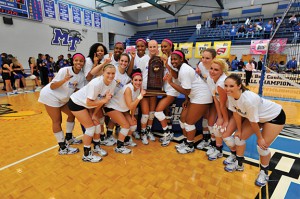 Earlier this year, MTSU's football program went to its third bowl game in five years, scoring its fourth nationally televised game of the season, a new school record. And the Lady Raiders basketball team made their second straight NCAA tournament. In all, MTSU won or shared six SBC championships during the 2010-11 campaign and had four Coach of the Year honors, five All-Americans, two Conference Players of the Year; and an impressive 26 student-athletes won individual conference championships. Numerous MTSU baseball players have been drafted by the major leagues, including former first-rounder Bryce Brentz (Red Sox). It all culminated recently in another Bubas Cup—the Sun Belt's annual recognition of the conference's top athletic program. Better yet, our student-athletes continue to excel academically—46 percent of all student-athletes this spring had a GPA of 3.0 or higher. Football coach Rick Stockstill was named one of the top 10 coaches in America for academic progress. Those are sports statistics worth crowing about!
---
78: The Horseshoe
Put in place in 2006, the blue horseshoe has a penny from 1911 (the year the University was founded) buried beneath it. Alumni, students, and fans are encouraged to touch the horseshoe for good luck before events like a big game, a performance, or even a test.
---
77: The Albert Gore Research Center
The Albert Gore Research Center is a manuscripts repository dedicated to preserving and making available for research primary source materials related to Tennessee history. Through its public programming, educational activities, oral history program, and exhibits, the center goes beyond preservation to promote the active study of the region's history by its citizens. The papers of Albert Gore Sr. ('32), former congressman and senator, form the cornerstone of the center's collection. Its equine studies research papers are also second to none.
---
76: MTSU's academic alert system
The University's new system allows MTSU faculty to send out electronic messages alerting students and their academic advisors about adequate progress. Clearly, keeping students enrolled and advancing toward their degrees is a top priority of MTSU. And the faculty believes it is their job not only to teach students but also to help them succeed and graduate.
---
75: We're Adult-Focused!
MTSU is the only college or university in Tennessee designated an "Adult Learning Focused Institution" by the Council for Adult and Experiential Learning. The recognition by the international learning coalition signals that MTSU is the destination of choice in our state for adult students. It also shows we excel in serving adult learners and helping them succeed
---
74: Students having fun kayaking and swimming in the Bell Street Field when it rains
---
73: Our Research
Our people are studying individual cells to unravel the causes of sickle cell anemia, producing research on the leading edge of metabolic engineering, spearheading groundbreaking research on sportsmanship, and executing exciting research on restoring movement for paraplegics, to name just a few efforts.
---
72: Our concrete advantage
The Concrete Industry Management (CIM) program recently became the University's newest department in the College of Basic and Applied Sciences. Job placement rates top 90 percent, and CIM graduates boast some of the highest starting salaries among MTSU graduates. The program attracts students quite willing to pay out-of-state tuition to get the benefit of the new department's curriculum. MTSU initiated the first-of-its-kind degree program over 10 years ago in partnership with the concrete industry, a largely rurally based, mom-and-pop-intensive industry, where middle management roles were historically left to chance. (Is it any wonder why MTSU boasts pervious pavement all over campus?) An 18-month executive M.B.A. program is scheduled to begin in August 2012.
---
71: Our new student union building
The new student union's 197,180 square feet will accommodate a bookstore, copy center, game room, and food court on the first floor; a ballroom, parliamentary room, video theater, computer center, conference and meeting rooms, and student lounges on the second floor; and offices for student involvement and leadership on the third floor.
---
70: Generous donors
There are too many to list, so we'll just point to Don (left) and Carolyn (far right) Midgett's recent establishment of the Ralph and Elizabeth Gwaltney Centennial Scholarship, and the first Centennial Scholarship earmarked for the University Honors College named in honor of Carolyn's parents. Louise Parker (middle) is the younger sister of Elizabeth Gwaltney.
---
69: Our student-run media outlets
Tune in to WMTS 88.3, student-run radio. Check out MTTV, a student-run television station with programming that ranges from nightly news to a dessert-based entertainment show. And read Sidelines, the student-run, editorially independent newspaper.
---
68: The Jennings A. Jones College of Business
MTSU's business college is one of the largest in the nation.
---
67: Summer school
MTSU operates the most successful summer school program in America. In terms of participation, no other university in the nation comes close. Data strongly suggests that students who attend summer school graduate at a higher rate. Students home from other colleges can enroll as transient students. High school students can start college coursework, too.
---
66: The MTSU Center for Historic Preservation
The center has helped recognize more than 1,400 farms, all continuously owned by the same families and in agricultural production for more than 100 years, through the Tennessee Century Farms program. The center also launched the Rural African American Church Survey; administers the Tennessee Civil War National Heritage Area; and helps communities statewide develop historic preservation plans, historic structure reports, heritage tourism plans, Main Street program assistance, National Register and survey projects, and a host of other related assistance.
---
65: Our student farmer's market
Students grow their own transplants in the greenhouse on campus and then transfer them to a quarter-acre plot at the Guy James Farm, which MTSU purchased from Rutherford County a few years ago. Happy consumers know where their money is going—to support students and programs.
---
64: Our top-notch Recording Industry program
The Department of Recording Industry—a signature, nationally respected program—is the clearest proof that the road to Music Row (or the music industry in New York or Los Angeles) starts in the 'Boro. Rolling Stone magazine has recognized MTSU as having one of the preeminent music business programs in the nation.
---
63: James E. Walker Library
Opened in 1999, the four-floor, 250,000-square-foot building has a capacity of 800,000 volumes. And it has a Starbucks. The Library had 980,000 visitors in the fall semester 2010, an average of 30,000 a week.
---
62: The bell tower that peals from the Paul W. Martin Sr. Honors Building, signifying that another MTSU student has completed an Honors thesis.
---
61: The Center for Cedar Glades Study (CCGS)
Established through EPA funding, the CCGS provides education and research on the ecology of cedar glades, a globally unique, endangered ecosystem found primarily in middle Tennessee, where limestone bedrock occurs near or at the surface (making it impossible for trees to grow). Rapid growth and development has destroyed about half of the area's cedar glades.
---
60: The Rec
Weight, cardio and fitness aerobic rooms, including elliptical that allow you to produce energy while working out (be healthy and be green!). A climbing wall. Six basketball courts, six racquetball courts, an indoor track, and an indoor soccer arena. An indoor swimming pool with a slide and diving board, and a zero-entry, 5-ft. deep, outdoor pool. A challenge course available for corporate team building. And don't forget opportunities like Ocoee whitewater raft trips offered through Campus Rec. Need we say more?
---
59: MTSU's Mock Trial team
The team has had several top-ten finishes in the national championship tournament and routinely beats high-profile competitors like Georgia Tech. MTSU's own invitational tournament, the Mid-South Mock Trial Invitational, is one of the largest of its kind in the United States.
---
58: Our new $1.4 million mobile production lab
Mass Comm students can now do mobile productions in a custom truck outfitted with the latest technology in digital and high definition. Documentary production, disaster simulations, and remote location filming are just some of the educational exercises that take place in the 40-foot truck.
---
57: The football team saluting the student body to the music of "The Tennessee Waltz" at the end of every home football game.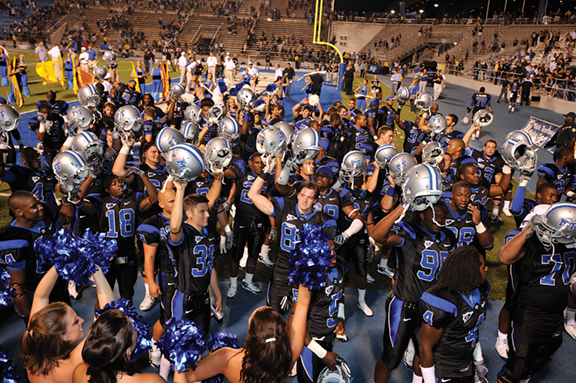 ---
56: FASR (Forensic Anthropology Search and Recovery Team)
Mainly undergraduate students hand-picked by MTSU professor and nationally recognized forensic anthropologist Dr. Hugh Berryman, the FASR team accompanies Berryman to actual crime scenes when law enforcement calls him to collect and analyze remains. Clients range from local law enforcement and fire departments to the Tennessee Bureau of Investigation and the State Medical Examiner's Office in Nashville. Where else can undergraduate students gain such experience in the field?
---
55: The Center for Popular Music
A world-class center for the study and archiving of popular American music, the CPM remains better known around the world than here in middle Tennessee. There are somewhat similar centers out there—but none this good or with a collection like this.
---
54: Our original campus buildings
Four beautiful, weathered, 100-year-old original campus buildings are still in use today: The President's Home, Rutledge Hall dorm, the old dining hall now known as the Tom H. Jackson Building, and the beloved Kirksey Old Main.
---
53: MTEC (Middle Tennessee Education Center)
This partnership among MTSU, Motlow State Community College, and Bedford County provides additional higher education opportunities to those who live in the entire southern part of middle Tennessee. MTEC has several on-site classes, with a full degree program offered by MTSU's College of Education in interdisciplinary studies for K–6. Beginning this fall, the partnership will offer a full degree program in business administration—which could help economic development for the central Tennessee business region framed by Huntsville, Alabama; Arnold Air Force Base; and the Nashville metropolitan statistical area.
---
52: International connections
The internationalization of students is a priority. Today's students simply must communicate across cultures effectively if they are to participate in the international workplace. As of last fall, 400 international students from more than 60 countries attended MTSU. Students have the chance to engage on campus with people from everywhere in the world. And because of collaboration with other institutions, students can join exchange programs with universities in Brazil, China, France, Germany, Ghana, Japan, Philippines, Russia, South Korea, Taiwan, Thailand, and the United Kingdom. From here to anywhere!
---
51: The ping of the baseball bat at Reese Smith Jr. Field
---
50: Collage magazine
MTSU's biannual creative arts magazine (housed in the Honors College) is regarded among the nation's top college magazines, winning several Columbia Scholastic Press Association Awards, including four Gold Medalist certificates for consecutive years 2006–2009 and Silver Crown Awards in 2007, 2009, and 2011.
---
49: Harvey
Speaking of rivalries and icons, the rivalry between MTSU and Tennessee Tech arguably started in 1909 when the state legislature chose Murfreesboro rather than Cookeville as the home of one of three normal schools. An ensuing athletic rivalry lasted, oh, about eight decades. In 1960, Fred Harvey, owner of Harvey's Department Store in Murfreesboro, donated an Alaskan totem pole to become the victory symbol for whichever university won the annual game. When MTSU won, the totem pole was known as "Harvey." When Tech won, and took the pole back to Cookeville, it was referred to as "Shinny-Ninny." Harvey came up missing after the 1984 Blue Raider victory over Tech. Tech officials claimed the totem pole had been stolen from their bookstore. Soon after, Sidelines began receiving photos of Harvey in front of the White House gates, at the Washington Monument, and an undisclosed Florida location. He eventually resurfaced, and came home permanently to MTSU in 1998 with the move to Division I-A. He is now housed permanently in the Rose and Emmett Kennon Sports Hall of Fame on campus.
---
48: Our new master's in Horse Science
This program, launched this spring, makes MTSU one of the southeast's best choices for undergraduate and postgraduate education in the multifaceted and evolving equine industry. Graduate students may choose to concentrate in Equine Physiology, Industry Management, or Equine Education. The Horse Science program is led by director Dave Whitaker, a nationally recognized leader in equine science. The program's faculty is regarded as among the best in the nation.
---
47: TSSAA Tourney and Spring Fling
The Tennessee Secondary School Athletic Association's (TSSAA) annual high school basketball tournaments in MTSU's Murphy Center are a fun time on campus and a tourist boon for Rutherford County. Spring Fling—TSSAA's annual sports extravaganza that crowns state champions in track & field, soccer, tennis, baseball and softball—is equal in impact. It's a neat feeling knowing that at the beginning every school year, high school athletes statewide set a goal to get to the campus of MTSU.
---
46: Our own post office
A 26,000-student university gets its own U.S. Post Office.
---
45: Our Aerospace program
The MTSU Department of Aerospace—established in 1942—is one of the top five aviation programs in the U.S. The only university with a seamless 360-degree air traffic control simulator for training students and conducting research, MTSU recently executed a $1.4 billion contract with the FAA to perform research on next-generation communication technologies to control air traffic. The department's budding reputation in unmanned aircraft research is also nationally recognized.
---
44: One-of-a-kind student art in Todd Hall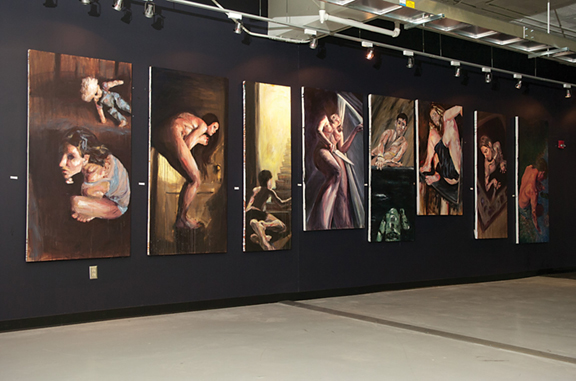 ---
43: Tennessee Miller Coliseum
The Coliseum—a premier venue for horse shows—sits on 154 acres and features a 150-by-300-foot floor, a covered warm-up area, 492 10-by-10 animal stalls, almost 70 camper hookups, 400 paved parking places, and a modern sound system. It seats 4,600 and can be extended to a capacity of 6,500. The $21 million facility was named for the late John C. "Tennessee" Miller at the request of his wife and the benefactor behind the coliseum, the late Mary Elizabeth Miller.
---
42: The Battle of the Palladium
In Greek mythology, the Palladium was a wooden statue of Athena in Troy that fell from the heavens and protected the city until "raiders" Odysseus and Diomedes stole it during the Trojan War, leading to the fall of Troy. Today, the Battle for the Palladium is an annual football rivalry between the Blue Raiders and the Troy Trojans that ESPN has named one of the "Top Five Non-BCS In-conference Rivalries in College Football."
---
41: Scholars Week
Each April, the University-wide celebration of student and student-faculty projects culminates in a poster and multimedia exposition followed by an awards ceremony. From science projects to original songwriting, this is what MTSU is all about.
---
40: The Roundabout
The old Tennessee State Capitol limestone columns displayed at our roundabout—the new front door to campus—remind us that Murfreesboro was the capital of Tennessee from 1818 to 1826 and almost became the permanent capital. In 1834, the state hired Professor James Hamilton to find its geographic center in order to locate the state capital as near as possible to the center of the state. Politics, though, left the capital in Nashville, although Gov. James K. Polk wanted it moved to Murfreesboro.
---
39: Blackout!
Each year, one home football game is designated as the program's Blackout game, during which fans set aside MTSU's traditional school colors and wear all black.
---
38: Milton Conference
Since 1991, scholars from all over the world have come to Murfreesboro to attend a biennial conference devoted to the work of the great British poet John Milton (1608–74). The conference, established by Professor Emeritus Charles Durham and hosted by the English Department, is often referred to by Miltonists as "the Murfreesboro Conference."
---
37: Our School of Nursing
MTSU nursing students pass their state nursing exams on the first try at a higher success rate than any other program in Tennessee.
---
36: Guest speakers
Recent speakers include banjo virtuoso Bela Fleck; Kathy Reichs, producer of the hit TV forensics series, Bones; and veteran civil rights attorney Fred Gray (pictured above), who at age 24 represented Rosa Parks and was Martin Luther King Jr.'s first civil rights lawyer.
---
35: Our music studies influence
Earlier this year at a joint meeting of the Society for American Music and the International Association for the Study of Popular Music, six MTSU faculty members were presenters. That contribution dwarfed the presence of other universities like UCLA and Florida State. It's proof of the unusual wealth of music studies talent in place at MTSU. Located so close to Music City, and with world-renowned entities including the Center for Popular Music and the Recording Industry program, MTSU is well positioned to brand itself as an extremely desirable place to study the history of popular music. The University also boasts the legacy of the late music scholar Charles Wolfe, a Grammy-nominated professor emeritus of English and folklore, who pioneered writing about country and pop music in a serious, informed, scholarly way.
---
34: Our Instructional Technology Support Center (ITSC)
MTSU is the only Tennessee university with a statewide educational satellite and webcasting network. Since 1998, the center has offered live, interactive, educational television programs free of charge to K–12 teachers and students in remote areas of Tennessee. More than 6,000 teachers and students from 116 school districts have participated in ITSC broadcasts or webcasts in the past two years. Recent programming has included content such as "Colonial Williamsburg Electronic Field Trip: Women of the Revolution."
---
33: Our proximity to Music City
A diverse economy. A growing nightlife scene. The brand in country music. Professional sports. Tourist attractions like the Country Music Hall of Fame. A new convention center under construction. A great place to raise a family. Students of MTSU enjoy the best of two worlds living and studying in a real college town like Murfreesboro but close to Nashville, one of America's most culturally diverse cities.
---
32: The Contest of Champions
This high school marching band contest is the preeminent such event in the southeast, drawing bands from New York to Texas. Across the southeast, band directors refer to the event simply as "Contest." The Contest is celebrating its 50th year this year.
---
31: Band of Blue, Pep Band and Dance Team
We love the first time you can hear MTSU's marching band, the Band of Blue, practicing at band camp. MTSU's largest student organization, the Band of Blue is larger than most Big 10 Conference bands. Also, men's and women's home basketball games simply would not be the same without the Pep Band. And the 2010 Dance Team finished in second place in the Challenge Cup Division I-A Open at the NDA College Nationals in Daytona Beach.
---
30: The Uranidrome
Funded by NASA, MTSU's naked-eye observatory enables students (elementary through university) to observe celestial events in a way similar to the way Greek astronomers did. It's not a bad spot to sit and take a break either. Next door is a modern observatory with high-powered telescopes connected to HDTV screens that face outward onto the campus lawn for public viewing.
---
29: Phillips Bookstore
If you need it, the bookstore has it. If they don't have it on site, you can order from a catalog of 28,000 items.
---
28: The new WMOT
MTSU's historic radio station, WMOT 89.5-FM, updated its format earlier this year to add classical music to the daytime mix, aiming to fill a niche left open by fellow public radio station WPLN's all-talk format change. The update keeps jazz playing all night and adds news programs including NPR's All Things Considered to the schedule.
---
27: Our Kurdish language courses
Tennessee is home to the largest Kurdish community in the nation. MTSU is one of just a few universities nationwide that offers Kurdish language courses. Why is that significant? As a result of Saddam Hussein's regime, which for years forced Kurds to learn Arabic, the Kurdish language is actually endangered.
---
26: On-campus eating
RFoC at McCallie and RaiderZone are two fullservice dining halls. The KUC Grill offers quick service and great food, featuring Pizza Hut, Quiznos Subs, Chick-Fil-A, Asian Express, Einstein Bros. Bagels, and more. At Cyber Café, students surf the internet and satisfy their cravings for Subway and Topio's Pizza.
---
25: Homecoming
Don't miss game-day tailgating, club reunions, the chili cook-off, Tent City, and more.
---
24: The quotations in the Quad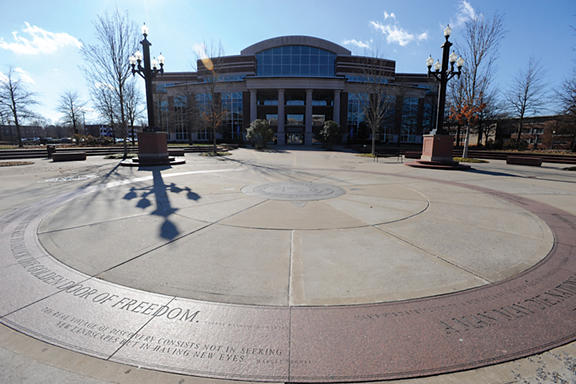 ---
23: The Yunus program
MTSU and the University of Chittagong in Bangladesh recently entered a five-year agreement of friendship and exchange that will pave the way for the establishment of programs honoring the work and philosophy of Nobel Prize–winning economist Dr. Muhammad Yunus (a former MTSU faculty member). The partnership is intended to heighten awareness of Yunus's work in microfinancing and thereby help eradicate poverty and reduce social problems in the world.
---
22: Moon buggies, solar boats, and rocket teams, oh my!
The Engineering Technology Department's experimental moon buggy recently earned first-place (safest approach to building, testing and racing category) in competition at the U.S. Space and Rocket Center in Huntsville, Ala. The program also boasts an award-winning solar boating team. And don't forget the Aerospace Department's rocket team, which is known to send homemade rockets a mile into the sky.
---
21: MTSU's state-of-the-art student health care
Ten years ago, MTSU Health Services was little more than a bandaid station. Today, it's a modernized health center providing treatment of all kinds to students. (Short of brain surgery, they can do it.) Saving students a $500 visit to an ER might be the thing that keeps them enrolled in college. The facility also houses the only pharmacy at a state school in Tennessee.
---
20: Tennessee Governor's School for the Arts at MTSU
The State of Tennessee provides 12 summer programs for gifted and talented high school students. These programs provide challenging and intensive learning experiences in disciplines ranging from the arts to scientific exploration. The Governor's School for the Arts at MTSU focuses on music, dance, filmmaking, visual arts, and theater.
---
19: Student volunteerism
The BIG Event, a national initiative supported by the Student Government Association each spring, is the largest one-day, student-run service project in the U.S. Other student volunteer projects include Up 'til Dawn, Alternative
Spring Break, and Habitat for Humanity, to name just a few.
---
18: Our on-campus cultural performances
See the Broadway play Rent at Tucker Theatre. Enjoy symphony, jazz, and choral concerts from the School of Music. Take in a guest or faculty recital. See MTSU's nationally recognized and fast-growing dance theater shows. These are just a few examples of the on-campus performances that add mightily to the culture and quality of life in Murfreesboro and Rutherford County.
---
17: The Middle East Center
The first of its kind in Tennessee, the center promotes an understanding of the various populations and cultures of the Middle East among the student body and in the surrounding community.
---
16: MTSU's specific color of blue is so flattering!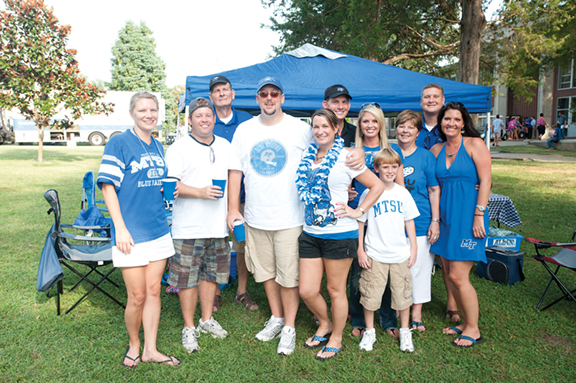 ---
15: We're big . . . really big . . .in fact, the biggest!
From humble beginnings as Middle Tennessee Normal School, responsible for the education of elementary and high school teachers, MTSU has grown to become the largest undergraduate university in the state of Tennessee. In a 10-year span, MTSU's enrollment has increased from more than 18,000 in 2002 to more than 26,000 in fall 2010.
---
14: Our student film festival
Who knows? Maybe the next Quentin Tarantino might be a student at MTSU. Each spring, in collaboration with the Nashville Film Festival, the Films Committee conducts a student film festival showcasing MTSU's best up-and-coming filmmakers. Check out this year's first-prize film by searching "FacesSpace.com" on YouTube.
---
13: MTSUNews.com and Out of the Blue
MTSU's news happens daily. And it happens fast. The recently launched MTSUNews.com delivers MTSU's news in real time rather than every two weeks like it once did in print. Visit the website at www.MTSUNews.com and see for yourself. The University's TV news magazine program, Out of the Blue, airs on NewsChannel 5+ and on public access channels across the region. If you haven't checked it out lately, you should.
---
12: Doing homework in the Grove.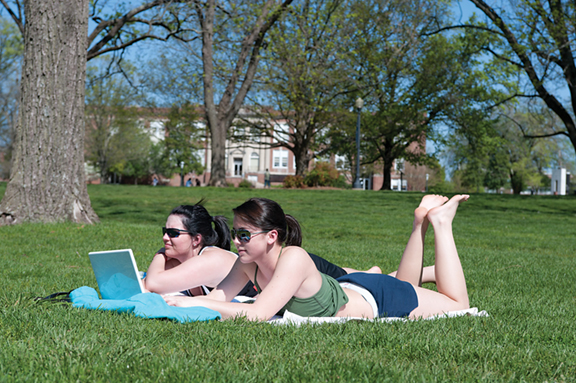 ---
11: TXMD's annual Fashion Show
Feel transported to a fashion runway in France during the annual fashion show of the Textiles, Merchandising, and Design program. The show is fully organized and produced by the Fashion Promotion class—from fundraising to wardrobe selection, modeling, hair and makeup, staging and music, and publicity.
---
10: Bike Night
At 8:30 p.m. on Wednesday nights, after classes let out, the Quad in front of Walker Library starts filling up with people on bicycles. By 9 p.m., there are usually about 50 bikers on hand. Off they go for a late-night ride around Murfreesboro—past the Rec, behind Greek Row, out onto Rutherford Boulevard, down Main Street, and all the way to the heart of downtown, where they circle the square a few times before dispersing. Even some graduates are known to come back to campus for the moonlit ride.
---
9: Our new education building
How appropriate is it that on the 100th anniversary of a school started as a teacher training college, MTSU is moving its College of Education into a state-of-the-art, $30 million, 87,000-square-foot, wired and sustainable building?
---
8: We're military-friendly
MTSU proudly boasts more than 1,000 veterans among its student body. Last year, MTSU was included among the top military-friendly universities in the nation by G.I. Jobs magazine. MTSU's Military Center, a one-stop shop for veterans in need of special assistance on campus, was highlighted as a key reason for the designation. (And don't forget MTSU ROTC.)
---
7: Every spring and fall when seniors become graduates.
---
6: We're in the middle of it all
The geographic center of the state is a stone's throw from our campus. There's even a marker to prove it!
---
5: We're a top site nationally for physics teaching
There are only twelve National Science Foundation–approved Physics Teacher Education Coalition (PhysTec) sites in the nation, and MTSU's Department of Physics and Astronomy is one of them. Others include Cornell, UNC–Chapel Hill, Arizona, and Colorado. The department's potential to increase the number and quality of physics teachers graduating annually from MTSU should get attention from state policymakers eager to see Tennessee's science IQ rise.
---
4: More than 250 student organizations
---
3: Our Nobel Prize winner connections
James McGill Buchanan Jr., the 1986 winner of the Nobel Prize in Economic Science, graduated from MTSU in 1940. Muhammad Yunus, who shared the 2006 Nobel Peace Prize with the Grameen Bank, which he founded in 1983, began teaching economics at MTSU as a grad student and continued to do so after completing his degree in 1970. Former vice president and Nobel Peace Prize winner Al Gore had a formal faculty appointment at MTSU for a period of time.
---
2: We produce Tennessee's teachers
If someone asked you to name the five most influential people in your lifetime, would a teacher be on that list? One of the finest teacher preparation institutions in the southeast, MTSU produces a huge percentage of the certified teachers trained in the Tennessee Board of Regents system.
---

1: We're the No. 1 choice of undergraduates in Tennessee.
One reason why is that we are more than just an academic community. All of us—faculty, staff, students and alumni—are a family. Together, we strive to live up to our tradition as Tennessee's Best Comprehensive University. For the past 100 years, we have provided our students with unique and meaningful opportunities to unlock their intellectual potential, so they may realize the promise in their future. We have drawn the notice of several prestigious organizations, including a No. 57 in Forbes' Magazine's 2009 rankings of America's Best Colleges and Universities; as well as a "Best Buy" notice by Forbes, at No. 47 for value in higher education; and Princeton Review and U.S.News & World Report recognition as one of the best universities in the south.
---