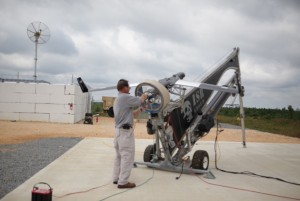 Unmanned aircraft systems (UAS) are already big business for the military, but the commercial side of UAS is ready for takeoff, too. More law enforcement agencies are using drones for surveillance, and, as technology advances, UAS could be used for search-and-rescue operations or even to monitor crops on large farms.
The launch of a UAS program at MTSU could not have come at a better time for students, says program director Kyle Snyder. Those who study UAS now will be ready to go into business selling and operating the systems just as the commercial market emerges.
The program will benefit the government sector and Tennessee's economy as well, says Snyder.
The Federal Aviation Administration has seen the UAS trend coming, but it needs solid research to determine how to integrate drones into the nation's airspace.
ISR Group, located in Savannah, Tenn., is a business specializing in UAS field service operations and training for military applications. It wants to tap into the fledgling commercial UAS market, but the FAA currently won't allow drones in the national airspace unless they are used for law enforcement or research.
A multiyear partnership agreement between MTSU and ISR, signed in February, has something for everyone, Snyder says. MTSU gains access to ISR's expertise and facilities and gets corporate funding to establish a UAS curriculum. ISR wins entrée into the commercial market through its research with MTSU. And the FAA captures rare data because (unlike UAS programs at most universities, which tend to be located near military bases) MTSU is in unrestricted airspace. In short, MTSU is uniquely positioned to help develop the commercial side of UAS.
And Snyder, who worked for years in aerospace product development, is uniquely positioned to leverage that experience."I can take my knowledge, all those connections, and say, 'Hey, you at John Deere, you're wondering if we can provide an application that tells you when you need to apply nitrogen. Well, we can go do that research. We can fly to MTSU farms and do exactly that."
Since his hire, Snyder has been busy building a curriculum along with lucrative business partnerships. The Department of Aerospace began offering an introductory UAS course this fall.
---