John Lemons pays a little back even as he pays a lot more forward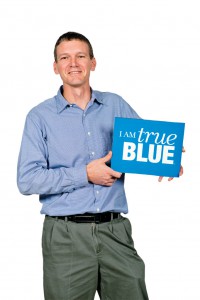 When 2011 graduate John Lemons received his first paycheck as a brand new special education teacher with the Bedford County School system, he did something few recent graduates do. He wrote a $25 donation check to his alma mater. What compelled him to do it?
"I like the word 'gratitude,'" Lemons says. "I had been to a few other colleges, but by comparison, the professors at MTSU were very accessible and gave input and feedback and were willing to reward the hard work you put in to getting a degree and trying to better yourself. I felt very convinced about that."
One year later, like clockwork, although on substitute status, Lemons wrote the University another $25 check.
"It's important to contribute to things that work," he says. "There are always going to be personal budget restraints, but it makes me feel like I'm giving back to an organization that invested in me."
Even a brief conversation with Lemons makes it clear how passionate he is about working with special education students. He is particularly passionate about the inclusion of special needs students in mainstream classrooms, a relatively recent shift in educational protocol that has resulted in classroom atmospheres quite unlike the segregated environments that parents of school-aged children grew up in.
"Inclusion appears to alter that initial judgment when meeting someone, or how kids go about starting conversation with them a great deal," Lemons explains. "Kids today are more familiar with special needs kids and see them as just another kid, in the same way that they can appreciate that everybody's different. They just take it in stride."
---