Vinyl is back. According to Nielson SoundScan retail figures, album sales leapt 33 percent in 2013. While the total number of units sold (six million) isn't going to save the recorded music industry, it's not insignificant, either—particularly for middle Tennessee, where the economy is in part dependent on strong sales. So what exactly is fueling the vinyl revival?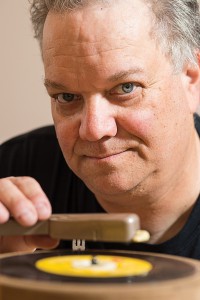 In the world of Recording Industry professor Paul "Doc Rock" Fischer, vinyl has never fallen out of style. A vinyl collector since age twelve, Fischer started working in record stores as a teenager in the 1970s for $2.10 an hour. Like all music lovers since then, Fischer adapted to format changes through the years, from records to tapes to CDs to digital downloads; but unlike most, Fischer never chucked his vinyl while buying everything all over again on CDs.
About 15 years ago, Fischer began accumulating vinyl again in earnest, mainly by going to estate sales in and around Nashville.  The fact that his hobby evolved into his becoming a secondhand vinyl dealer, frequently traveling to record shows in Chattanooga, Knoxville, Louisville, Huntsville, Indianapolis, and Dayton, is evidence that the world has caught up with his obsession. But so, too, has the industry.
"All of the major record labels are doing it now," Fischer says, citing the proliferation of vinyl recordings by modern day acts like Nashville-based pop star Jack White. "It is one of the few categories of physical media . . . growing in sales of new music." Fischer, who has been cited in publications nationwide regarding the uptick in vinyl sales, points to several reasons for the trend. First and foremost is the important distinction that purchasing vinyl nowadays is smartly paired with a modern method of consuming music.
"If you buy new vinyl—the record companies are very smart—you also get the download code for all of the songs," Fischer says. "So at no additional cost, you can get the digital version of it for your iPod or other mobile digital music player and you can listen to that wherever you go, but you can listen to the vinyl when you get home."
Next, he says, is the younger generation's growing appreciation for packaging and album art—an integral part of the music-buying experience that older generations were accustomed to (and now wax nostalgic about) but one that younger music fans never experienced.
"I know that when I was a kid, that was part of the thrill—digging into the liner notes and the additional art," Fischer says. "Whole generations of kids who grew up with digital downloads and access to all of the music that they want, either free or streamed or downloaded, didn't even know what that experience was like until now. An LP with a big picture and maybe a gatefold and a booklet in the center—that adds a lot to the sitting and listening experience at home."
Also key to the vinyl revival among younger listeners, according to Fischer, is that most of their parents tossed out their old record collections.
"So this is also a cultural, generational kind of thing," he explains. "Most moms and dads did not hang on to their vinyl.  So it can be cool all over again. For the younger generation, it's like they discovered it for themselves. It is of their generation."
Fischer also believes the tactile nature of retrieving music from a vinyl record and a turntable with a needle is key to the medium's revival, especially in a time where a few taps on a smartphone can play music.

"When you push the button to start your CD player, you are not manipulating the laser. You are telling the machine to go to work," Fischer says. "However, when you have that tone arm in your hand and you poise it over the entrance groove to the record and you let it drop, that's a different kind of relationship with what you are listening to."
When explaining vinyl's revival, many experts are quick to cite the opinion of many that music played on vinyl with a needle—despite the hisses and pops that accompany it—sounds better, or "warmer" than today's compressed digital files. Martin Fisher, curator of recorded media collections for the internationally recognized Center for Popular Music at MTSU, believes nostalgia, not sound quality, has more to do with the opinion that vinyl offers a superior listening experience.  "I don't think the sound is better. In fact, in many instances it's a lot worse," he says. "Some people might call it warmth; I call it noise, which is basically what it is . . . but it gives some people something to plant their ears on. With CDs, by comparison, there is no room noise there so the bottom falls out, and from a listener's perspective you are kind of left hanging there in dead space."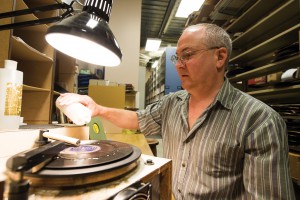 In essence, according to Fisher, it's not the sound the vinyl is making but rather what listeners are hearing.  "Does it sound better? Not really. It's all subjective," he says.
"I think a lot of it is nostalgia, while the sonic explanation of it is probably because there is a security in having some sort of a noise floor to hold on to."
Are nostalgia-less younger listeners perhaps better judges of what does or does not sound good when it comes to recorded music? Fisher argues they are not.
"They are running around with earbuds or listening to a system that has digital artifacts introduced through MP3 coding," he says. "They don't know what sounds good. I'm not demeaning them. They simply haven't been exposed." In addition, most of the new vinyl being pressed by younger musicians (which is accounting for most or all of the increase in vinyl sales) is actually cut from digital masters.  "So it's like taking a CD and putting it on plastic, which is going to have a relatively high noise floor with distortion," Fisher says. "A music collector would say, 'What's the big deal?'"
The creation of new vinyl product from digitally compressed files etched in plastic would seem to offer proof that the medium's revival is more tied to packaging or cultural resurgence, not sound quality.
Jennings A. Jones College of Business professor Melodie Phillips, who specializes in entertainment marketing, says business and social factors are indeed part of the revival. Not unlike sweeping support for local farmers, local mom-andpop shops, and local artisans, people today—especially 15- to 30-year-olds—are turning to local sources for music. That's helped the revival of record shops, where older generations were accustomed to shopping for music.  From a retail perspective, according to Phillips, society is collectively reprogramming its patterns and priorities.  "We think locally as opposed to supporting big corporations.  We're thinking local groceries and organic foods. We support local farmers and farmers' markets and businesses and entrepreneurs," she says. "And the push to local businesses, local artists, and local farmers that has in large part grown out of social marketing has also really been the genesis for some of the success experienced in efforts like Record Store Day, where people are encouraging and promoting and reconnecting at college age with the idea of getting their music from an actual local record store as opposed to a Best Buy or Target or virtually through iTunes." (Record Store Day was conceived in 2007 at a gathering of independent record store owners as a way to celebrate and spread the word about the unique culture surrounding nearly 1,000 independently owned record stores in the United States.)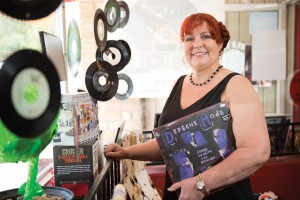 Phillips points to the success of the grassroots push "Local Saturday" as an answer to "Black Friday," which has successfully persuaded Americans to intentionally shop locally one Saturday each year.
"The idea is the same," she says. "Don't just run to Best Buy for price; instead, come to your local community shops and support them, because these are the people who live and work in your community.  Plus, you can find unique items there, not the mass-produced, generic big corporation items."
Phillips also emphasizes that the return of the desire for a personalized point of sale for recorded music—not an electronic transaction—is partly driving vinyl's resurgence.  "It's like the old days," Phillips says. "There's a person there to talk with who knows music, perhaps alerts you to an upcoming concert, even lets you try an album out first before you buy it."
A recent Tennessean business article offered more hard proof of vinyl's revival. The newspaper reported in May that Nashvillebased United Record Pressing, one of the nation's leading vinyl record makers, announced plans to open a second location to try to meet demand. According to the report, United recently paid $5.5 million for a warehouse where it plans to add 16 presses and storage space. The article added that several existing independent record stores around the city are expanding and that new retail stores are opening.
Got an old turntable gathering dust in the attic? It might be time to dig it out. Though still modest, the trend in recorded music in America today appears clear: what's old is new again.
[Editor's Note: Most of the business reporting on vinyl sales focuses exclusively on new vinyl being sold by record companies for the first time. But there's an untracked secondary market of vinyl sales taking place at flea markets, record shows in hotel conference rooms, and second-hand music stores that never went away. Arguably, such sales are not important to the industry. They don't make a dime on it. These are the places where people like "Doc Rock" Fischer, who are passionate about vinyl and looking for collector's items, can be found. Though invisible on most business reports, that scene is a large part of the vinyl resurgence.]
---