MTSU golf coach Whit Turnbow proves that one good deed leads to many others
By Bill Lewis
Photography by J. Intintoli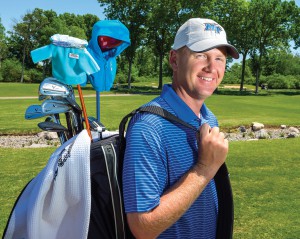 On the eight-degree morning Coach Whit Turnbow tweeted an offer to find a winter coat for anyone in need of one, he was shocked by the need he discovered. What didn't surprise him was the generosity of the MTSU family.
"It's a reminder what kind of country we live in," says the Blue Raider men's golf coach. Students, alumni, and local sports fans rallied to support his effort, donating hundreds of coats and the cash to purchase more.
The coat drive grew so dramatically that it earned a name—the True Blue Turnbow Project—and may become an annual event.
The whole thing began quite simply. Turnbow remembers being chilly in his car as he drove to campus at 6:45 a.m. for a team meeting. He could only imagine how cold it was for a man he saw on the street walking without a jacket.
"It was one of those days when the high was 14," he says. Turnbow picked up his phone and tweeted, "Thinking about the kids who don't have a warm place to wait on the bus or a winter jacket . . . If you know someone like this, DM me, and I will personally see to it that they get a new coat."
"I just thought I'd run down to Walmart and buy a few coats," said Turnbow.
He had no idea just how many coats were needed, or that just a few miles away, two first graders were suffering from frostbite after walking to school in their shirtsleeves. His tweets went viral among teachers in Murfreesboro and Rutherford County schools and in Bedford County, where Turnbow's brother is a coach.
"Suddenly there were 30, 50, then 70 requests," he says.
He called Murfreesboro businessman Matthew Neal, who offered to drop everything and meet the coach at Walmart. They walked out with $600 worth of jackets.
The Murfreesboro school system alone received 100 coats, along with mittens, gloves, and scarves, says central office employee Lisa Trail. "It was truly a blessing," she says. "Children grow so quickly in elementary school, it can be a tremendous strain on families."
She wasn't surprised when she heard about Turnbow's tweets or when he called her to see if the schools needed help getting the coats to children who needed them.
"The MTSU community, especially athletics, reaches out to [our] students on a regular basis," Trail says. "MTSU is a strong community supporter and has a tremendous outreach to our students."
When Director of Athletics Chris Massaro suggested collecting coats at a men's basketball game, fans donated hundreds of winter jackets. The Student-Athlete Advisory Council and members of the men's and women's golf teams collected them at the doors of Murphy Center. At a later women's game, fans made donations of $20 to $200 "right out of their pocket," Turnbow says.
For a time, it was impossible to buy a winter coat in Murfreesboro. They had all been snapped up by members of the MTSU community.
"People who brought coats said, 'I had to drive to Smyrna or even Nashville to get this,'" Turnbow says. "We cleaned out Walmart, Kmart, and Old Navy." The weather in Murfreesboro is warm now, but Turnbow is already planning for next winter.
"We'll replenish the supply at the schools," he says, "Our job will be to make sure they have coats to keep them warm."
Turnbow was awarded the Make a Difference Award for his True Blue Turnbow Project at the third annual Raiders Choice Awards in April. The awards highlight accomplishments in the Blue Raider athletic family. MTSU
Chasing the Green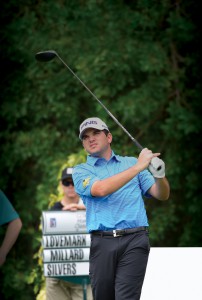 MTSU golf alum Jason Millard attracted the attention of major sports outlets nationwide in June when he self-reported a penalty for grounding his club in a bunker on the 18th hole of a qualifying tournament that resulted in his disqualification from playing in the 2014 U.S. Open.
PGA.com described Millard's action as "a prime example of the honor code in professional golf." Reaction around the golf world, it added, was first one of shock, then respect and admiration.
Millard admitted he wasn't 100 percent sure he actually grounded the club but that deep down he thought he did. His decision to report the possible infraction to officials deferred his dream of playing in one of golf's annual major tournaments.
That isn't to say Millard hasn't had a breakthrough year in professional golf. A few weeks before the incident, he became the first Blue Raider since Mike Harmon in 1982 to play in a PGA event. Millard qualified and played in the Honda Classic in Florida.
Golf coach Whit Turnbow flew to Palm Beach Gardens to caddy for Millard during a practice round. Though Millard didn't walk away with the winner's share of the $6 million purse that weekend, he did gain something invaluable.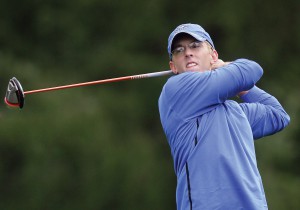 "He took away the confidence that he can compete at the highest level," Turnbow says. "He's chasing
that dream." The U.S. Open experience no doubt confirms that.
Another former Blue Raider golfer, Hunter Green, later qualified for and played in the PGA Wells Fargo Championship in May in Charlotte, N.C.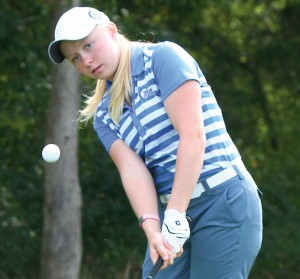 Not to be outdone by the men, MTSU freshman Samantha Gotcher qualified earlier this year for the 2014 U.S. Women's Open, becoming only the second Blue Raider in history (Taryn Durham in 2007 was first) to qualify for the prestigious tournament.
Teeing Off

For the sixth time in the last seven years, Middle Tennessee's men's golf program earned a bid to the NCAA tournament. Only the nation's top 81 teams were invited to compete in the 2014 tournament. MTSU's regional took place at The Club at Old Hawthorne in Columbia, Missouri, May 15–17. The low five teams from a total of six regionals advanced to the NCAA National Championships. Other universities competing in MTSU's regional included No. 2 Oklahoma State, No. 11 Virginia, No. 14 LSU, No. 24 Arkansas, and 26th-ranked Arizona State. MTSU was led this year by juniors Brett Patterson and Payne Denman.
The MTSU golf team excelled academically in 2014 as well, earning a Public Recognition Award from the NCAA for scoring in the top 10 percent on its most recent multiyear Academic Progress Rates. The APR provides a real-time look at a team's academic success each semester or quarter by tracking the academic progress of each student-athlete. The APR includes eligibility, retention, and graduation in the calculation and provides a clear picture of the academic culture in each sport.
It marks the fourth straight year the men's golf program has been recognized. The women's golf team, led by coach Chris Adams, also received the award, a first for the women's team.
---