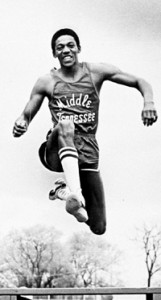 Barry McClure ('74), a seven-time All-American athlete while at MTSU and a two-time national champion triple jumper in 1972 and 1973, died on Jan. 13, 2011.
McClure was the first in a long line of nationally and internationally famous triple and long jumpers to train and compete under Blue Raider coach Dean Hayes.  According to Hayes, McClures "has a legitimate claim to being one of the fathers of triple jumping in the U.S."
In most national meets during McClure's career, the triple jump was up for grabs between MTSU and UCLA.  McClure was inducted into the Blue Raider Hall of Fame in 1996.
---