Felicia Miyakawa's hip-hop expertise could prove a big problem for Lil Wayne
by Drew Ruble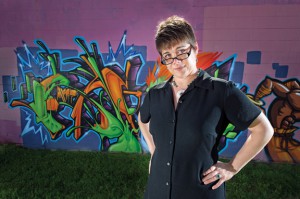 Based on her childhood musical influences growing up in Oregon, Dr. Felicia Miyakawa would have never predicited she'd grow up to be an expert musicologist on the hip-hop genre.  Such an expert, in fact, that she was hired earlier this year to serve as a key witness in a copyright infringement lawsuit facing popular hip-hop performer Lil Wayne.
"There might have been hip-hop in Oregon when I was a kid, but if there was, I didn't know about it," says Miyakawa, associate professor of musicology and assistant director of MTSU's School of Music.  "It wasn't in my 'hood."
How did Miyakawa rise from the ranks of the hip-hop uninitiated to her expert status?  While a postgraduate student at Indiana University, Miyakawa veered from her focus on traditional musicology training -think ancient Greek notation or Byzantine chants- and started taking classes on American popular music.  A new interest took root.
The next step in Miyakawa's evolution came soon after, when she read an article about female images in rap music.  (Incidentally, Miyakawa is also a rising leader in Women's Studies at MTSU.)  Married at the time to a man who possessed a healthy rap music collection, Miyakawa felt sufficiently enlightened to deem the author's argument shallow.  Though still new to rap, she fashioned a stern rebuttal.
"That was the first time I wrote about rap," Miyakawa says.  "And it wasn't because of a love of rap but because I thought this author was wrongheaded."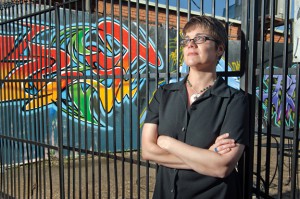 Miyakawa later took Pop Music of Black America, a class taught by famous ethnomusicologist Portia Maultsby.  There, she first discovered seminal rap artists Public Enemy.  Unlike the lightweight rap she'd heard peripherally in the past, Public Enemy's unabashed culture and political agenda appealed to the scholarly Miyakawa.  She was hooked.  "What I'd heard before was fine," she says.  "But this grabbed me."
Finally, while reading a book called Nation Conscious Rap, Miyakawa first encountered references to the so-called "five percenters," a hip-hop lifestyle reference rooted in the belief that only five percent of people possess true knowledge of themselves.  It led to a dissertation, which later led to Miyakawa's own book –Five Percenter Rap: God Hop's Music, Message, and Black Muslim Mission, published during Miyakawa's first year as a faculty member at MTSU.  The book is now frequently used as a text for teaching hip-hop music and culture courses nationwide.
It served as a primary impetus for Atlanta artist Michael Bradford to hire Miyakawa as an expert witness in his pending case against Lil Wayne.  Bradford claims he created a beat in 2004 that was later used as the foundation of Lil Wayne's 2008 hit "Mrs. Officer."  According to Bradford, Lil Wayne's producer reworked his beat and took all the credit for the production.
Miyakawa listened to Bradford's evidence and agreed, preparing a court brief arguing the similarities in the music.  So how exactly do you prove musical similarity is more than just coincidence in a hip-hop song?  MTSU Magazine asked the expert.
"In my training as a musicologist, I've head a whole hell of a lot of music drawn from centuries and centuries," Miyakawa says.  "You start to see aesthetic patterns in certain genres or time periods.  There are types of things music makers prefer to do.  For instance,  you can talk about mid-16th century composers from France and the Netherlands and how they preferred to write their motets.  You can actually talk about that.  And you can apply those same sort of aesthetic frameworks to hip-hop.
"Songs are not built in the same way in hip-hop as in other types of music.  The way hip-hop production works -there are only a certain number of ways to make it into the mainstream -is that certain music elements tend to interact.  Beat comes first.  And they tend to be layered in very specific ways -in repetitive patterns.
"In hip-hop, the defining element is groove -as in patterns of interlocking timbres and sounds that repeat over a specified period of time.  That gives it a signature.  And if you start hearing a similar type of signature -given the way that producers in hip-hop tend to work -that is where you can start to argue that there are only so many ways you can come up with this independently."
So does Lil Wayne's hit song infringe on Bradford's original beat?  According to court documents citing Miyakawa, it does, stating that if "random audiences" can hear the striking similarities in the two songs then clearly the producer of Lil Wayne's hit song did not adequately  hide the source material.
Leave it to Miyakawa to demonstrate how the authorship of a hip-hop beat need not be such a Byzantine subject, after all. MTSU
---