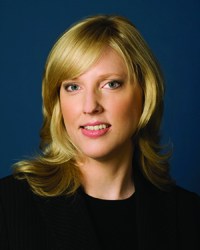 How many universities can boast that one of their faculty members serves as a key executive with one of the world's largest record labels?
Not many. But MTSU can.  Beverly Keel ('88), Nashville, was named senior VP of media and artist relations for Universal Music Group Nashville last last year.  She's responsible for developing and implementing media campaigns for the company's chart-topping roster of artists, who include Sugarland, Jamey Johnson, Billy Currington, Lee Ann Womack, Julianne Hough, George Strait, Gary Allen, Randy Rogers Band, Easton Corbin, and Laura Bell Bundy, among others.
At a time when the very survival of record labels in increasingly dependent on greater exploitation of their artists via social media, television and film, and other nontraditional outlets (even video games!), Keel has a crucial role at a crucial time.  She's got the professional background to be successful.  Keel is an award-winning music journalist and pop culture commentator who has covered the music industry for two decades.  Long a professor in the Department of Recording Industry at MTSU and past director of the John Seigenthaler Chair of Excellence in First Amendment Studies, Keel is temporarily on leave of absence from MTSU but plans to continue her affiliation with the university.
---