One of MTSU's newest professors aims to keep the memory of a country music legend alive and help students build careers   
by Stephanie Stewart-Howard
Charles "Odie" Blackmon ('96), newly appointed coordinator for MTSU's Commercial Songwriting concentration, has thrived as a Nashville songwriter.
A Grammy nominee for Lee Ann Womack's "I May Hate Myself in the Morning" (CMA Single of the Year in 2005), Blackmon has also written hits for country music superstars including George Strait ("She'll Leave You with a Smile") and Gary Allan ("Nothing on but the Radio"), among others. His songs have graced albums that have sold more than 20 million copies.
It should come as no surprise that a top Nashville songsmith like Blackmon treasures the music of the late George Jones and also understands the contributions the man nicknamed "Possum" made to Nashville and the country music industry.
Blackmon says he's honored that his return to his alma mater led to a project that's burnishing Jones's legacy. With the blessing of Jones's widow, Nancy, Blackmon has partnered with John Allen, CEO at New West Records, an Americana record label in Nashville, to create a George Jones tribute album. And he is making sure MTSU students will be part of the experience.
Planting the Seed
Jones died in 2013 after a six-decade career of songwriting and performing that helped define country music. Shortly thereafter, Nancy Jones funded a scholarship for the Recording Industry Department as a way to keep her late husband's legacy alive and help others.
"George received help from people as he strove to have a country music career, so I am thrilled that we will be able to help young people in the name of George Jones," she said at the time the scholarship was established. "I know he would have loved this."
Jones's donation has been followed by contributions that have increased the George Jones Scholarship Fund to more than $170,000. The first scholarship recipient was Ashley Doris, one of Blackmon's best students (see sidebar).
The Center for Popular Music has added to its collection of research material and artifacts surrounding Jones's career, and the Recording Industry Department has developed a first-of-its-kind college course on Jones's life and music. Beverly Keel, department chair, says the course will "create opportunities for scholars to offer their analyses and interpretations of his music that can then be shared with scholars internationally."
George Jones had number-one hits from the 1950s through the 1980s including the Grammy-winning "He Stopped Loving Her Today." He received the Recording Academy's Lifetime Achievement Award in 2012.
"We want to make sure that students 100 years from now will fall in love with 'He Stopped Loving Her Today,' just as we did, no matter what future technology they may use to listen to traditional country music," Keel says.
Right Place, Right Time
While the George Jones–MTSU connection was being made, Odie Blackmon was interviewing for a position at the University. He thought it would be a dream come true to teach the George Jones class that Keel intended to create. When he came to the job interview, he already had a third of the curriculum planned and told Keel if she hadn't assigned it to any faculty member yet, he'd love to do it. (Blackmon already had teaching experience at Vanderbilt's Blair School of Music.)
Blackmon's lesson plan was a thorough exploration of Jones's life and music, from his birth during the Great Depression to the influence of that period's music and culture on who he became and what he achieved. "It gives you a sense of who George was, what he came from, and why he felt the way he did and had the demons he did, and it brings into focus the real golden era of his recording," Blackmon says.
Blackmon wanted to do even more to tell the whole George Jones story. He fashioned the idea of a tribute album, and he wanted the project to be something other than contemporary country. He imagined recording Americana artists like Jim Lauderdale, Kacey Musgraves, the Carolina Chocolate Drops, Buddy Miller, Mike Farris, Nikki Lane, Old Crow Medicine Show, and others.
He shared his notion with Stacy Merida, who spearheads MTSU's student-run Match Records. She encouraged him to go to Keel with the idea. The project was greenlighted by Ken Paulson, dean of the College of Mass Communication, and then pitched to John Allan at New West Records in Nashville. Allan loved the idea and a deal was hammered out that leaves room for MTSU to benefit from the proceeds of the eventual record.
The project will be a collection of styles interpreting Jones with an Americana flair. Keel and Nancy Jones wrote letters to prospective artists. "We're in the process of actually finding out who among our wish list of potential artists will participate right now," Blackmon says.
The project should give students a chance to help with publicity and solicit Grammy votes when the time comes. It will also be a teaching tool for accounting and music business classes.
"I have known Odie for a long time from my publishing and A&R background," Allan says. "We have similar sensibilities when it comes to artists and songwriting, so he felt comfortable sharing this idea. We both felt that this can't be a knee-jerk tribute record. The production and arranging must be done right so that it moves George's music forward with an interesting juxtaposition of established artists and rising stars that 'get' the heritage of the catalog but still make the songs their own."
Asked how he feels Jones's music will appeal to audiences today, especially reinterpreted through the Americana genre, Allan says, "George Jones was a master craftsman. His music is timeless, and no matter what genre someone likes, everyone can appreciate his songwriting and talent. George poured his heart and soul into his songs, and his raw emotion and authenticity resonate in an era when these attributes aren't as common as they used to be. I hope this album will act as a fitting tribute to George's music and serve as a reminder of what a force of nature he was."
Daily Grind
Ramping up MTSU's involvement in all things George Jones isn't the only work Blackmon has been doing.
The winner of Blackmon's Advanced Commercial Songwriting class competition got the chance to trade ideas with hit songwriter Erin Enderlin ('04), a friend of Blackmon's. Opportunities for students to pitch original songs directly to publishers have been created and the relationship with performing rights organization ASCAP has been deepened and expanded.
Concerts headlined by alums including Eric Paslay have raised money to hire new adjunct faculty members who will focus on students interested in genres outside the commercial country realm. Along the way, Blackmon published a textbook: Music Theory and the Nashville Number System: For Songwriters and Performers.
His boss, Paulson, who calls MTSU's songwriting program "one of the best in the country" and "a source of great pride for us," likes Blackmon's work. "Odie has taken it to new levels," Paulson says. "His passion for songwriting translates into an extraordinary learning experience for our students."
Blackmon merely says he's always been a creative person, only half joking when he says he could have been a jingle writer or an advertising copywriter. He's added a jingle writing class to this fall's curriculum. "You can make money in any market if you can write jingles for radio and TV," he says.
Blackmon is a natural mentor for aspiring student songwriters. Who better to look up to than a songwriter who had his first cut on MCA Records and who negotiated his first publishing deal while enrolled at MTSU?
These days, Blackmon's efforts, whether directed toward MTSU students or George Jones's legacy, are bringing the University's songwriting program even more welcome attention.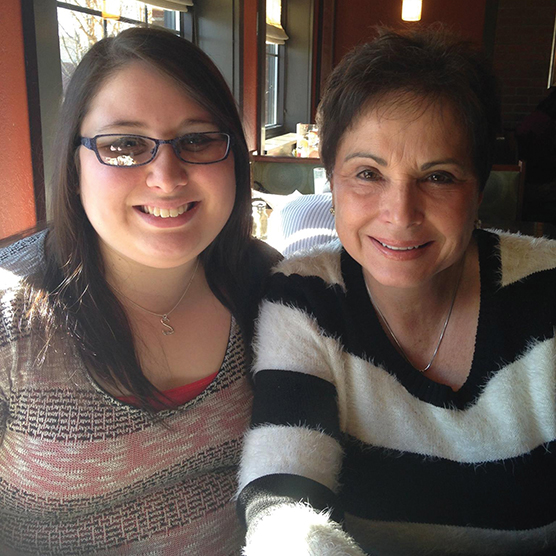 Gifts That Keep on Giving
Nancy Jones, widow of country music icon George Jones, established a scholarship fund at MTSU in 2013 as a living memorial to the late singer. Mrs. Jones also recently opened a George Jones Museum in downtown Nashville.
Odie Blackmon, a hit songwriter himself and director of MTSU's Commercial Songwriting concentration, gave Jones the résumé of Bethany Scott, a stellar student in a class devoted to the study of George Jones. Scott had told Blackmon of her desire to work at the new museum.
Jones promptly called Scott, and the two met in Murfreesboro for lunch. Before the lunch was over, Jones and her manager had hired Scott. (The museum officially opened in downtown Nashville this past April.)
Scott's father wrote on Facebook, "This means so much to my family. To see that girl. . . meet the Lady who saved the Legend for the last 30 years of his life and to return with her first job in the business she loves was, to say the least, moving. My mother was George Jones's biggest fan; my dad loved Miss Nancy. They are smiling down from above. . . beaming with pride."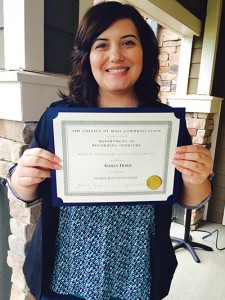 Jones says she's very happy "with everything Odie has done with his students," adding that she has since hired several other MTSU students who took Blackmon's class. "We don't even have to train them, they know the story so well," Jones says, adding that she is pleased with the way the scholarship has been overseen "and so proud of Ashley Doris, the first recipient."
Blackmon describes it as "heartwarming" to see that Jones not only gave money to MTSU but also that "she genuinely cares about our students and takes an interest in them."
Donations to the George Jones Scholarship Fund can be made online at www.MTSU.edu/georgejones or by calling (615) 898-5595.
True Blue!
---