Tucked away in nondescript Ezell Hall is a rare museum built stone by stone
by Drew Ruble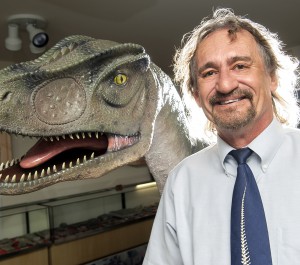 Dr. Albert Ogden can pinpoint the birth of his fascination with geology. He was 10 years old, bicycling up and down dirt roads in his native Pennsylvania, when he and his friends spotted fool's gold and other colorful minerals poking up out of the ground. "We thought it was treasure," Ogden says.
Soon enough, the farmer who owned the property approached the trespassing boys to quiz them about their intentions. Upon discovering their interest in rocks, the farmer—a retired geologist and museum curator—invited the boys back to his home, where he and his wife revealed a stunning collection of beautiful gems from around the world. Over the next few years, the farmer took Ogden and cohorts on gem, mineral, and fossil digs all over their local area. Ogden's boyhood fascination with rock and fossil hunting waned over the next few years.
"Then I took earth science in high school," Ogden says, "and I knew right then that geology was for me."
He earned his degree in geology from Penn State University and eventually a Ph.D. in hydrogeology from West Virginia University. After stints at the University of Arkansas, the Edwards Aquifer Research and Data Center in Texas, the Idaho Division of Environment, Tennessee Tech, and Clemson University, Ogden landed at MTSU.
It was in Murfreesboro that Ogden began serious pursuit of his dream to open a small mineral, gem, and fossil museum.
In 2005, using pieces from his own collection, Ogden brought his vision to life. Since then, he's built the campus-based collection through donations both large and small and by smartly using limited University funds. (Ogden annually attends the world's largest rock sale in Tucson, Arizona; he puns that he acquires new pieces for the collection at "rock bottom" prices.) But the steady growth of the MTSU Mineral, Gem, and Fossil Museum through the years is perhaps best attributed to Ogden's vision, sweat, and savvy.
The result is the only museum of its kind in the middle Tennessee area. Regionally speaking, the closest approximation to Curator Ogden's campus museum is a lesser collection of gems, minerals, and fossils housed at the Pink Palace in Memphis.
On one recent visit to the museum, Ogden and museum director Alan Brown (a fellow MTSU geology professor who recently took over operation of the museum) were hosting a group of Boy Scouts working to earn their merit badges in geology. Other common visitors to the museum come from Campus School, College Grove Elementary, Siegel Elementary, Kittrell Elementary, Woodbury Elementary, and Middle Tennessee Christian School. Ogden says museum attendance has skyrocketed in recent years as a result of area homeschool groups who are required by the state to take science field trips and who have discovered the free museum. "They really network to find resources to help each other out," Ogden says. "Word spread like wildfire last year."
In all, Ogden says about 50 groups passed through the museum last year. Importantly, the museum is a University educational resource as well. More than 700 MTSU students take beginning geology each semester and are required to take a lab in the museum as part of the curriculum.What will happen to the museum when Ogden retires in the next couple of years? Ogden says he plans to continue to help the museum grow both as a buyer for the collection and as someone willing and able to solicit donations large and small.
"Of course, I'm going to keep my fingers in it, plus I've got lots of connections, and I'm always talking the museum up anyway," he says. In addition to expressing total confidence in Brown's stewardship, Ogden says the museum has the strong support of Mark Byrnes, dean of the College of Liberal Arts. "Dean Byrnes even has his own small, but nice rock collection," Ogden says. "It is really cool to have a dean that digs rocks as I do!"
The museum also anticipates a visibility boost in the coming years that might help its prospects for longevity. Plans are afoot to relocate the museum to a more conspicuous location—one of the old science buildings—once construction on MTSU's new $126.7 million science building is completed.
In rock 'n' roll parlance, something Ogden no doubt can appreciate as a lifelong musician and member of a rock 'n' roll band: That rocks!
 What's inside?
The museum has two main exhibit rooms, one with mineral specimens and a second housing fossils, birthstones, jewelry made from semiprecious stones, and figurines carved from various minerals. A third, smaller black-light room displays fluorescent minerals. Samples come from every state in the union and from more than 50 countries around the world.
Some of the more interesting items at the museum include
a partial fossil of a prehistoric, tooth-filled, savage, 25-foot dolphin;
a replica Allosaurus—a dinosaur that lived 145 to 155 million years ago during the late Jurassic period—that stands six feet tall and is 10 feet long;
a collection of Tennessee fossils (and others from around the world);
dinosaur excrement, which Ogden likes to have student visitors pass around a bit before he tells them what it is; dinosaur eggs; and dinosaur bones; and
An eight-foot-long, museum-quality replica of a mastodon skull, replete with long tusks.
---