A look at recent awards, events, and accomplishments at MTSU
compiled by Gina E. Fann, Jimmy Hart, Gina K. Logue, Paula Morton, Drew Ruble, and Randy Weiler
Bend, Don't Break
One of the stars of Breaking Bad offered an evening of uplifting advice in conversation with fans last October in Tucker Theater. RJ Mitte, who played Walter White Jr. on the Emmy-winning program, talked about his career and his cerebral palsy. Mitte described a grueling childhood regimen of speech therapy, braces, and counseling sessions. He said his family and friends supported him completely. "I never knew I was different until I went to school and someone said, 'What's wrong with your feet?'" Mitte said. The 27-year-old said he was cast in the show because of his cerebral palsy. His character, the son of a chemistry teacher who makes and sells illegal methamphetamine to pay for cancer treatments, has a more severe form of the malady. Ironically, said Mitte, his first acting job was a public service announcement about the dangers of methamphetamine.
Best and Brightest
Another MTSU student received a stipend from the nation's oldest and most selective collegiate multidisciplinary honor society. Phi Kappa Phi awarded a $1,000 study-abroad grant to Samuel Kane Hulsey, a junior in Spanish and Global Studies. He is one of only 50 students in the country to receive the award. Hulsey used the money to pay for a summer 2014 conservation biology and ecology field course at Serra do Mar State Park in Sao Paulo, Brazil. The park is the largest protected area in Brazil's Atlantic Forest and one of the most endangered rainforests in the world.
In June 2014, Robert Daniel Murphy, who graduated in May 2014 with degrees in Physics and Philosophy, won a $5,000 national fellowship from Phi Kappa Phi. Murphy, a Murfreesboro resident, will use the money to pursue a doctorate in physics at UT­–Knoxville.
Law and Order
A September 2014 talk by former U.S. Attorney General Alberto Gonzales covered politics and breaking news and included stories about his days in the West Wing. Gonzales served President George W. Bush as the first Hispanic White House counsel and the 80th U.S. attorney general from 2005 to 2007. Gonzales encouraged students to include community service in their careers. Now dean of Belmont University's College of Law, Gonzales said of his previous job, "Every day, every moment, is special when you get to work in the White House."
West Meets Middle
The partnership between MTSU and Guangxi University will allow 140 students from the south China institution eventually to come to Murfreesboro. Fifty-three students are expected to study finance, 34 plan to study business administration, and 46 intend to study mathematics. This makes Guangxi University, with enrollment of more than 24,000 students, one of MTSU's most productive and successful partners in just one year. Students will enroll in a newly developed three-plus-two program, which will allow Guangxi students to finish undergraduate degrees and earn graduate degrees at MTSU. The relationship between the schools began in May 2013 when President Sidney A. McPhee and State Sen. Bill Ketron ('76) visited Guangxi andannounced the opening of a recruitment office.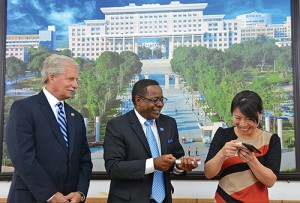 From Flora to Pharma 
MTSU signed an agreement extending its research partnership with the world's largest medicinal herb garden through 2021. The pact with Guangxi Botanical Garden of Medicinal Plants also secures MTSU's worldwide rights, excluding China, to patent and market products developed in the partnership. The partners agreed to a 50-50 split of profits from the collaboration. The exclusive agreement began in 2011 between the Tennessee Center for Botanical Medicine Research at MTSU and Guangxi Botanical Garden to hasten the development of Western medicines from plant extracts. Chinese researchers cultivate and prepare extracts that MTSU scientists screen to determine their promise. Using traditional Chinese medicine to treat disease is gaining awareness in Western cultures. An analysis of 52 plant extracts recently provided by the garden identified 29 with promising results, including 12 with anti-cancer potential, eight with indications of anti-inflammatory properties, and one that may be useful to treat diabetes. Almost 40 analyses last year showed promise in the treatment of cancer, viral infections, and other ailments.
Not So Run-of-the-Mill
MTSU's exercise science experts have worked wonders with people who suffer from incomplete spinal cord injuries. Now the National Institutes of Health (NIH) has given them the opportunity to perform a comprehensive study that could change how health professions treat these patients, who retain some sensation or motor function. With a $388,894 NIH grant, Drs. Don Morgan and Sandy Stevens have been recruiting, testing, and following up with clients suitable for treatment in MTSU's nationally recognized underwater treadmill laboratory. Participants will help the scientists determine the effect of underwater treadmill training on mobility, health, and quality of life of the partially paralyzed. The study is unusual for a university not connected to a college of medicine or a teaching hospital. According to Morgan, "We're doing work here at MTSU that, as far as I know, is not being done anywhere else in the world at this level."
Raider Royalty
The 2014 class of the Blue Raider Athletic Hall of Fame featured basketball standout Kerry Hammonds Sr., legendary trackman Micah Otis, softball trailblazer Jennifer Martinez, former pro football player James Griffin, and pioneering women's basketball head coach Larry Joe Inman. Hammonds ranks second all-time in rebounding and games played and sixth all-time in games started. Otis earned six Ohio Valley Conference championships and was a 1994 All-American long jumper. Martinez ranks first in wins, shutouts, strikeouts, and ERA for Lady Raider softball. During her career, she tossed a perfect game and three no-hitters. Griffin still holds the school record for interceptions with 17. Inman took over a fledgling women's basketball program and put it on track to earn the championship reputation it enjoys today. Between 1979 and 1986, his record was 161–73, and he led his squads to four NCAA tournament appearances.
New Look for Murphy Center
The $12.64-million renovation of Murphy Center was completed just before the opening of men's and women's basketball for 2014. Gone is the waffle ceiling, and new lights are a noticeable improvement. Window shades, a new HVAC system, better acoustics, and new concession stands and restrooms were included in the renovation. Concurrent with the building's reopening was the announcement of the signing of a five-year contract with Nike. Some MTSU teams have worn Nike apparel, but not all sports were officially sponsored.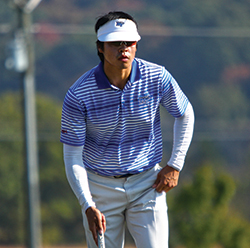 The Old College Try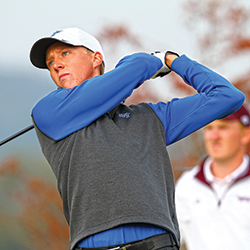 A new golf tournament hosted by MTSU last October drew 12 teams from across the country. Called the Intercollegiate at the Grove, the tournament was a success, and participants said it could become a marquee event for top college teams. Played at The Grove in Williamson County, a course designed by PGA tour legend Greg Norman, the contest included MTSU, Troy, GRU Augusta, Lipscomb, Southern Miss, Ohio State, the College of Charleston, Tennessee Tech, Mississippi State, Cincinnati, Tulsa, and Belmont.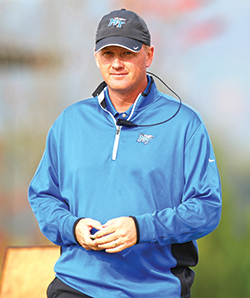 MTSU head coach Whit Turnbow spent nine months planning the first annual fall tourney. Turnbow says he's already heard from teams wanting to play in 2015. "It's going to be a special event and one we continue for many, many years to come," Turnbow said. Members at the host course gave up their exclusive club for four days to accommodate the collegians. "I can't say enough about the membership letting us have their golf course for a few days," Turnbow said. "It's pretty tremendous." Ohio State won the tournament in comeback fashion. MTSU finished fourth.
The Art of Happiness
Some MTSU art students learned firsthand why people in Scandinavia continually top the United Nations "World Happiness Report." Their own report was Passport to Happiness, an art exhibit last August in Todd Art Gallery. Created by MTSU students and Danish and Norwegian children during a special study-abroad program, the exhibit featured multimedia pieces and artifacts created in Denmark, Norway, and America, all focusing on happiness. Denmark, Norway, and Sweden are known for relatively high incomes, good healthcare and schools, generous parental leave and vacation time, and inexpensive childcare. Dr. Debrah Sickler-Voigt took seven of her students to Denmark and Norway in May to study art, stay with families, and teach in local schools. Students made stops in Copenhagen and Oslo, swam above the Arctic Circle, visited Legoland Billund, climbed mountains, and admired fjords, churches, and museums while immersing themselves in the region's culture.
The Future Worker
By 2020, the so-called Millennial generation—those raised in a digital age and possessing a different outlook than generations past—will make up 40 percent of the workforce. Jennings A. Jones College of Business hosted a half-day conference last October, "2020 Millennial Game Plan: Maximizing Millennial Entrepreneurship and Innovation," to help educate corporate leaders, marketing executives, human resource managers, nonprofit leaders, economic development and community leaders, and anyone else interested in learning about the impact millennials may have on the economy.
Horse Sense
MTSU's Horse Science Center and Tennessee Miller Coliseum hosted national and regional conferences on equine-assisted activities and therapies and therapeutic horsemanship in August 2014. Therapeutic horsemanship helps people with a wide range of emotional, cognitive, and physical challenges. The Horse Science program has been a pioneer in providing equine-assisted activities and therapies to veterans, particularly in its work with the Alvin C. York Veterans Administration (VA) Medical Center in Murfreesboro.
Art and Commerce
A receptive audience turned its attention to China as seen by President Sidney A. McPhee while helping raise scholarship funds for students at a September 2014 exhibit in Todd Art Gallery. China Through the Eyes of an American University President was presented by MTSU Arts and included more than 300 digital images and 30 large prints of McPhee's photographs taken during his travels to more than 100 Chinese municipalities and provinces. Framed copies were auctioned, raising $2,300 for a graphic design scholarship.
Confucius Hires
MTSU's Confucius Institute hired a midstate educator to help promote Chinese language and culture in K–12 schools. Mike Novak, most recently principal of Liberty Elementary in Shelbyville, became the institute's new assistant director in July 2014. As a principal, Novak was one of 10 people chosen to serve on the National Assessment of Educational Progress principals' panel. The Confucius Institute works to enhance understanding of Chinese language and culture and to help facilitate opportunities for exchange and collaboration between China and Tennessee.
Safety First
 MTSU recently helped create an emergency communications center that will provide live, high-definition satellite uplinks that government agencies and TV stations can use to broadcast information during tornadoes, floods, and other public health emergencies. The Tennessee Emergency Management Agency (TEMA) unveiled the Multi-Agency Joint Information Center (MAJIC) in October 2014. Staff from the College of Education's Center for Educational Media and the College of Mass Communication's Department of Electronic Media Communication shared technical expertise to properly equip the information center. TEMA director David Purkey said the partnership could lead to valuable experience for MTSU student interns at his agency.
Keep On Keepin' On
Junior Heather McFadyen received MTSU's first Chitwood Award for Excellence for her plan to help beloved children's author Beverly Cleary reclaim ownership of her popular book Ramona Quimby, Age 8. The award recognizes the best proposal by a Department of Recording Industry Management student in a copyright law class taught by Associate Professor Deborah Wagnon. McFadyen said the Recapture Project, which allows creators of copyrights to terminate the rights of their publishers and reclaim ownership of their songs or books, not only gave her the chance to continue Ms. Cleary's mission to help children "but also sparked a new path that I hadn't imagined. In doing this project, I discovered a passion for law." The Chitwood Award honors RIM major David "Ritt" Chitwood, 28, who died in a January 2014 traffic accident near campus.
Journalism Giants
Six journalists made up the second class inducted into the Tennessee Journalism Hall of Fame in August 2014. The hall is an independent partner of the College of Mass Communication, which houses it at MTSU. The 2014 honorees were Joe Birch, co-anchor, WMV-TV Action News 5, Memphis; Bob Johnson, co-anchor, WTVC-TV News, Chattanooga; Alex S. Jones, Pulitzer Prize winner, New York Times; Luther Masingill, WDEF Radio/TV, Chattanooga (who died on Oct. 20, 2014); Otis Sanford, editor/columnist, the Commercial Appeal, Memphis; and Sam Venable, columnist, Knoxville News Sentinel.
From left: Phil Cox, who represented Luther Masingill; Bob Johnson; Otis Sanford; event emcee Demetria Kalodinos; Sam Venable; Alex S. Jones; Joe Birch; and Hooper Penuel, the hall's cofounder.
---