Recent awards, events, and 

notable accomplishments
Compiled by Gina A. Fann, Jimmy Hart, Gina K. Logue, Paula Morton, Drew Ruble, and Randy Weiler
A Bold Proposal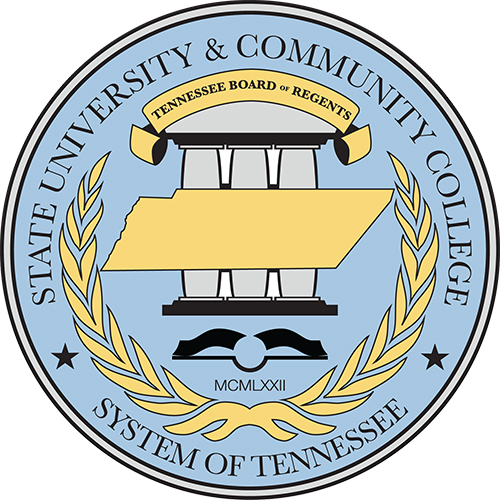 In December 2015, Gov. Bill Haslam announced the next step in his "Drive to 55" education initiative intended to raise the number of Tennesseans possessing secondary degrees to 55 percent in order to meet future workforce demands. The six state universities that have historically operated under the auspices of the Tennessee Board of Regents – a group that includes MTSU – were removed from direct control of the TBR. New governing boards specific to each university will now be created or appointed and will have local control over institutional operations such as tuition rates.
Haslam explained the change was made in part to better allow the TBR to focus on the state's community colleges and Colleges of Applied Technology, which have experienced dramatic enrollment increases as a result of Haslam's establishment of the Tennessee Promise scholarship, which offers eligible high school graduates two years of tuition-free community or technical college.
The new level of independence for the former TBR universities was greeted with cautious optimism by university officials. MTSU President Sidney A. McPhee said the proposal advanced by the governor "is truly bold and potentially transformational for MTSU" adding that he looked forward to "learning and exploring the opportunities it could provide towards our mission of ensuring student success and providing more graduates for the state's workforce."
McPhee added that having a local governing board with the ability to to set tuition, hire or fire a president, and approve a budget could allow his university to tackle its challenges in a more laser-focused manner.
McPhee and the other presidents of the affected institutions were among members selected to a task force to craft a blueprint for the selection of the new governing boards.
"I think the key here is going to be who is selected for those boards," McPhee told The Tennessean in a recent interview. "That's the X factor. It could work very positively with engaged, informed boards."
Boots on the Ground
Middle Tennessee athletics recently honored one of the most recognized names in Blue Raider sports history—former head football coach James "Boots" Donnelly—with the placement of a full-sized statue on the front lawn of the Kennon Sports Hall of Fame building. Ed Bunio, a longtime MTSU assistant under Donnelly, spearheaded an effort to raise funds for the 6-foot-6 bronze statue. A granite wall behind the statue includes the names of every player, assistant coach, trainer, manager, and secretary who worked in the program during Donnelly's tenure as coach (1979–98).
Changing the Conversation
For the second straight year, MTSU professor Beverly Keel ('88), chair of the University's Department of Recording Industry, was among the honorees receiving a Women in Music City Award from the Nashville Business Journal.
Launched last year, the awards stem from nominations solicited by the NBJ of women working in the music business "who are making a creative and economic impact on the industry." A judging committee of women music professionals from Los Angeles and New York City reviewed and scored the nominees, and an NBJ committee chose this year's 26 winners.
Keel also recently appeared on Variety magazine's "2015 Music City Impact Report," which focused on the people "igniting" Nashville's latest popularity surge.
Keel, a former senior vice president of artist and media relations for Universal Music Group Nashville, continues to build partnerships between MTSU and music industry leaders to bring in accomplished guest lecturers and instructors.
She is also a cofounder of Change the Conversation, a coalition created in 2014, in part, to help change the way that women are perceived in the country music industry.
True Blue Lady
Lady Antebellum lead singer Hillary Scott, a former MTSU recording industry major turned Grammy-winning artist, announced plans to give back to her alma mater in the form of a scholarship for aspiring music industry students within the University's recently renamed College of Media and Entertainment (see article on page 11).
"This scholarship is something I'm extremely excited about," Scott related in a statement. "There are so many amazing people who have supported, encouraged, and challenged me to become who I am today, and many of those were from my time at MTSU. I'm passionate about helping young people succeed and thrive in what they love to do and am thrilled to be a small part of fostering the dreams that I share with so many current and future students."
Lady Antebellum manager and MTSU alumnus Daniel Miller ('00) announced the scholarship on Scott's behalf at an event held at music rights organization BMI in Nashville last September. The amount and name of the scholarship have yet to be determined.
Concert Prep
MTSU electronic media communication students provided extensive technical support—and eye-catching entertainment for fans—at the first large music concert inside Murphy Center since 2013. A dozen students from instructor Mike Forbes's video technology class added to their professional expertise as they set up a massive, 30-foot-wide LED video wall in Hale Arena for use during the free Homecoming 2015 concert featuring the Swedish duo Icona Pop, singers of the hit song "I Love It." VER Nashville, a leading national provider of video wall installations for the concert industry, loaned MTSU the large video wall components for the stated purpose of training a workforce ready for them to hire.
West by Middle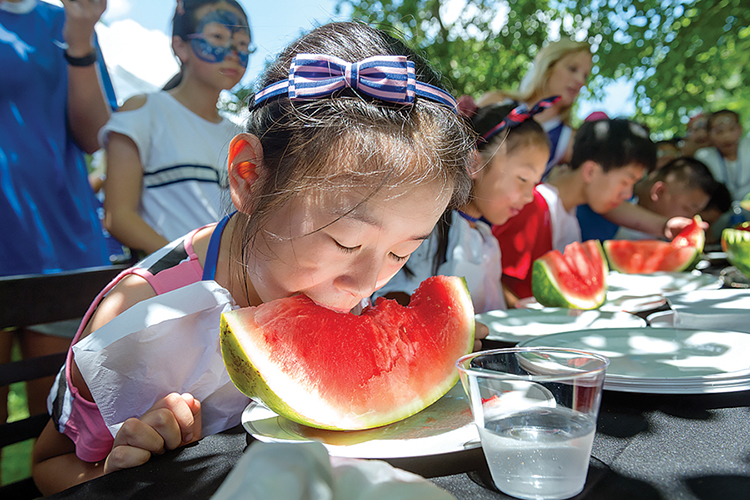 More than 30 Chinese children visited Murfreesboro this past summer as part of a reciprocal educational and cultural exchange facilitated by MTSU's Confucius Institute. The visitors from Dongcheng Education Group of Hangzhou Normal University enjoyed many activities, including being treated to a special day at the Discovery Center. The group also traveled to east Tennessee to visit The Lost Sea attraction, part of the Craighead Caverns near Sweetwater. Teachers and administrators from both countries also met to exchange ideas and swap classroom experiences.
Not-So-Secret Garden
MTSU returned a favor to the Guangxi Botanical Garden of Medicinal Plants last fall, affixing a plaque at a special laboratory on campus that recognizes their partnership in the study of ancient Chinese herbal remedies.
President Sidney A. McPhee and Miao Jianhua, director of the southern China garden, added the label of "USA-China Joint Research Center" outside the Tennessee Center for Botanical Medicine Research in MTSU's new $147 million Science Building. Miao and McPhee dedicated a similar sign outside the Guangxi laboratory about two years ago.
MTSU and the medicinal herb garden, named in 2011 as the world's largest, are partners in an exclusive collaborative agreement to accelerate the development of Western medicines from plant extracts. Garden researchers cultivate and prepare extracts. MTSU scientists, led by professor Elliot Altman, then screen the samples to determine their medicinal promise. About 800 of the more than 7,400 plants at the garden have been shown to have potential in treating a variety of diseases, including 12 with anti-cancer potential, eight with indications of anti-inflammatory properties, and one that may
be useful to treat diabetes.
On Patrol
As part of a five-year partnership with the Tennessee Highway Patrol, MTSU's Center for Organizational and Human Resource Effectiveness, or COHRE, recently created a new method of determining which Tennessee Highway Patrol sergeants and lieutenants were best suited to move up in the ranks. To develop the new processes, COHRE's industrial/organizational psychology consultants and project associates spoke with 110 captains, lieutenants, and sergeants to find out how they responded in various situations and circumstances on the job.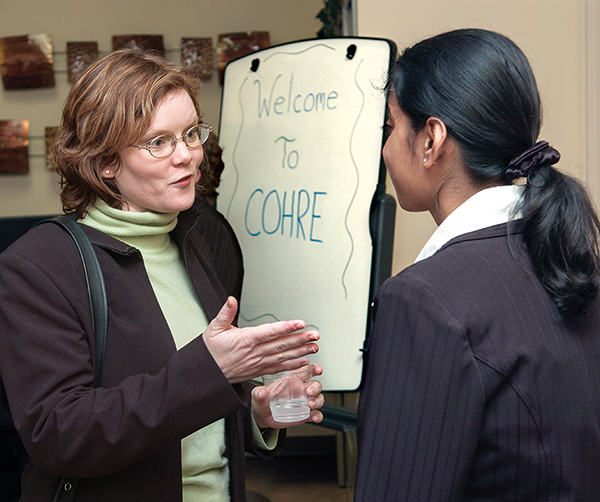 "The interviews were conducted to ensure a solid foundation for the development of a job-relevant, realistic, and effective promotional process," said Dr. Mark Frame, an associate professor of psychology and COHRE senior consultant.
"We think that this promotional practice and instrument will help us identify and promote more effective leaders and improve our agency," said Col. Tracy Trott, leader of the Tennessee Highway Patrol. "We look forward to the next four years of our contract and our association with MTSU."
Kerri Balthrop, human resources director for the Tennessee Department of Safety and Homeland Security, said her department was "tremendously impressed" by the MTSU-COHRE collaboration. "This will appraise each applicant's knowledge, skills, abilities, and competencies for future leadership opportunities within our organization," she said.
On the Beat
MTSU and the Metropolitan Nashville Police Department Training Division recently reached an agreement that gives officers greater incentive to get their college degrees. Metro Nashville officers who have been through the department's five-and-a-half month training academy can now potentially receive 36 to 40 credits toward a bachelor's degree in liberal studies through University College and the College of Behavioral and Health Sciences. Each year, about 160 officers go through the academy. Metro officers can get up to a six percent pay raise for getting a degree, and they have the option of completing their degrees on campus, online, or through satellite classes held throughout the region. MTSU plans to pursue similar partnerships in support of Gov. Bill Haslam's Drive to 55 initiative, which seeks to have 55 percent of Tennesseans with a degree or certificate by 2025.
New Model
The College of Mass Communication, now known as the College of Media and Entertainment, not only has a new name, but also an expanded mission as it prepares a new generation of students for opportunities in an ever-changing media environment.
The College of Media and Entertainment builds on its strengths of teaching and research with an infusion of innovation and hands-on experiences which include: the consolidation of all of MTSU's journalism education into a single department; the establishment of a rich, multi-media learning environment; the convergence of student media into a single app; the launch of Studio M, a bold new project from the Center for Innovation in Media focusing on millennials and mobile content; and the roll-out of J-Lab, a training and recruiting tool providing high school students with their first experiences in digital journalism.
Ken Paulson, dean of the college since July 2013, said the updated name better reflects the 24-hour media cycle and the growing demand for content that informs, engages, and entertains.
"It's a clear and contemporary name that reflects the way media work today," said Paulson. "The media world isn't driven by mass communication anymore; it's now
all about targeted audiences, tailored content, and strategic audience-building…Though traditional media have been buffeted by digital technology, there's more media being consumed around the world today than at any other time in history. The four channels on a TV 50 years ago have been replaced by tens of thousands of content providers."
Paulson said that the college, first established as a department in 1972 before being elevated to school and finally college status by 1989, has always focused on preparing students to perform every facet of communicating news and information within their specialties: journalism, electronic media, and the recording industry. This name change, he said, reflects the college's goal of giving students skills across multiple media, which will ready them for their futures in addition to providing a solid, broad-based education.
"The rebooted College of Media and Entertainment will strive to give students the skills and insights they'll need to engage, inform, and entertain audiences on multiple platforms," he said. "That means learning to communicate effectively through words, audio, and video…It also means coming to grips with change. The most important traits we can instill in our students are a receptivity to change and a comfort level with technology. Colleges need to be as contemporary as possible, incorporating the latest technology, encouraging innovation, and fostering an entrepreneurial spirit."
The fifth-largest communication program in the nation, the MTSU College of Media and Entertainment offers degree concentrations in 14 major areas — ranging from the recording industry to journalism to filmmaking and animation — and is accredited by the Association for Education in Journalism and Mass Communication.
Healthy Ranking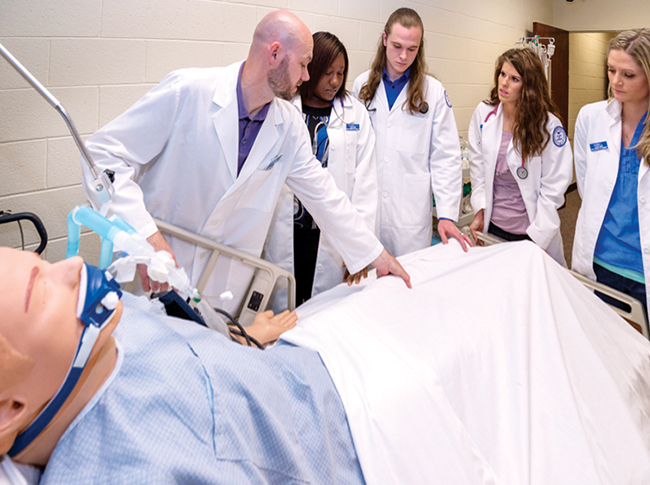 NurseJournal.org, a social community website providing educational resources for nurses and healthcare professionals, recently ranked the best nursing schools in each region of the United States. A total of 1,189 schools were measured according to 20 metrics in five categories: quality, affordability, convenience, satisfaction, and value. MTSU ranked 15th overall in the eastern region, followed by Vanderbilt at number 389 and the University of Tennessee-Knoxville at number 401.
Protecting Rutherford's Ancient Past
The discovery of a Native American cemetery at the Black Cat Cave archaeological site led the City of Murfreesboro to hand over possession of the cave to MTSU on the basis that the University is likely better able to preserve, protect, and continue to study the history contained there.
Well known among Rutherford County locals as the reputed location of a speakeasy during the 1920s Prohibition Era, Black Cat Cave recently became the subject of an archaeological excavation by a team of MTSU professors and students. The MTSU field study, conducted in spring 2014, came soon after the City of Murfreesboro discovered vandalism and heavy looting to the cave, including graffiti and illegal digging. The study confirmed the presence of a prehistoric cemetery at the site, and it was determined through radiocarbon dating that the human artifacts and human remains recovered from the cave date back 5,000 to 7,500 years to what is known as the Middle Archaic Period. Until last year's vandalism drew its attention, the city had no knowledge of any evidence of prehistoric or ancient activities within the cave.
"The discovery of ancient human remains within the confines of Black Cat
Cave has required sensitivity to the peoples and rituals of the ancient past," said MTSU archaeologist Shannon Hodge. "As a scholar of prehistoric culture, I appreciate the efforts of the City of Murfreesboro to protect and preserve this cultural resource."
A Proud Nobel Past
A long-awaited and much-anticipated bronze bust of the late MTSU alumnus James M. Buchanan was unveiled by his youngest sister and a nationally acclaimed sculptor during a special ceremony in September 2015 in the James E. Walker Library. The 75-pound bust by Tracy H. Sugg of Wartrace, called "Dr. James Buchanan, A Man of Vision," serves as a lasting tribute to Buchanan ('40), an American economist who was the recipient of the 1986 Nobel Memorial Prize in Economic Sciences and who died January 9, 2013. A stridently independent thinker, Buchanan earned the Nobel Prize for his development of Public Choice theory, which brings the tools of economic analysis to the study of public decision-making. The extremely competitive Buchanan scholarships, the highest financial aid award an entering MTSU freshman can receive, are named for Buchanan, whose estate gave MTSU $2.5 million in May 2013 following his death.
The Honors College commissioned Sugg to create the bust. Elizabeth "Liz" Buchanan Bradley of Pearland, Texas, joined Sugg for the unveiling of the bust that rests on a black walnut pedestal made by Highland Rim Woodcrafts, which is owned by MTSU alumnus Kevin Kelly ('89) and his wife Melody of Tullahoma. The bust will remain on permanent display in Walker Library's Buchanan Family Reading Room.
Taking the Lead
Associate professor of journalism Dr. Tricia Farwell is presently serving as the president of MTSU's Faculty Senate as that organization celebrates its 50th anniversary in 2016. A series of activities and events are scheduled this year to draw greater attention to the anniversary and the central role the Faculty Senate holds in University matters. Farwell is now the primary spokesperson for the entire MTSU faculty in governance issues. It's not the only high-profile role Farwell has recently assumed. In July 2015, Gov. Bill Haslam appointed Farwell to a one-year term as faculty representative on the Tennessee Board of Regents.
The Wright Stuff
Alumna Pam Wright ('73) jump-started the college careers of 11 MTSU students when she announced a $100,000 donation to the College of Behavioral and Health Sciences in October 2015. The money will fund the Wright Travel Leadership Scholarship Program, an endeavor designed to motivate students through strategic coaching, formal mentoring opportunities, and pathways to scholarship money upon completion of specific criteria. Recipients will also participate in personal development sessions that will include leadership, networking, and honing interpersonal skills. Wright, widely considered the most successful businesswoman in Nashville, owns Tennessee's largest travel agency.
Degree by Design
MTSU's College of Liberal Arts is now offering an advanced degree that allows students to develop skills and expand knowledge in the subjects they're most passionate about pursuing. The new Master of Arts in Liberal Arts (MALA) is an innovative program allowing anyone with a bachelor's degree to earn a graduate degree through a course of study built around the subjects they find most captivating. The degree will be invaluable to lifelong learners, professionals, students returning to school after a break, and even recent graduates.
Preservation Required
Many people say they're interested in history. MTSU professor Carroll Van West is laser-focused on helping others study, make, and preserve it.
Director of MTSU's Center for Historic Preservation, a professor of history at MTSU since 1985, and the governor-appointed Tennessee State Historian since 2013, West was the 2015 recipient of the MTSU Foundation's Career Achievement Award, considered the pinnacle of recognition for stellar MTSU professors.
West, a native of Murfreesboro, is renowned nationwide for his work in 19th and 20th century Southern and Western history, as well as architecture and material culture. He works extensively with the National Register of Historic Places program on documentation projects, including properties like the Sullivan Jackson House in Selma, Ala., and the Grand Ole Opry House in Nashville. Top among his published works is the acclaimed Tennessee Encyclopedia of History and Culture, and he continues as editor-in-chief of the encyclopedia's website.
West first thanked retired history professor Dr. James "Jim" Huhta.
"Jim started this program in historic preservation out of his own initiative and drive in 1974," West said. "He built it into a national platform. It's been my pleasure to guide that platform into the 21st century, but Jim laid the foundation."
The professor also thanked his Center for Historic Preservation colleagues,
whom he said "toil in the shadows"
but are making a difference across the South and the nation. West also expressed his gratitude to the hundreds of graduate students he has directed over the decades.
"If you ever wonder if graduate studies at MTSU is worth it, look at that group," he said. "They've achieved great things. They're a great group, and I'm so proud of what they do."
Motown Icon
MTSU welcomed—and honored—one of the most prolific and influential people in American music in October when Motown hit-maker Lamont Dozier visited campus for a celebration of his work. During the visit, Dozier was named a Fellow of the Center for Popular Music, becoming only the second person to to be so honored by the University's special Tennessee Board of Regents Center of Excellence, which is devoted to the study and scholarship of popular music in America. Songwriter  and performer Barry Gibb was the inaugural Fellow.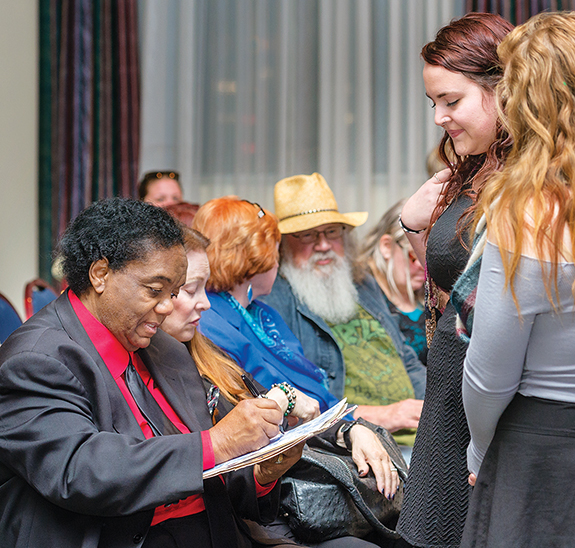 Dozier is the middle third of the Holland-Dozier-Holland team, who created the music of an era with songs like the Four Tops' "Can't Help Myself (Sugar Pie Honey Bunch)," the Supremes' "Stop! In the Name of Love," Martha and the Vandellas' "Nowhere to Run," Marvin Gaye's "Can I Get a Witness" and 50 more No. 1 hits.
Dozier continues to be a successful solo artist and producer.
Expanding Our Reach
MTSU unveiled a Regional Scholars Program that will provide incentives for select potential out-of-state freshmen who live within 250 miles of its Murfreesboro campus. The program, which will reduce MTSU's out-of-state tuition by 48 percent, will be offered starting in fall 2016 to students with an ACT composite of 25 and above. Program scholars will also be eligible for MTSU's guaranteed academic scholarships and given consideration for entrance into the University's Honors College.
"With more than 140 undergraduate degree options in programs that have gained national and international recognition, MTSU is a great choice for potential freshmen inside and outside the borders of Tennessee," said MTSU President Sidney A. McPhee in announcing the program.
The Regional Scholars Program will become the second incentive offered by MTSU to out-of-state students who live near Tennessee. The University is also a member of the Academic Common Market, which allows residents of participating states to qualify for in-state tuition for unique academic majors not offered in their home state.
Home Sweet Home
MTSU President Sidney A. McPhee recently had the opportunity to return to his native country where he met with Perry G. Christie, prime minister of the Bahamas.
Christie visited with McPhee and MTSU men's basketball coach Kermit Davis during the Blue Raider basketball squad's summer 2015 visit to the Bahamas to play in three preseason exhibition games at the Commonwealth's national gymnasium. McPhee also conferred with several of the country's other top ministers during the seven-day trip.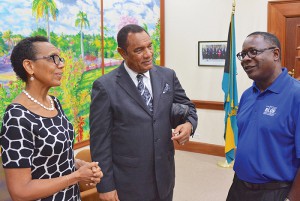 "It was an honor to meet the prime minister and share with him the accomplishments of MTSU's faculty, students, and student-athletes," McPhee said.
During the visit, Prime Minister Christie praised McPhee, a native of the Bahamas, for his career in higher education.
Top of the Heap

For the second year in a row, the Department of Recording Industry was placed on an international list of acclaimed music industry schools touted by The Hollywood Reporter that includes Juilliard, Berklee, the Seoul Institute for the Arts, and the Conservatoire de Paris. The department—plus its music business program—was recently ranked No. 17 on the magazine's "Top 25 Music Schools 2015." The publication's editors, who compiled the list, focus on academia's attempt to balance "art vs. commerce" by teaching students who want to use their creativity to make a living.
Bowl Bound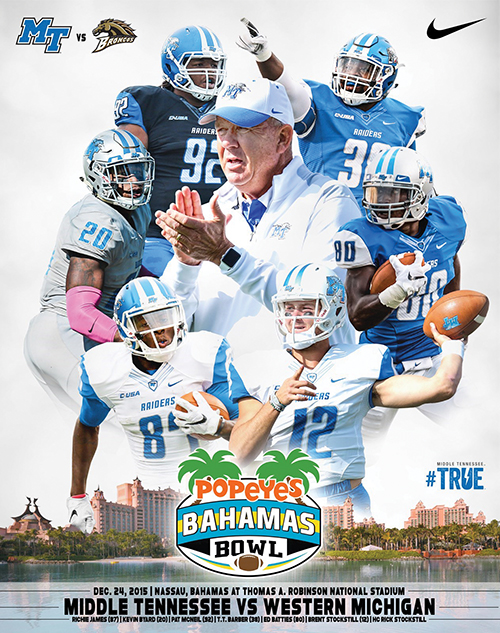 The Middle Tennessee football squad represented Conference USA in the 2015 Bahamas Bowl. MTSU played MAC conference foe Western Michigan, losing 45 to 31. Many college football observers believed that a winning Blue Raider campaign in 2015 would lead to an invite for MTSU to play specifically in the Bahamas—the native home of MTSU President Sidney A. McPhee. In fact, McPhee played a key role in Conference USA getting a bowl game located in the island paradise in the first place. In addition, McPhee's brother Earlston is the director of sustainable tourism in the Ministry of Tourism in the Bahamas. MTSU started the season by winning only three of its first eight games but rallied to achieve seven wins and receive a bowl invitation for the fourth time since 2009 under Coach Rick Stockstill's leadership.

A Perfect Match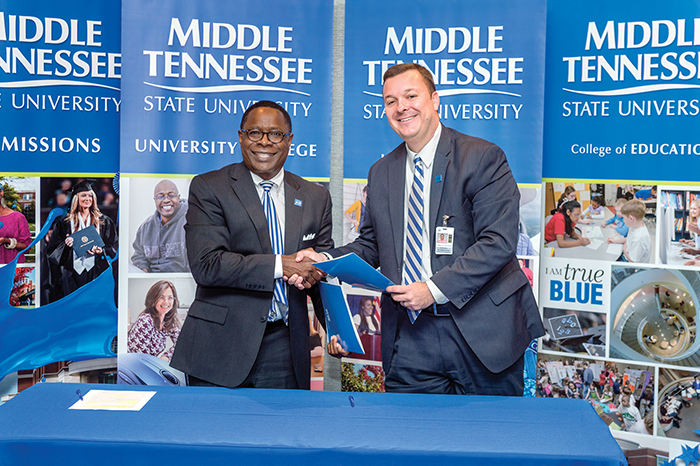 MTSU and Williamson County Schools signed a partnership agreement in November 2015 that will encourage the University and district to create additional academic enrichment opportunities tailored to the county's high schools. The agreement is the first of its kind between the University and an entire district.
"We want Williamson County students and parents to take a closer look at all MTSU has to offer," said MTSU President Sidney A. McPhee at the time of the announcement. "There are many great opportunities on our campus that we would like for this county's students, educators and parents to explore."
Williamson County Schools Superintendent Mike Looney expressed special interest in establishing ties between his district's students and the University's Honors College, which McPhee said "fosters the academic excellence and nurturing environment of a small, select, private, liberal arts college within the setting of a major university."
The agreement also encourages the development of additional dual enrollment courses under the auspices of MTSU, with a particular emphasis on the University's signature programs, such as unmanned aerial systems aerospace and mechatronics engineering. Dual enrollment allows high school students to take college courses while they are still enrolled in a secondary school and earn credit from both institutions. MTSU already has dual enrollment partnerships with several schools in other Tennessee counties, including Rutherford County.
Bumper Crop
U.S. Sen. Bob Corker and Rutherford County Juvenile Court Judge Donna Scott Davenport served as commencement speakers at the December 2015 graduation ceremonies for the estimated 1,833 students receiving degrees. Included in that number was state lawmaker Mike Sparks (R-Smyrna, District 49). MTSU is the largest supplier of college-degreed graduates in the mid-state, providing the vibrant Music City economy and workforce with more graduates (approximately 4,000 students each year) than all other local universities combined.
---