A look at recent awards, events, and accomplishments at MTSU
compiled by Gina E. Fann, Jimmy Hart, Gina K. Logue, Paula Morton, Drew Ruble, and Randy Weiler
Eye on the Sky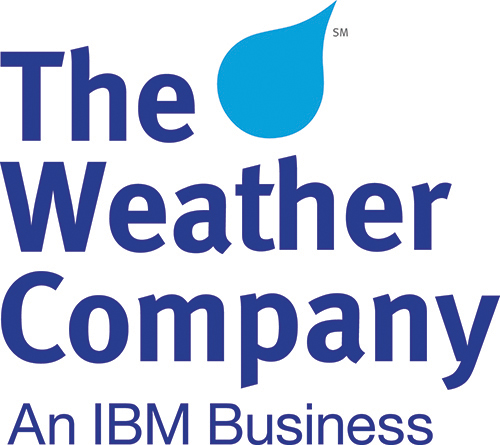 Representatives from The Weather Company and WSI Fusion announced a major donation of new weather software for the Aerospace Department's NASA FOCUS Lab and other concentrations (Flight Dispatch, Professional Pilot, etc.) in April. Southwest Airlines assisted with the formation of the partnership. Starting with Fall 2016 classes, MTSU students will receive training with this software that no other aviation students in the country will have for the foreseeable future. FOCUS stands for Flight Operations Center Unified Simulation. The Lab came about as a result of the efforts of Professor Paul Craig, who obtained a NASA grant in 2010 to create a high-fidelity simulation of a regional airline's flight operations center. The first of its kind, the lab provides students the opportunity to work as a team to safely and efficiently run a virtual airline. Weather is one aspect of the lab and the state-of-the-art software will have MTSU students better prepared when they pursue jobs.
Laying a Foundation
About 200 students volunteered their efforts during the fifth MTSU Build for Habitat for Humanity. Students raised more than $20,000 in sponsorship money for the most recent home. For this MTSU Habitat project, participating students and staff wore MT Engage T-shirts, featuring the slogan "Engage Academically. Learn Exponentially. Showcase Yourself." MT Engage is a major part of the University's Quality Enhancement Plan for 2016–21.
Sharnail Jones purchased the home on South Highland Avenue near downtown Murfreesboro. Jones, along with her son, Keino Franklin, 11, and daughter, KneOkei Franklin, 21, moved into the home in early April.
"It's truly a blessing," Jones said. "Every day I ride by here to look at it. . . .  All the students who have come out have treated me great. I've loved every minute of it and appreciate it."
By Land and Air
A $714,000 U.S. Department of Agriculture grant to MTSU for collaborative research with two Texas universities will support a partnership to discover novel ways of land management and solve important ecological problems in changing climates and agricultural management. The three-year joint venture between MTSU, Texas A&M, and Sam Houston State University is the largest USDA grant the MTSU School of Agribusiness and Agriscience has ever received and the largest of 12 national competitive awards granted by the USDA in February 2016. The award is for precision agriculture, agroecological education, and research. MTSU will oversee the overall research and educational components of the project and coordinate with the other partner institutions, said Song Cui, project leader and assistant professor in the School of Agribusiness and Agriscience. The award was made in part due to "the combined strength in agriculture, aerospace, math, and our strong partners," Cui said. That combination has MTSU poised to become a leader in the study of precision agriculture, which is the science of using computer information systems, sensors, geographic information systems, and global position system technologies to enable producers to apply the right inputs at the right location at the right time and in the right quantity and right manner.
Strengthening Ties
MTSU President Sidney A. McPhee's May 2016 travels to China resulted in several important new agreements and exchanges. Hangzhou Normal University, already a partner in the operation of MTSU's Confucius Institute, will send graduate students to work at the University's new Center for Chinese Music and Culture. HNU faculty members will also regularly visit Murfreesboro to perform in Chinese music ensembles organized by the center. HNU's Alibaba Business College and MTSU's Jones College of Business forged an exchange agreement. Plans were made for future student exchanges and joint faculty research efforts with Zhejiang University of Science and Technology that would boost international enrollment on the Murfreesboro campus. MTSU's research on traditional Chinese herbal remedies in modern medicine took center stage May 16 at an international conference in China where McPhee was among the keynote speakers at the International Congress on Ethnopharmacology in Yulin. Guangxi University in China agreed to send 260 students to study at MTSU, almost doubling the goal set two years ago.
Building Bridges
MTSU and leading tire and rubber company Bridgestone Americas forged an innovative leadership development program. The new Applied Leadership certificate program offers adult learners already on the job a chance to earn additional job certifications—and even a bachelor's degree—through online courses and short, intensive on-campus instruction, in leadership theory, communication and problem-solving, leading teams, and leading people and managing change. Mike Krause, executive director of Gov. Bill Haslam's Drive to 55 initiative seeking to equip 55 percent of Tennesseans with a college degree or post-secondary certificate by 2025, hailed the agreement as "a model program for the rest of the state to emulate." MTSU boasts the largest adult degree program in the state.
Rite of Spring
A trio of leaders unique in their fields helped 2,383 Spring 2016 MTSU graduates celebrate reaching their educational goals in three ceremonies held May 6 and 7. Tennessee State Historian and MTSU professor Carroll Van West, Nashville Mayor Megan Barry, and Home Box Office network division president Kary Antholis were guest speakers for the Spring 2016 commencement ceremonies inside the University's Murphy Center.

Coast to Coast
An MTSU student recently successfully replicated a pivotal moment in aviation history. Carthage native Collin McDonald fulfilled his senior thesis by recreating the 1911 cross-country flight of Calbraith Rodgers, who took flight lessons from aviation pioneers Orville and Wilbur Wright. Rodgers set out more than 100 years ago to become the first aviator to fly from coast to coast in 30 days or less. "It was considered the most critical flight since the invention of the aircraft itself," McDonald said. "Prior to this time, everyone saw the airplane as a … hobby … Rodgers set out to prove that the aircraft could be used for mass transportation eventually." McDonald recreated Rodgers' flight from Long Island, New York, to Long Beach, California.
A Literary First
In March 2016, MTSU hosted the Southern Literary Festival, an organization of Southern colleges and schools founded in 1937 at Mississippi's Blue Mountain College to promote Southern literature. Ann Patchett, author of the PEN/Faulkner Award-winning novel Bel Canto and named one of the 100 Most Influential People in the World by Time magazine in 2012, gave the festival's keynote address. MTSU English professor Jennifer Kates served as the organizer of the undergraduate writing conference, which is hosted by a different university each year.
Worthy of Salute
Nearly 50 student veterans participated in a budding new MTSU tradition—
a stole ceremony—that recognizes graduating military veterans prior to their commencement experience. Keith M. Huber, MTSU senior adviser for veterans and leadership initiatives and retired U.S. Army lieutenant general, oversaw the most recent ceremony in April 2016. Graduating veterans receive red stoles at the ceremony to wear during graduation. MTSU had a total of 114 student veterans, including several husband-wife tandems, graduate in May 2016.

True Blue Scholars
Several hundred MTSU students and faculty participated in the University's 10th annual Scholars Week in April, which is highlighted by performances and 200 poster presentations in the Student Union Ballroom emphasizing the research, scholarly efforts, creativity, and collaboration of students and faculty across the University's academic colleges. Eighty graduate and 100 undergraduate students presented work along with representatives from nine University centers. Six local high school dual enrollment students also shared their research and posters at the event. As but one example of the type of scholarly work on display, musician Hunter Marlowe, a senior Audio Production major from Newnan, Georgia, showcased his invention, the patent-pending "jambourine," which incorporates a small tambourine into the sound hole of an acoustic guitar, allowing players to provide their own percussive jangle to their performances. (Marlowe was one of four finalists in the Business Plan Competition hosted annually by the Jones College of Business.)
Student Leader
Madison Tracy, a rising senior majoring in Public Relations, is the new MTSU Student Government Association (SGA) president. A Murfreesboro native and Buchanan scholar, Tracy is a former three-time student body president at Central Magnet School (and is the first Central Magnet graduate to become SGA president). Tracy is now also a member of MTSU's FOCUS Act Transition Team, formed to lead MTSU's migration from Tennessee Board of Regents governance to that of an individual governing board.
Tracy created Facebook and Instagram pages titled "Humans of MTSU." The social media pages, which emulate blogger Brandon Stanton's "Humans of New York" website, show various members of the MTSU community and enables them to tell their stories. "With public relations and messaging, I want to bring that down to a very applicable, understandable thing for the students," she said.
Making the Connection
The Jennings A. Jones College of Business is partnering with Rutherford Cable women's professional leadership organization to help groom the next generation of female leaders. About 35 of the Jones College's best female students—graduate and undergraduate—attended the inaugural Rutherford ATHENA Leadership Forum in 2016. The leadership forum's objectives are to identify emerging women leaders among the best students in the Jones College, keep these emerging leaders in Rutherford County, and connect them with established women leaders in Rutherford Cable through networking, roundtable discussions, and professional development opportunities. David Urban, dean of the Jones College, said the goal of such a forum was to equip students "with invaluable support, contact, and a community of peers" while also providing the established women leaders the opportunity "to have an immediate and lasting impact on the students' professional development."
A Job Well Done
Dr. Brad Bartel stepped down as University Provost in May 2016 and will return to his first love—teaching and mentoring students. Bartel's efforts in enhancing student success and innovation in curriculum were significant during his tenure as provost. MTSU President Sidney A. McPhee expressed his deep appreciation and thanks to Bartel for his many contributions, specifically highlighting how the University's guiding initiative, the Quest for Student Success, was developed under Bartel's watch. Thanks to the proactive and innovative work done by the faculty and administrators under Bartel's guidance, Quest efforts to improve curriculum, enhance student retention, and strengthen academic advising have been successful and garnered national praise and recognition. Mark Byrnes, dean of MTSU's College of Liberal Arts since June 2010, was named interim provost in May.
Dual Enrollment Success
Blackman High School's library and rotunda buzzed with activity recently as 24 of the school's high-achieving seniors showcased their research projects to the public as part of the inaugural class of the Blackman Collegiate Academy. A unique partnership with MTSU, the academy seeks to better prepare Blackman students for the rigors of higher education. Juniors and seniors in the academy who meet eligibility standards can to take up to six hours of university courses taught by MTSU instructors at no cost. Credits will count on high school and college transcripts. "To see students do something beyond their wildest dreams of what they could achieve and see them do it with style and grace and confidence—they're ready … and they're going to impact others around them when they get to a college campus," Blackman High Principal Leisa Justus said. Academy students boast an average ACT score of 27.57, an average GPA of 3.8, and a total of almost $2 million in scholarship money. Nearly half indicated plans to attend MTSU.

The Future Is So Fulbright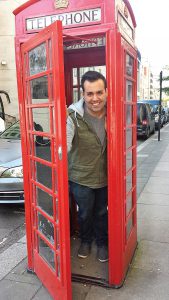 The U.S. Fulbright Committee named four MTSU students or recent graduates—Sydney Eakes, Dalton Lauderback, Opal "Rayne" Leonard, and Erin Paul—as Fulbright semifinalists. Lauderback was eventually awarded a Fulbright Award — an English teaching assistant position in Germany for the 2016–17 academic year. The U.S. State Department sponsors the Fulbright program to increase mutual understanding between people in the United States and other countries by placing U.S. students in other nations to teach or conduct research for eight to 10 months. In the past seven years, 14 MTSU students have been awarded Fulbright fellowships. In 2012, MTSU was named a top-producing Fulbright institution by The Chronicle of Higher Education and was the only Tennessee institution to appear on the list.
One Giant Step for MTSU
The MTSU Experimental Vehicles Program's lunar rover team members used a new airless tire design and parts assembly to land a top-10 finish at the 2016 NASA Human Exploration Rover Challenge, an international competition held April 7–9 in Huntsville, Alabama. A competition rules change regarding tires motivated MTSU recent graduate Thomas Kenney to create the design and machine shop work performed by junior Mechatronics Engineering major Kelly Maynard and others kept the MTSU entry among the elite. The team previously achieved a best-in-U.S. and third-place overall finish in 2015. The event is held annually for university and high school teams to encourage research and development of new technology for future mission planning and crewed space missions to other worlds.
Capitol Gains
MTSU undergraduate researchers talked about their scholarly efforts with state legislators during the 11th annual Posters at the Capitol in February 2016. Posters at the Capitol lets student researchers visit with their senators and rep-resentatives, allowing the legislators to catch a glimpse of what the academic achievers are pursuing. Daniel Cunefare, Lauren Heusinkveld, Alesha Hicks, Sam Hulsey, Trang Huynh, Mary Poss, Nausheen Qureshi, Kelly Saine, and Ryan Tilluck represented MTSU. Their research included Cunefare's low-cost sensing and diagnostic system to continuously monitor the recovery process of heart-failure patients, Hulsey's comparisons of climate change affecting water resources in northern Peru's mountainous regions, Huynh's assessment of traditional Chinese medicine herbal extracts' potential to inhibit herpes simplex virus type 1, and Poss' study of an effective way to rehabilitate a deteriorating Dominican Republic coral reef system.

Truth in Advertising
MTSU Advertising majors' social media efforts to fight community stereotypes earned them acclaim in an international competition—and a free trip to Washington, D.C.—to present their campaign. Students Kate Benton, Haley Bartley, and Jane McCaffrie showcased their project, "Double Take," as part of a 2016 global competition sponsored by marketing and advertising firm EdVenture Partners and the U.S. Bureau of Educational and Cultural Affairs. A fourth student, December 2015 graduate Danny Jones, was part of the creative team, but was not able to attend the competition. The contest aimed to provide information to counter violent extremism from groups such as ISIL. The MTSU students focused their campaign on community stereotypes after seeing the negative effect created by controversy over Murfreesboro's Islamic Center in recent years.
STEM Leader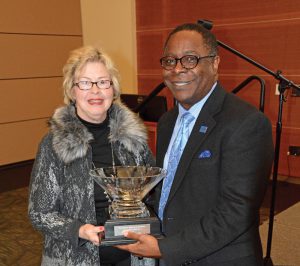 Connie J. Smith, director of AdvancED Tennessee, presented MTSU President Sidney A. McPhee with the organization's 2016 Leadership in Education Award for his efforts to support STEM (science, technology, engineering, and mathematics) learning in primary, secondary, and higher education. McPhee received the honor during the nonprofit accrediting organization's two-day conference on campus in March 2016, which attracted hundreds of public, private, and parochial educators, school board members, superintendents, and principals to learn and reflect on ways to best extend STEM education.
Gifts That Keep On Giving
In March 2016, MTSU opened the Andrew Woodfin Miller Sr. Education Center on Bell Street, a renovated campus addition that provides much-needed office and instructional space for some of the University's key programs.
The building is named in honor of Andrew Woodfin "Woody" Miller Sr., an MTSU alumnus ('66) and Nashville businessman whose record $10 million individual donation in 2012 made the purchase of the former Middle Tennessee Medical Center (now Saint Thomas Rutherford Hospital) possible.
The renovated facility not only expands MTSU's physical campus footprint, but also provides a dedicated space for educational and outreach efforts to the business community and community at large. New building occupants include the Jennings A. Jones College of Business Center for Executive Education, the University College (home of MTSU's adult learner programs), the Center for Counseling and Psychological Services, and the new Center for Chinese Music and Culture. The Miller building includes 126,839 usable gross square feet of space, 50 faculty/staff offices, seven classrooms, two conference rooms, and six multipurpose rooms. Expansion space on the third floor will allow for future growth.
The recently opened Center for Chinese Music and Culture represents a new hub for promoting not only Chinese music and culture, but also language, business, and trade. Visitors to the 3,200-square-foot center will see a library, an archive, classrooms, and a musical instrument gallery.
MTSU President Sidney A. McPhee, who has visited China every year since 1999, highlighted the educational component of the center as a stimulus for classroom learning, saying the center will design curricula that includes Chinese music as an integral part of the general education offerings reaching more than 3,000 MTSU undergraduate students.
The center will establish regular public visits by local and regional public schools and other interested organizations, while also taking Chinese music education to various Middle Tennessee schools. The center will also collaborate with programs offered at MTSU, including those offered by the School of Music, College of Liberal Arts, and College of Media and Entertainment, among others.
The center was made possible with an initial $1 million grant from Hanban Confucius Institute in Beijing, an organization sponsored by China's education ministry that oversees more than 440 institutes in 120 countries. MTSU's own Confucius Institute, located in Peck Hall, strives to enhance understanding of Chinese language and culture, provides outreach to create collaboration between Tennessee communities and China, and serves as a resource center for Chinese language, history, and culture.
ADDY Boys and Girls
MTSU students' creativity earned them top honors from among nearly 300 entries submitted by students from seven Midstate universities at the recent 2016 Nashville Student ADDY Awards in what organizers called one of the nation's largest student competitions. Twenty-three MTSU seniors and recent graduates received honors, including eight who achieved multiple awards.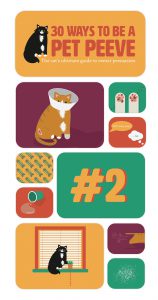 MTSU students won top honors in 15 of the competition's 26 categories. Among the winners were Alexa Games, Katie Stephens, and Caitlin Parker, who brought home the 2016 Best in Show ADDY and a Student Gold ADDY for their integrated brand identity campaign. Aly Booker earned a Judge's Award for her campaign illustration "30 Ways to Be a Pet Peeve: The Cat's Ultimate Guide to Owner Persuasion," plus a Gold ADDY for her poster "Poison." Sarah Growden brought home an armload of ADDY awards, including a Judge's Choice and a Gold ADDY for her "Betula Tech Packaging" design, a second Gold packaging award for her "High Tea" design, and a Silver ADDY for her "Olfactory Scent Lab" outdoor and transit advertising campaign.
Red, White, and True Blue
MTSU officially named its new Veterans and Military Family Center for legendary country music entertainer Charlie Daniels and his wife, Hazel. President Sidney A. McPhee surprised the couple with the honor at a private dinner at the President's Residence in April, where the music icon had presented an additional $70,000 gift to the center from The Journey Home Project. The donation raised the donation total from the veterans-support organization, founded by Daniels and his longtime manager David Corlew, to $120,000. The 2,600-square-foot center is the largest and most comprehensive veterans service center located on a Tennessee university campus. "We are deeply touched and deeply honored," said Daniels. "I've been blessed to be inducted into the Country Music Hall of Fame and, now, having a veterans center named after me."

Physics is Our Business
MTSU's Department of Physics and Astronomy was recently named a member of an exclusive club. MTSU is one of just 12 universities named to The 5+ Club by the Physics Teacher Education Coalition, or PhysTEC, a joint project of the American Physical Society and the American Association of Physics Teachers. The designation recognizes institutions that have graduated five or more physics teachers in a given year. Brigham Young University topped the list with 17. Monica Plisch, PhysTEC director, described MTSU as "a national leader in physics teacher education" and praised the University's efforts.
"We need more universities to follow the lead of MTSU to address the severe shortage of high school physics teachers," she said.
At the Podium
MTSU has recently hosted several high- profile speakers on campus.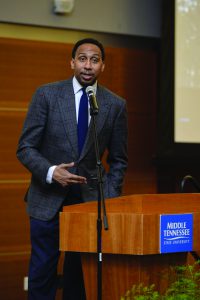 Outspoken ESPN commentator Stephen A. Smith, who keynoted MTSU's Black History Month event, encouraged his audience to build on the progress of their predecessors instead of only looking back at those accomplishments.
Crisis management expert Judy Smith, who served as the real-life inspiration for the character of Olivia Pope on the ABC television series Scandal, and whose wide-ranging career included stints in the George H.W. Bush administration, spoke to students on the importance of getting the message right, which she conveyed during her March 2016 keynote speech commemorating National Women's History Month.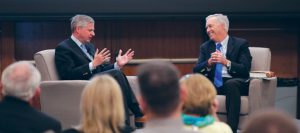 Pulitzer Prize-winning author, historian, and journalist Jon Meacham (former editor-in-chief of both USA Today and Newsweek) discussed presidential politics and his best-selling book Destiny and Power: The American Odyssey of George Herbert Walker Bush, in February 2016 as part of the new Pulitzer Prize Centennial Series at MTSU commemorating the 100th anniversary of The Pulitzer Prizes.

For Millennials, By Millennials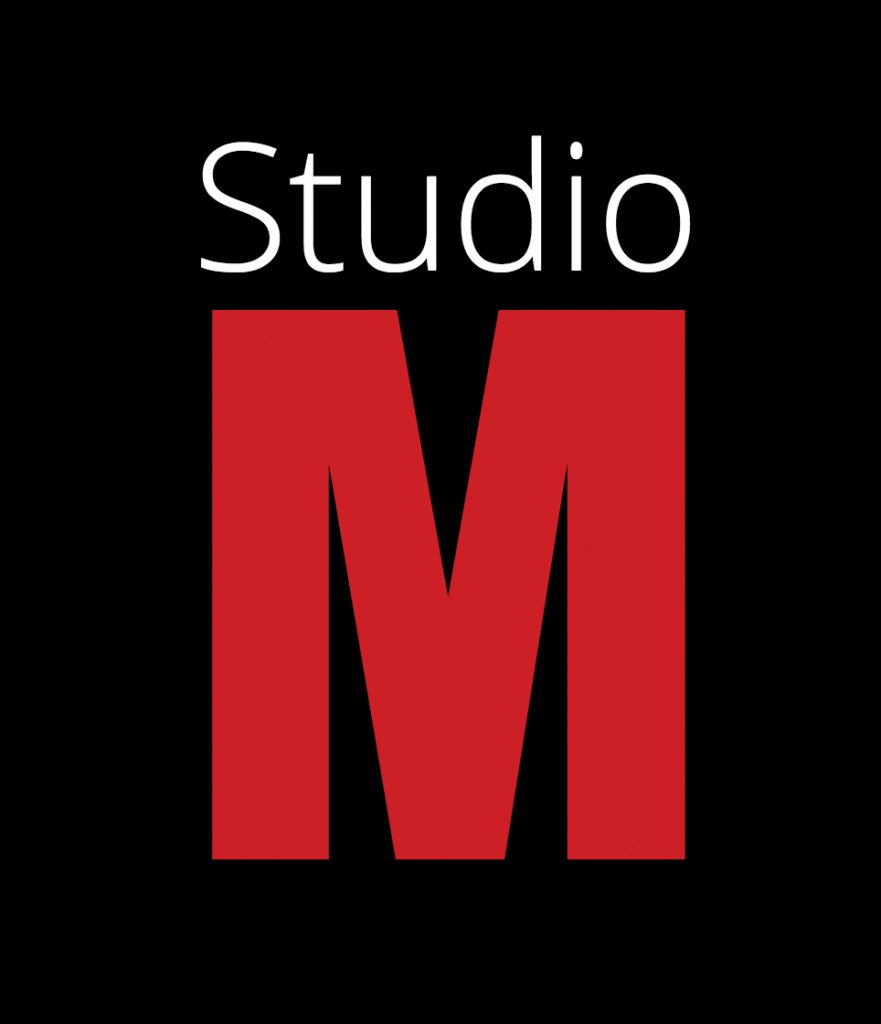 In an effort to better prepare its students for successful careers in an ever-changing media landscape, MTSU's College of Media and Entertainment recently launched a "teaching hospital" approach to journalism that focuses on mobile storytelling about issues facing millennials. Studio M was jumpstarted by a $50,000 grant from the John S. and James L. Knight Foundation, as well as gifts from BlueCross BlueShield of Tennessee and The Tennessean. Studio M—which stands for media, mobile, millennials, and MTSU—allows students to be immersed in tracking millennials and issues that affect them, like student loan debt and employment, especially in the lead-up to the 2016 election. Students will then report the information in partnership with The Tennessean and other news organizations. The new teaching approach primarily targets mobile news platforms and therefore was launched in conjunction with the MT Now app. MTSU's Center for Innovation in Media developed the app since social media platforms such as Facebook, Instagram, Twitter, and SnapChat have become the default mobile experience for millennials, who are more accustomed to bumping into news on mobile devices.
It All Begins with a Song
In April 2016, in a recording studio on the campus of MTSU, several student songwriters showcased their talents in front of a small group of Nashville publishers, managers and producers looking for talent. Performing students included Stevie Woodard, Kyle Crownover, Gus Carol, Meghan Rohner, and Katy Bishop of the band Maybe April, all of whom take classes with Commercial Songwriting concentration director Odie Blackmon, a hit songwriter in his own right. Guests included representatives from Big Machine Label Group (label home of Taylor Swift), Major Bob Music (Meghan Trainor and Garth Brooks), Lytle Management (Gary Allan and Scotty McCreary), Hori Pro Entertainment (KISS and Dean Dillion), and legendary Dixie Chick's producer and MTSU alum Blake Chancey. A $10,000 grant from the philanthropic arm of the Academy of Country Music funded the event.
Experts in the Field
Year three of MTSU's partnership with Bonnaroo again provided students with a uniquely immersive experience that can't be found in any on-campus classroom. About 40 College of Media and Entertainment students produced multimedia content from the 2016 Bonnaroo Music and Arts Festival, which featured artists such as Pearl Jam, Miguel, and Chris Stapleton. The relationship provides the festival with quality production and content, while students gain the types of hands-on experiences that boost confidence and résumés.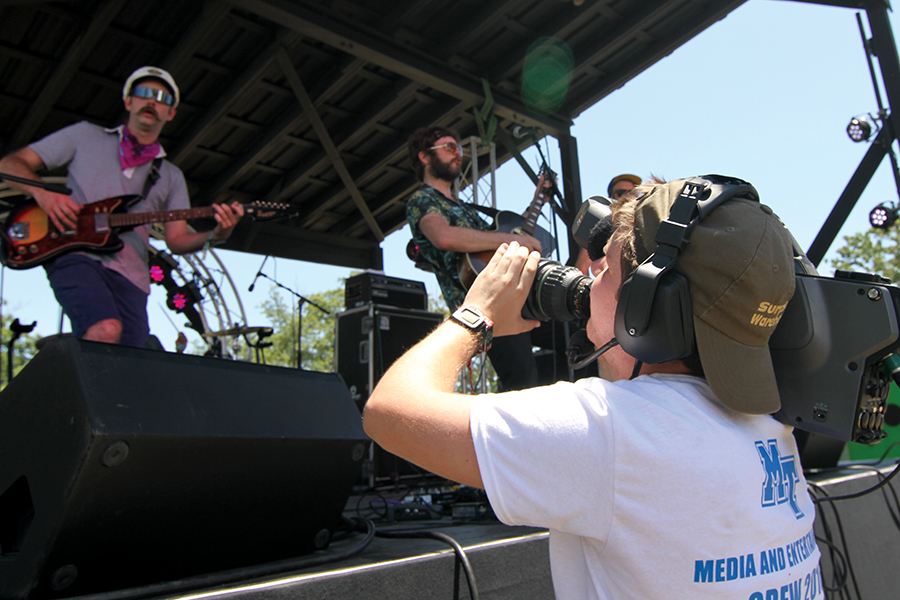 ---