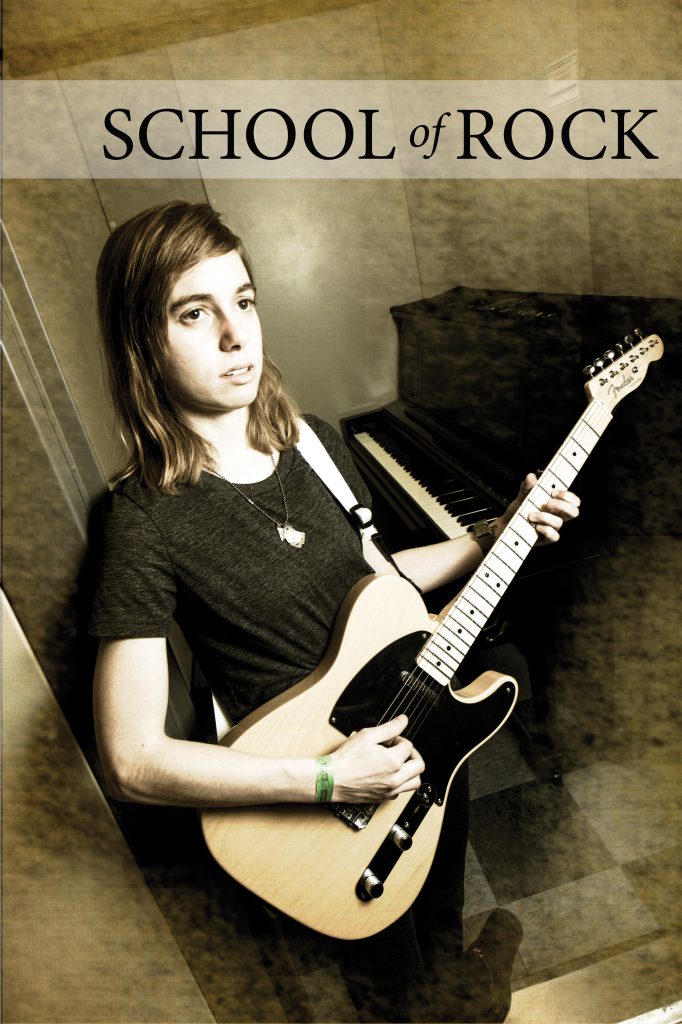 Rock star Julien Baker's ability to balance the pursuit of her degree and career opportunities offers proof that MTSU's student success emphasis is more than just lip service
By Drew Ruble
Suffice it to say, Julien Baker is not your typical college student.
Luckily for her, Middle Tennessee State University is not your typical college.
As an underclassman at MTSU, Baker, an English major and secondary education minor with designs on being a classroom teacher, penned a batch of heartfelt songs during late-night writing sessions in the piano closets housed in the Saunders Fine Arts building on campus. The album that emerged from those sessions, Sprained Ankle, eventually led Rolling Stone magazine to name Baker to its list of "10 new artists you need to know" in 2015.  Since then, hundreds of media outlets have profiled her, including National Public Radio, The New Yorker, and The New York Times, while scads of other music-specific outlets placed Sprained Ankle on their annual lists of top albums for 2015 (alongside, in some cases, names like Adele and Kendrick Lamar). In almost overnight fashion, Baker, age 20 from Memphis, achieved bona fide indie-music-darling status, a designation that has since taken her across the globe to perform her music.
What makes Baker's story all the more remarkable is that for most of her meteoric musical rise, she remained enrolled and taking classes at MTSU. After a long struggle to balance both worlds, Baker's wild success did ultimately lead her to temporarily suspend her degree pursuit in April, despite being close to completing the necessary coursework to graduate. For Baker, who is passionate about literature and education, it was a difficult decision.
"During that time, people would be like, 'Oh, you're still in school.' And they'd be like, 'That stinks.' But I was like, 'No!' Because as much as I love touring and I love traveling and I know it's what I want to do, I love school as well," Baker said. "I love the environment of discussion and challenging each other's thoughts and open conversation about literature and art. I'm kind of a liberal arts geek."
Feet in Two Worlds
Baker describes her whirlwind ride to critical acclaim as "surreal." Not surprisingly, the growing attention and rapid rise in demands on her time increasingly complicated her ongoing studies at MTSU. Think red-eye flights spent penning research papers bearing titles such as "Voltaire's Apparatus: Hope and Human Nature in Candide."
"The horror story that I always tell is that I was in Professor Trish Gaitely's American Lit class, and I got on a plane at midnight in Los Angeles, got an overnight flight, landed, and drove straight to campus and walked into her class, like staggering. But I was like, 'I made it. I made it here, Professor Gaitely!' " Baker said. "But even she was helpful, and kept up email correspondence with me so I could stay on top of my assignments, like hacking out my Shakespeare final for Dr. Ted Sherman on a 747."
Critical acclaim, European tours, opening for acts like The National, and playing festival dates with the likes of Neil Young has not — at least, not yet — altered Baker's firm opinion that earning her college degree and paving a path to becoming an English teacher is important, even if she has had to temporarily delay it. That way, she explained, if the music thing doesn't work out for her, she'll still get to perform — in a way.  Except, she explained, instead of it being on stage, it will be for a bunch of kids, trying to make Chaucer interesting to them, work she describes as "meaningful."
Becoming a teacher is not a joke, Baker assured. [See sidebar "Those Who Rock, Teach."] And, in fact, she sees a direct correlation between the art of being a songwriter/musician and the art of teaching.
"It's also a performance. Your task is to engage those kids, to meet those kids where they are and to teach them—not just the material but why it's important," Baker said. "If you can't relate to your students, you can't make it accessible and important and relevant to their lives, then why are they going to care? It's just going to be another dusty old copy of Milton's Paradise Lost.
"You're doing that as a songwriter, too. You're sharing poetry, you're sharing music, sharing a part of yourself, and you have to relate to the audience. If you sing the same, trite sentiment with no genuineness behind it, why is anyone going to care about your songs?"
Part student, part rock star. It was a hard balance to strike, but Baker was dedicated. Fortunately for her, she had picked a university that was as well.
True Blue Troubadour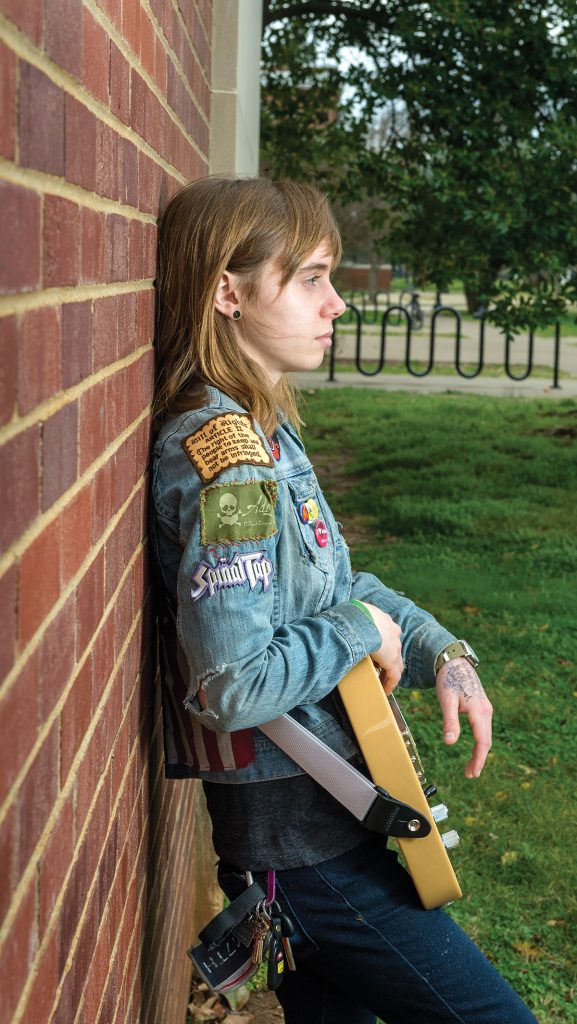 Even before MTSU had drawn up a student success plan, instances of staff members working alongside students who wanted to succeed filled its history. Now, with a laser focus on student success, the University staff's emphasis on retention and graduation is even more obvious in the student experience.
Baker's recollections of concerts and travel agendas and promotional schedules are vividly interspersed with names of professors who saw her desire to learn amidst the crazy explosion of fame that is her world and who did everything they could to make sure her efforts to succeed weren't in vain.
With every passing month, Baker's touring and promotional schedule got ratcheted up higher and higher. At a point in that evolution, Baker smartly gave up the red-eye flights and Greyhound buses back to Murfreesboro and the campus of MTSU and started taking classes online to continue her education. At the time of her interview with MTSU Magazine in early Spring 2016, Baker was enrolled in an online class that met in session amidst multiple three-week concert tours, including one overseas.
"Currently I'm in Angela Hague's mythology course," Baker reported at that time. "And any time I have a problem, she responds quickly, like within that day.
"I was actually backstage in a green room and I had to stop trying to turn in one assignment because I had to go onstage, and I asked the audience — I was playing a college show in Carrboro near the University of North Carolina — 'How many people are in school?' And they raised their hands, and I was like, 'I'm trying to submit an online discussion question and it won't go through.' And the audience was like, 'Aww.' They got it."
According to Baker, helpful, caring professors like Hague are the rule, not the exception, when it comes to her dealings with MTSU.
"[Hague] sent me an email one time after I was apologizing profusely for not getting my work done because I'm on tour. And she wrote, 'You're a touring musician. I'm here to help you achieve success. That's my job.'
"And that's beautiful to me. That's why I love MTSU, you know?" Baker said. "No one's paying me to say that. I feel like a commercial. But I'm proud to be a Raider."
Baker said she's had many other helpful teachers along the way, specifically mentioning Dr. Ashley Riley Sousa in the Department of  History and Dr. Stacy Merida in the Department of Recording Industry.
"They were hands-on. They cared about their students. They knew us all by name, even if it was a big class. And they genuinely cared about their subjects," Baker said.
Bar none, though, Baker's favorite professor at MTSU is her advisor, English professor Dr. Jimmie Cain.
"I bring him up in every interview because he is the model professor to me," she said. "He really wants his students to succeed. He went above and beyond to help all of his students succeed. He gave us study guides and email access and he was so available."
Baker first discussed her need to go to online coursework — and then to temporarily suspend her classes — with Cain. She said she was sure Cain would warn her against the dangers of becoming a full-time musician, but was instead pleasantly surprised by his response to her situation.
"He was like, 'You've got to go do that. I'll help you do whatever you need to do to make this work.'
"'We'll be waiting for you,' is what he told me. And then he opened up a copy of Goethe's Faust and pointed to the first part where the student is maniacally committed to continuing his studies, and said 'Don't be like Wagner. Don't put all your faith in what's on paper. Go out there and have experiences.'
"I was wowed. That's a teacher going beyond just the typical, formal relationship and just being very human and very open. I love it. And I honestly think there's a lot of that going on around MTSU."
Cain, who said for the longest time he wasn't even aware Baker was a New York Times-reviewed artist but only knew she was "a really good student," expressed complete confidence that Baker will be back to complete her degree and the required year of student teaching.
"She's too bright and too engaged with literature to do otherwise," Cain said. "There's nothing at all wrong with stepping out for a moment to experience life. And I believe, with her career, she is, in a way, already teaching. While she is singing, and imparting her experiences, she is trying to give some direction to her listeners."
It's not just faculty that has supported and impacted Baker at MTSU. As an intern in the Audio Visual Services department, a division of the Center for Educational Media in the College of Education, Baker found not just instruction and support but friendship as well.
"I helped out doing production services on campus," she said. "At MTSU, if you want an opportunity to work and get hands-on experience, it's there for you. Like [director of engineering] Jeff Nokes, he would sit down with me and just do circuit diagrams. He's not even a teacher! And 'Tiny' [electronic equipment technician Ronald Gilley], my direct boss, taught me how to fix my guitars better. And then Jeff would give me squash from his garden. They're so sweet! Now, that's probably an extreme example of community. But they invested so much in me."
Bright Horizons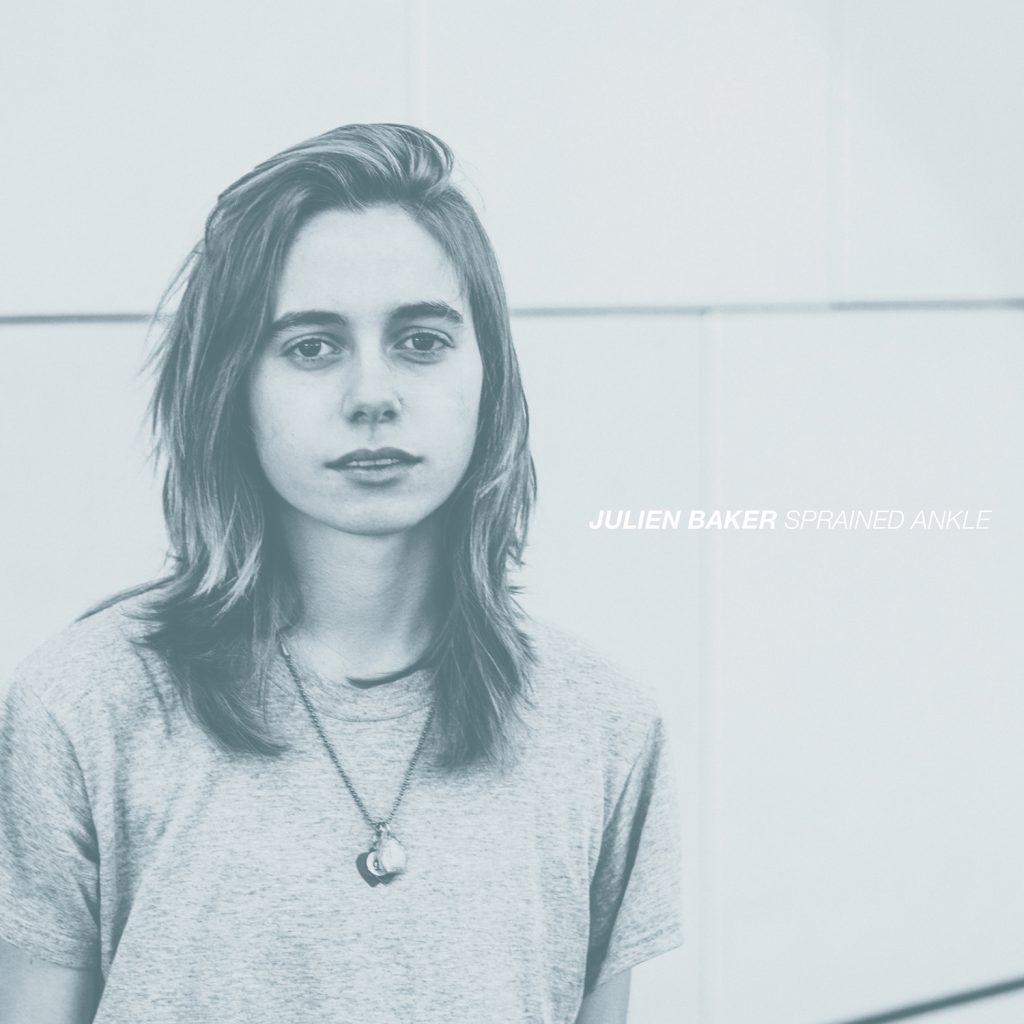 All those investments are paying off as the faculty and staff who offered support are now enjoying Baker's rise. It's a worldwide journey that started in the MTSU recording studio where Baker began recording demos of the songs that would appear on Sprained Ankle. Helping her was friend and MTSU recording industry student Michael Hegner, who later recorded the album in Virginia studios where he interned.
The songs offer an intimate look into Baker's youthful struggles, using nothing but her voice and sparse, atmospheric, electric guitar flowing over what Creative Loafing described as "tear-soaked words." Baker, who said she merely expected friends and family to enjoy it, originally released the album on the Bandcamp online music store for $3. The album was later picked up by 6131 Records, re-released, and heavily promoted by the label, which led to Baker's discovery.
"All of a sudden it was up on NPR's All Songs Considered. And it got mentioned in The New York Times. And in Rolling Stone," Baker said. "From there, it's been solidly touring, meeting people, and forming relationships."
Amid the chaos, and, yes, adulation, Baker is focused on staying grounded, remaining true to herself, and being, in her words, "kind."
"It's just trying to be a kind, genuine person and, you know, pay it forward, do right by everyone, hoping that it comes back around in whatever form," she said. "I never want to get too big of a head about it.
"So it's like every single time something good happens trying to just remember — in every interview trying to like shout out Michael Hegner, talk about how awesome MTSU is — make a positive impact with your words and remember to be humble."
Baker vowed that even if it were all to go away tomorrow, she would simply savor the fact that it was "the coolest experience" that "no one could take away from me."
Besides, she has other options.
Baker is adamant that she will return to MTSU, and that because of the culture of student success among faculty and staff at MTSU, she will achieve her degree. In fact, she is looking forward to the opportunity.
"If I end up being a teacher after that, I'll be happy and content, you know?" she said.
Those Who Rock, Teach
It's clear within minutes of speaking with rock star Julien Baker that teaching is in her blood.
"Oh, man, it would just be so awesome just to hang out with kids. I'd done community-campy-like outreach stuff in Memphis when I was in high school, and just the environment of being around kids, being a positive influence on them as much as you can, it just proved to me that it'd be so cool to be a teacher. My teachers were the most important people and continue to be," she said.
What makes the teaching profession special in Baker's mind is how much of themselves teachers share with their students.
"There's a hidden curriculum, if you will," Baker said. "It's not just about learning Spanish or about learning literature; it's building self-confidence, and saying, 'I believe in you, I think you can do this.'"
Baker deftly compares her journey of becoming an overnight global music success to the inspiration to become a teacher.
"Why would I sleep in cars and drive crazy long hours, stay up until the middle of the night, and eat gas station food to go on tour? Because I love it, and because it's so rewarding when I look out in the audience and I see eyeballs light up," she said. "It's the same when I talk to good teachers. They tell me—and I relate to this—there's nothing more rewarding than seeing the lightbulb come on with a kid. When one of the kids I was observing in an MTSU class said, 'I'm actually having fun,' I felt like I might just burst into tears. I was like, 'YES!'"
Baker specifically referenced a teacher in high school that inspired her in that way.
"I didn't get Frankenstein when I read it by myself," she said. "But when we read it in her AP class, she would jump up and down talking about this book, because she loved it. Sometimes I'm sure it felt like banging her head against a brick wall to get us to understand her passion, but she did it because she loved her students and the subject. That's beautiful."
---