Governor signs bill at MTSU opening Hope Scholarship dollars for 2012 study
By Tom Tozer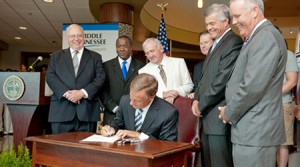 Gov. Bill Haslam signed the Tennessee Education Lottery Scholarship Bill June 8 on the MTSU campus, a measure that will allow college students across the state to use lottery-scholarship funds to enroll in summer school next year.  The signing took place in MTSU's new Education Building.  Those scholarship funds previously were earmarked for use only during the regular academic year.
"This is a big day for education in Tennessee," Haslam announced to an overflow audience that included a large group of students. "There were only four or five items on the legislative agenda that we were going to focus on, and this was one of them. …Last year when the Complete College Act was passed, in encouraged students to be about the business of graduating.  It's important that we align our goals with how we're rewarding people."
Under the new law, lottery-scholarship funds will be available for qualified Tennessee recipients who began their post-high-school education in fall 2009 or later and who wish to enroll in summer college courses beginning in 2012.
"This new bill will be a step in the right direction, because it encourages students to move at a faster pace toward graduation," said MTSU President Sidney A. McPhee.  "Research shows that students who participate in summer-school programs will graduate at a significantly higher rate than those who do not attend summer school…That's what we're all about: student success, higher graduation rates and our production of a prepared workforce that will bring jobs to the state."
Both Haslam and McPhee thanked state Rep. Jim Coley of Bartlett and Sen. Jim Tracy of Shelbyville, co-sponsors of the legislation, as well as state Reps. Richard Montgomery of Sevierville and Joey Hensley of Hohenwald, House Education Committee chair and vice chair, respectively, for their long hours of work and commitment to education in Tennessee. MTSU
---