A Music Row chart topper tips his hat to MTSU
by Drew Ruble
Even though Murfreesboro native Chris Young never graduated from MTSU, the 28-year-old credits much of his success as a chart-topping country music artist to his time spent as a student.
"My time there was just really, really important to me," Young says. "I enjoyed the recording industry program there, and it did a lot for me, including making some connections that I still use—people I still write with who I met while I was at MTSU. It's just a big part of who I am."
Young's career took flight in 2006 when he won the television program Nashville Star, a singing competition that aired on the USA Network. He later signed with RCA Records Nashville and has since released four studio albums, including his latest effort, A.M., this September.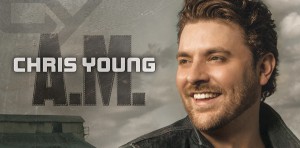 His hit songs through the years have included "Drinkin' Me Lonely," "You're Gonna Love Me," "Voices," "Gettin' You Home (The Black Dress Song)," "Tomorrow," "You," and "The Man I Want to Be." All went to number one on the country music airplay charts.
Young graciously paved the way for MTSU to use a snippet of one of those hit songs, "The Man I Want to Be," in a recent radio advertisement in which he credited the University with helping him to become the artist he is today.
"I always point to MTSU a lot because, growing up in Murfreesboro, I met a lot of people in the recording program who are still working in the music industry and who I run into on a regular basis," Young says. "A lot of people don't necessarily put that connection together unless they're from the area or know about MTSU.
"I did a lot of things there with, of course, [former songwriting concentration director] Hal Newman, who was connected with the Nashville Songwriters Association on campus. And it just really was one of the most fun times of my life."
Such exposure to songwriting instruction while at MTSU, Young says, was critical to his growth as an artist. He says MTSU's songwriting community also helped him break through as a storyteller.
"One of the most important aspects of the music industry is songwriting, and publishing as well. It's definitely one of the things that people—to the outside looking in—don't recognize. It is a little bit of the unsung side of it," Young says. "The adage is, 'It all begins with the song,' and it's true. If you don't have the music, then it doesn't matter what the production is or who the vocalist is. That's step one. You've got to find the song.
"When I was at MTSU, I remember going in a room and getting to listen to people speak on their experiences as writers, like James Slater, who is obviously a great, great songwriter," Young adds. "MTSU just takes great care to hit all of those angles. They hit the recording industry process. They hit the engineering side of things. For people who want to be more into the publishing arm, they touch on that. As a student, you're able to put your emphasis on all those different aspects, just according to what fits you in the recording industry."
Such solid workforce preparation fuels a Nashville music industry that approaches $10 billion in annual economic impact, according to a recent Area Chamber of Commerce report. Young argues that MTSU's role in producing fresh Music Row talent—from songwriters to artists to business executives—is pivotal, especially in an industry always in search of new ways of thinking about its business model and finding the entrepreneurial brainpower to get there.
"The role that MTSU plays in the music industry is a big one," Young says. "A lot of people come up to me at shows and say they want to be near Nashville and want to get a great music education. And I recommend MTSU. For one, it's got a great recording program, and, two, it is right there in the middle of everything. It's close. Three, the quality of the program itself is great. There's a lot of aspects of the music industry that MTSU really does have its hand in, and it's really easy to make that jump from studying music education there in Murfreesboro to being in Nashville making an impact in the music industry. The program is one of the best in the country."
Young has done more than provide MTSU access to his music while singing its praises to the people he meets on the road touring in support of his new album. He has also contributed financially to the University. The artist recently gave a significant amount of his surplus musical equipment to MTSU—soundboards, cables, lighting, video, and staging equipment—for use in on- and off-campus events.
Asked why he made such a gift, Young says that the impact on students will far exceed any amount of money he could have made from selling the equipment.
"I talked for a little while about possibly selling it off. But then I was, like, no, I think I'm just going to donate it to MTSU," he says. "The payback for me is that somebody is going to get to use some equipment that maybe he or she otherwise wouldn't have been able to obtain."
So what is Young's advice for MTSU students who want to get involved in the music industry? Simple. Work hard and keep your eyes open for opportunities.
"The biggest thing for me is if you have something you want to do that's specific in the industry, just put as much time into that as possible," he says. "And that doesn't mean just the requirements for your class.
"In addition, any opportunity you have to go do something extra or talk to someone who is already doing it in the industry, take it. Because you're going to pick up little things here and there and, really, the only way to get better at anything—songwriting, singing, engineering, song plugging, anything—is practice."
"Trying to learn vicariously is about the best thing you can do."
---