Dr. Brian Miller investigates the disappearance of one of the region's strangest looking animals
By Candace Moonshower
Devil Dog. Ground Puppy. Snot Otter. Tweeg. Hellbender. These are just a few of the nicknames associated with Cryptobranchus alleganiensis (the Eastern Hellbender) and Cryptobranchus alleganiensis bishopi (the Ozark Hellbender), two subspecies of North American giant salamander, one of the largest amphibians in the world and the specialty of Dr. Brian Miller, MTSU professor of biology.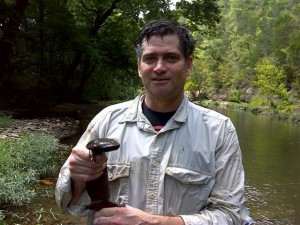 Miller, who grew up north of St. Louis, has always been a big fan of amphibians and reptiles. Although he was working with snakes at the time, Miller began working with hellbenders in a herpetology class at the University of Missouri, where he was pursuing his bachelor's degree in wildlife. After receiving his master's in biology from the University of Missouri and a Ph.D. in zoology from Washington State University in 1989, Miller came to MTSU to work specifically with hellbenders. "The habitat looked promising for hellbenders," he says as he recounts how he had no trouble finding the creatures in 1991 in the Duck, Little Duck, Collins, Buffalo, and Calfkiller Rivers.
Now, after researching almost every foot of water from the Duck River to the Normandy Reservoir, Miller hasn't been able to find the creatures. "Almost all of the individual hellbenders we collected, marked, and released were older, larger, and sexually mature," Miller says. "We think that in areas where we cannot find young individuals, it is because they aren't reproducing well."
The die-off has happened quickly, and alterations in the water quality and stream habitat may account for the changing population.
"Pollution, agricultural run-off, or disease may all account for the decreasing populations," Miller says, "and we're just trying to get a better feel about what might be happening."
According to Miller, hellbenders used to be easy to find, and in the past, people harvested the creatures for pets or for science class dissections.
"I had snakes, lizards, and salamanders as pets," Miller admits. "But it's a different time now. Since I began my work at MTSU, my views on owning wildlife as pets have changed."
He says if a previously easy-to-find group of animals is disappearing, it should be a cautionary tale.
"These are the largest salamanders we have that live in the clear, clean water of streams," Miller says. "If they're dying out, there is some kind of environmental problem that we need to investigate."
Miller concedes that when something becomes rare, people automatically want it, and that we might see hellbenders now on the black market. But he doesn't think that is as big an issue as water quality.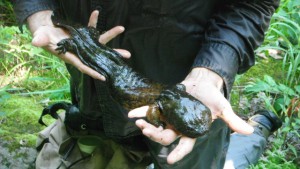 For its size, MTSU has a strong group of students working with everything from plants to salamanders in the area of field biology.
"I've hired more than 40 students off the grants I've obtained," Miller says. "Within the state of Tennessee, you're not going to find as large a group working with herps and other diverse animals."
In the 1990s, funding for the hellbender studies came from the University. Recently, the money has come from the Tennessee Wildlife Resources Agency (TWRA) and State Wildlife and Tribal Land Grants.
Several different entities—Lee University, the Nashville Zoo, and MTSU—were each separately awarded money to research and work on species that are in jeopardy of being listed as rare, threatened, or endangered. While each entity was given separate grants, they have worked in a partnership that makes sure activities don't overlap and that maximizes the use of the money each group was awarded. Michael Freak at Lee University has conducted genetic analyses of hellbenders from as many watersheds in Tennessee as possible to better determine the genetic relationships of the remaining populations. Dale McGinnity at the Nashville Zoo is primarily interested in the husbandry of hellbenders and refining techniques that will allow the use of frozen sperm on fresh eggs. Miller's work has been entirely field-oriented—searching streams that he worked 20 years ago and other streams in watersheds with past records of hellbender occurrence.
The partnership stems from the State Wildlife Action Plan Partnership Award that was presented at a "Teaming with Wildlife" convention in Washington, D.C. It is a competitive award given to those groups receiving State Wildlife and Tribal Grants money that exhibit collaborative success. It was presented to Miller, Freak, McGinnity, Bill Reeves (TWRA chief of bio­diversity), and Stephen Spear of the Orianne Society, a group dedicated to protecting imperiled snake species.
Miller views hellbenders as part of our natural heritage.
"Just as we try to protect our cultural heritage—Stones River Battlefield, Oaklands Mansion—I think it is also important to preserve our natural heritage. Future generations deserve the opportunity to visit local streams and see a diversity of wildlife and not just those species tolerant of more polluted or disturbed waters."
---