James E. Walker Library and its staff deftly ride the digital humanities wave
By Gina K. Logue and Drew Ruble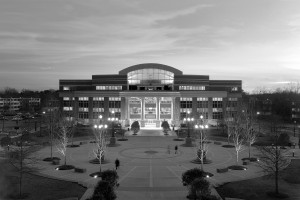 Dating back to the third century BC and the library of Alexandria, the most famous example of an early library in the ancient world, the mission of libraries has been simple: to connect people to information.
In modern times, in a world filled with Web-based media, social networking, and cloud computing, that fact remains true. But today, libraries serve a world extending far beyond bricks and mortar, including anyone with an interest in a particular topic and access to an Internet connection.
MTSU's Walker Library is a sterling example of a modern library that already offers electronic versions of many or most of its periodicals, books, and collections. As library dean Bonnie Allen points out, "We have rows and rows of books on shelves, but that is only about half of our entire collection—the other half is accessed through a keyboard or your smart phone."
Significantly, though, that pathway to information isn't limited exclusively to the library's standard collections. Libraries now acquire collections in electronic formats but are also transforming unique collections into digital collections. Beyond digitizing its own materials, Walker Library has also partnered with other academic units to make some of the University's priceless intellectual holdings available electronically. In doing so, Walker Library has evolved into a true hub for humanities research in a digital age, becoming less a warehouse for books and more of what Allen describes as a "portal to a world of information."
Brave New World
Matthew G. Kirschenbaum, an associate professor in the Department of English at the University of Maryland (andassociate director of the Maryland Institute for Technology in the Humanities), has written that while science disciplines have always evolved with new technology, and, in fact, depend on technological advancements, the humanities have remained "largely the same in approach and creation, staying rooted in the so-called 'analog humanities,' which consist of printed, physical media."
That's changing. Engulfed by the digital age, the humanities are, in Kirschenbaum's words, rebooting. The defining phrase in the library profession today is "digital humanities." In a recent interview with the Journal of Education and Information Studies at UCLA, Johanna Drucker, a UCLA professor of bibliography, described digital humanities as "work done at the intersection of computational technology and the humanities."
"That means that we use a whole suite of methods, tools, and techniques that make humanities materials available to digital processing," Drucker added, specifically citing text analysis, data mining, databases, metadata, geospatial encoding, virtual world building, network analysis, information visualization, interface design, and imaging, among other approaches. "Most of these techniques come from the empirical sciences, statistics, or business applications and have been adopted for use in the humanities. They require structured or formalized presentations of materials—documents, images, sound—in digital formats, which means migrating analog artifacts into a digital format."
In other words, the digital humanities encompass the use of new technology to study what have been historically nontechnological disciplines. And Walker Library is in step with that transformation.
From Stacks to Cyberspace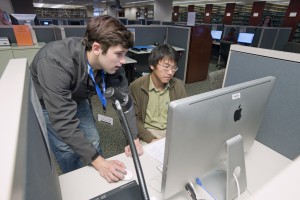 Crucial to this new landscape for libraries is collaboration between campus entities—the humanities, computing, and libraries—to take full advantage of digital scholarship. At MTSU, Walker Library serves not only as a catalyst for the creation, management, and delivery of digital content but also as the new focal point for the storage and dissemination of content through a strong and growing web presence of digital text, images, audio, and video.
One major initiative in particular illustrates Walker Library's role as a leader in the digital spectrum— namely, the execution of digitization projects that will preserve the one-of-a-kind, vintage analog materials already in MTSU's possession for future generations of scholars. To coordinate the work, Walker Library is partnering with three highly regarded MTSU research centers—the Center for Popular Music, the Center for Historic Preservation, and the Albert Gore Research Center—to make what are some of Tennessee's most precious collections more accessible worldwide.
"This started with a meeting more than a year ago where we looked at synergies among our campus collections, our expertise, and our space, and realized we had a common mission," Allen says. "I had just joined MTSU as dean of Walker Library and was accustomed to collaboration with a wide range of scholars, as well as libraries. I knew that MTSU archives and Walker Library had this great opportunity to work together. We all seemed to have the same idea at the same time—it was an easy partnership to form!"
Named the Digital Partners, the partnership is now publishing in digital form what Allen describes as the "hidden collections of MTSU." Digital Partners marries the technology, expertise, central campus space, and unique collections at MTSU for the electronic benefit of all who are drawn to the collections housed physically on campus. "Each of the partners has been working to establish processes, gather equipment, and initiate training to digitize their most valued collections," Allen says. "So, for instance, CPM and Gore are visited by researchers who travel to use their special collections. Walker has the foundational collection of published reference materials that provide the historical context and factual verification on nearly every discipline."
"Each of the partners had also spent time in the trenches learning the standards and the technical tools of digital publications," she adds. "All had staffers who had experience in the creation of specific digital collections and had collaborated in the production of Web-accessible portions of our collections, were ready to expand, and eager to do this together."
To support Walker Library's strategic push further into the digital realm, the library has in the past year alone hired various professionals with specializations in metadata or descriptive data for digital publications. It has also expanded its technological staff expertise. Two librarians, Ken Middleton and Mayo Taylor, who had already developed digital collections in recent years, have continued to keep pace with new developments in digital publishing.
Behind glass walls on the second floor of the library are the technical tools Middleton and Taylor use to transform images and documents into a rich digital collection used by local schoolchildren, world scholars, and top researchers alike. The Digital Scholarship Lab, which opened in August 2013, includes scanning equipment, computers, and staff and meeting space that encourages and enables more publishing. All copies of the student newspaper Sidelines through 2011 have been scanned. The digitization of Midlander yearbooks was outsourced. These were obvious targets for preservation to chronicle the University's history and growth. But there's more to it than that. For example, one project now underway chronicles the effect of Jim Crow laws on the formation of statewide communities in Tennessee. This yearlong project is funded with a diversity grant from the Tennessee Board of Regents and will conclude with both a collection and a website.
The digital collections created by Walker Library, including those achieved through collaboration with the Digital Partners, can be seen on the library's digital collection website .
Allen says the influence of the collections to date is "strongly toward southern history and MTSU's history."
Student Success
According to Allen, the implications of the Digital Scholarship Lab include positives for graduate students and departments on campus "to apply a variety of technologies in the course of their research and then publishing a digital format or collection." Allen adds that Walker is evaluating software for the creation of an institutional repository that will virtually house such items as electronic theses and dissertations, articles, reports, photographs, and research data from undergraduates through faculty.
"This repository will be the searchable electronic archive of works as they are created on campus," Allen says.
Looking to the future, Allen promises that the Digital Scholarship Lab "will be a place for training our students and faculty in the use of technology to better visualize research and publish in an electronic media." Preparing students and faculty in this way, Allen says, is the truest definition of digital humanities in academic circles. UCLA, the recognized leader in the digital humanities in higher education, states on its website that at its core, digital humanities teaches students "to create and critique media content, to develop the necessary skills and abilities to evaluate this content, to manipulate and transform digital technologies, and to develop the requisite literacy across information environments and media forms, including textual, aural, visual, and digital domains."
One example Allen cites of the future of digital humanities at MTSU is the potential use of geographic information system (GIS) software to better visualize the influence of music across the South and how that is associated with community change or historical events.
"It is so exciting to think of the potential for graduate students in the Historic Preservation program working with the Center for Popular Music and specialists in mapping technologies to work together in creating new scholarship," Allen says. "We have models among the leading research institutions like UCLA to guide us, but most importantly, the library and archival partnership bring the necessary talent and the collections to provide a rich and innovative learning environment for our students and faculty."
Back to the Future
Walker Library's collaboration with the three MTSU centers is symbolic of the interdisciplinary nature of the digital humanities. The Jim Crow laws project is an example of how libraries can facilitate such research using new technologies and working with multiple databases. The total effort, which emphasizes real world education in a digital age, ties in seamlessly to MTSU's focus on student success.
Clearly the role of the university library in the 21st century is not simply to serve as a repository for books. Libraries have been reinterpreted and redesigned to serve as a vibrant resource for a diverse audience looking for multimedia solutions. But whether content is being delivered off the shelf or online, the modern library's mission remains the same as it was in the third century—to make reading accessible and learning possible, even as it remains a true community resource. Walker Library has deftly changed with the times to maintain that seminal role at MTSU and beyond.
For a video tour and more information about James E. Walker Library, check out the video below:
MTSU strives to be a green campus, here is a video of a project by Erin Anfinson's drawing class to encourage recycling and reducing waste on campus:
---