University-operated WMOT, the most powerful radio signal in Tennessee, 
partners with industry to broadcast burgeoning Americana music
by Skip Anderson
When MTSU's radio station WMOT-FM first fired up its signal in April 1969, the student-centered station broadcast pop/rock music at a time when Marvin Gaye was singing about unsettling news he had heard "through the grapevine," the Beatles were telling Jo Jo to "get back," and the Rolling Stones were extolling the virtues of America's "honky-tonk women."

WMOT (89.5 on the dial) eventually switched its format to jazz music, a 100,000-watt behemoth broadcasting masterworks by Miles, Ella, Duke, and Satchmo from the Tennessee/Alabama border to Bowling Green, Kentucky, and from Waverly to Monterey. Then in 2011, MTSU's radio station again recast its emphasis to become the region's premier classical radio station, adding timely news updates to increase its appeal to off-campus listeners.
What may be WMOT's most calculated changeover in the station's 47-year history, though, came in September 2016, when in a ceremony at the Country Music Hall of Fame's Ford Theater in downtown Nashville, MTSU announced a partnership with Music City Roots and a retooling of the station to broadcast the burgeoning, singer/songwriter-friendly Americana format. The transition makes WMOT the region's only station devoted to the unique amalgam of bluegrass, folk, gospel, soul, country, and blues music defined in the music industry as Americana.
"Imagine, in our neck of the woods, a radio station with real people playing music they actually care about, even love," legendary performing songwriter and producer Rodney Crowell told MTSU Magazine. "WMOT is bringing middle Tennessee real music when we need it most," added the artist, who received the Americana Music Association's Lifetime Achievement Award for Songwriting in 2006. "Miracles happen."
A Win-Win
The station's program director, Jessie Scott, is a longstanding luminary in the music industry. Scott has worked as an influential DJ for decades and founded the highly regarded Music Fog video series. Scott also has served on the board of directors for the Americana Music Association since its inception in 1999.
The reformatted station features live local DJs and unique, locally programmed playlists, attributes which Scott said provide listeners with an experience that goes beyond simply exposing the audience to music they might otherwise have trouble finding on the radio, while "mirroring the cadence of the week" in middle Tennessee.
According to Scott, the mission of the station extends beyond entertainment and academia.
"Radio still has an enormous impact on the population," Scott said. "And much of what's out there has become stale and redundant. WMOT is a living and breathing art form."
Americana recording artist Bonnie Bishop applauded the format shift.
"WMOT is about to become one of the leading tastemakers in Americana radio," Bishop said. "Hundreds of thousands of people in Tennessee, Alabama, and Kentucky are about to be exposed to a genre of music they may not even know exists, which could mean an increased demand for this format in other markets around the country. This is the exact kind of exposure that Americana artists desperately need. It's very exciting!"
The timing for the format change appears ideal, too. As a genre, Americana music is on the rise. To wit, the industry bible Billboard magazine recently added an Americana section to its weekly chart listings.
Sometimes called "roots music" or "no-depression music," Americana champions songwriters and performers in the tradition of the original country music that evolved throughout the 20th century, as well as blues, bluegrass, and alt-country.
Breakout artists such as Margo Price, Parker Millsap, and Jason Isbell have a home under the Americana umbrella. Well-established recording artists whose music can be hard to find on traditional country radio stations—Lyle Lovett, Emmylou Harris, and John Hiatt, for instance—also have a home in Americana. Scott says WMOT seeks out music from talented "radio orphans" such as these.
Ken Paulson, dean of MTSU's College of Media and Entertainment, which operates the station, said WMOT offers an opportunity for middle Tennesseans to tap into the works of internationally known artists based in Music City.
"Among Nashville artists charting with Americana albums in recent months have been Sturgill Simpson, the Mavericks, Elizabeth Cook, Darrell Scott, Emmylou Harris, Rodney Crowell, and many more," Paulson said. "Nashville is Americana's hometown."
Paulson emphasized that WMOT continues to be a resource for MTSU students interested in learning marketable skills, including engineering, programming, audio editing, and narration. Val Hoeppner, executive director of MTSU's Center for Innovation in Media, said the unique partnership with Music City Roots now enables MTSU to "continue to mentor and train students at MTSU for careers in journalism, the recording industry, radio, television, and beyond." At press time, four students had already been hired to production posts with the station.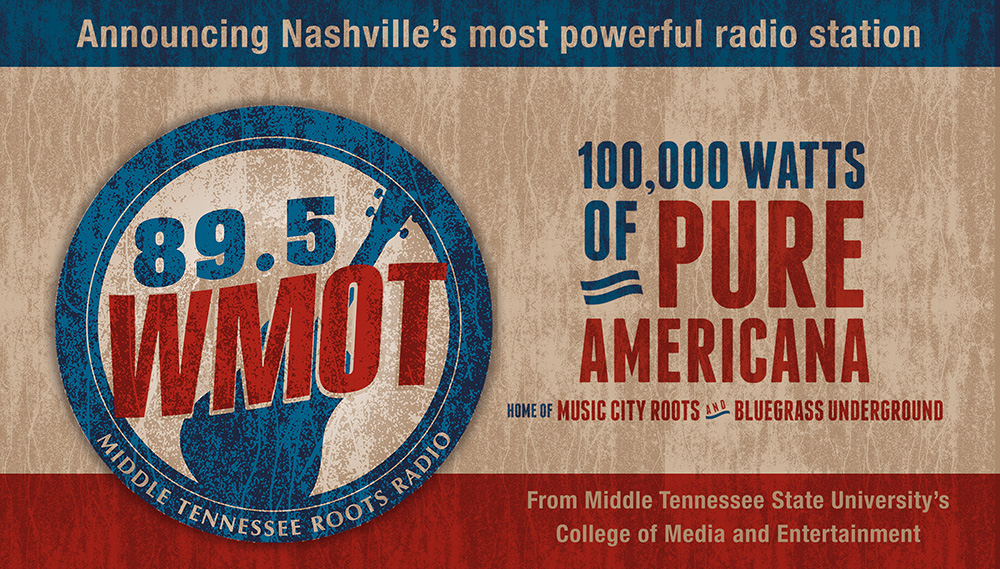 Listening In
To help ensure WMOT is well-rooted in the on-the-rise Americana music genre, MTSU partnered with Music City Roots, the weekly radio, television, and internet broadcast that offers a Nashville-centric take on Americana music. Through this partnership, WMOT is the flagship station for Music City Roots and broadcasts the two-hour program that, according to its website, is produced in the tradition of a "historic legacy of live musical radio production in Nashville." WMOT also broadcasts the Emmy award-winning PBS program and radio show Bluegrass Underground.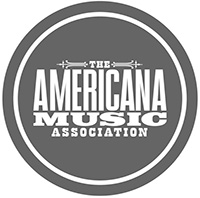 "It is great to have a station like this in middle Tennessee for so many artists that would otherwise never receive airplay," said Kelsey Waldon, listed alongside the Cadillac Three and the Black Lillies in Rolling Stone's influential "10 Artists You Need to Know" feature in 2014. "Hearing John Prine and Guy Clark on FM radio again is a beautiful thing. I think this is of valuable quality for Nashville."
Music City Roots executive producer John Walker, who also oversees the development of new programs, hosts WMOT's morning drive-time program. Grand Ole Opry mainstay Keith Bilbrey brings his expertise in country music to the midday broadcast, and veteran broadcaster Whit "Witness" Hubner works early afternoons. Importantly, Scott said, all shows are able to accommodate drop-in guests, including Music City artists as well as MTSU's extensive roster of expert faculty such as Greg Reish, director of the Center for Popular Music at MTSU, widely recognized as one of the world's deepest archives of recordings. Reish hosts a weekly show called Lost Sounds, diving into the CPM archives and extrapolating upon its historic context.
Remembering the Past
WMOT has quickly climbed the ranks of most listened-to radio stations among the 43 operating in Nashville since the format change was made. Additionally, in the first month following the format change, WMOT and the College of Media and Entertainment raised more money to support the station's operations than had been raised in the entirety of the previous year.
And, while WMOT has officially changed its focus, program director Scott said jazz lovers need not worry.
"Not only did we not take jazz off the air, we're broadcasting it 24/7 on our HD2 radio channel as well via FM signals 104.9 in Brentwood and 92.3 in Murfreesboro," she said.
WMOT will also remain the flagship
for Blue Raider Athletics and will continue to air MTSU On the Record, a 30-minute public affairs interview program highlighting the University community, as well as regular local and national news updates.
Make no mistake, though: With its seamless segue from a classical rendition of Aaron Copland's "Hoedown" to its Americana interpretation completed, a new player has definitely emerged in the Nashville radio market.
Good Partners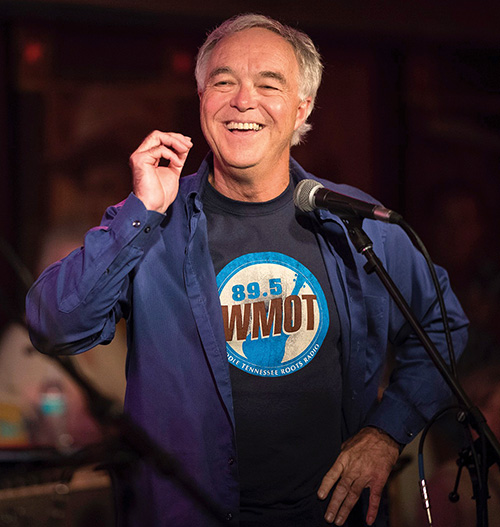 WMOT's migration to roots music isn't the only strong connection between the College of Media and Entertainment and the burgeoning Americana music genre.
An ongoing, ambitious professional partnership between the college and the Americana Music Association, based in nearby Franklin, offers continual opportunities for MTSU music and media students to gain valuable out-of-class experience.
The annual Americana Music Festival and Conference marks just one of those unique educational partnership opportunities. Under the partnership, prominent artists participate in special lectures at the University, while students get to attend, gain work experience, and obtain networking opportunities at the conference held each year in Nashville.
Students and faculty from MTSU's College of Media and Entertainment contributed in a number of ways to the success of the most recent annual Americana Music Festival and Conference in Nashville in 2016. As just one example, students from the MTSU Seigenthaler News Service contributed five advance features that appeared both in the digital version of Nashville's daily, The Tennessean, as well as the MTSU student news outlet Sidelines. Two of the articles also were picked up in the print version of The Tennessean.
For programming information, go to wmot.org or musiccityroots.com.
Listeners can also enjoy the living and breathing art form via webstream at rootsradio.com and the Roots Radio iPhone/Android app.
---